Ah, the White Out Party. The quintessential event to end the summer months or, just a fun theme party people throw for their birthdays, weddings, anniversaries, etc.
If you've been recently invited to such an affair and are wondering what to wear to a white party–you're in the right place!
From cool cocktail dresses to jumpsuits, blazers and more, you'll find plenty of classy white party outfits for ladies in this post. Let's see them all!
What is a White Out Party?
But first, what's a white party? Well, it's pretty much what it sounds like: a party theme with a special dress code that asks all guests attending to wear white outfits.
Yes, you can wear black to a white party in the form of accessories. But generally speaking, except for accessories and accents, your outfit should be head-to-toe white.
That means a white dress, jumpsuit, blouse and skirt, or another outfit idea, depending on the dress code of course.
We'll get to accessories, too, later on in this post.
Cute Summer White Party Outfits for Ladies
Labor Day weekend tends to be a popular time for white parties, so embrace the summer theme with a cute white dress!
There are soooooo many white party outfits for ladies on Amazon. In fact, I have a whole blog post just dedicated to them! 
Some of my favorites include this crochet beach dress that looks great with a pair of studded sandals. This one is perfect for a more casual white party in the daytime. 
If you need something a bit dressier, try this white maxi dress with a full slit. It's a wrap style which is friendly on most body types and although it's light, it's lined so it isn't see-through.  
Another favorite, and bestseller, is this white dress from Amazon. It's bump-friendly, too, if you need a maternity dress for that white party! This one has really gorgeous lace detail and is on the dressier side. It's also really long so you'll need to get it tailored or wear heels if you're on the shorter side like me.
---
RELATED: The Best White Dresses on Amazon
---
If you're looking for a way to stand out at a white party and specifically want a long white dress, try this white backless dress from Lulu's. It's perfect for the summer months and would look gorgeous at a white party.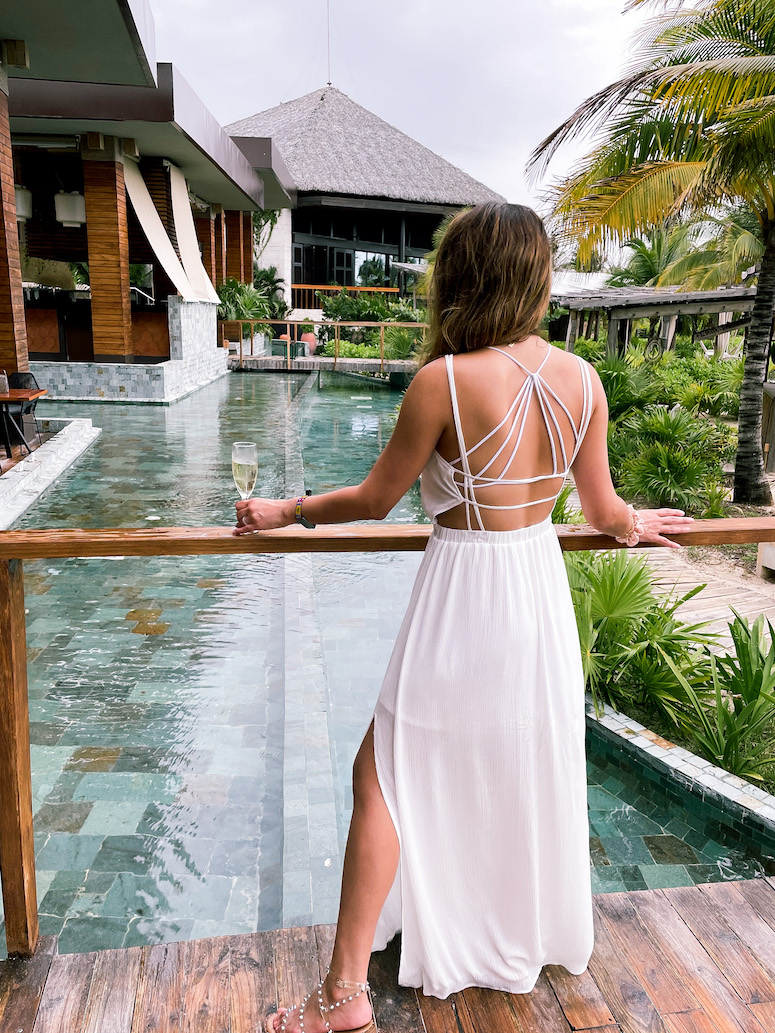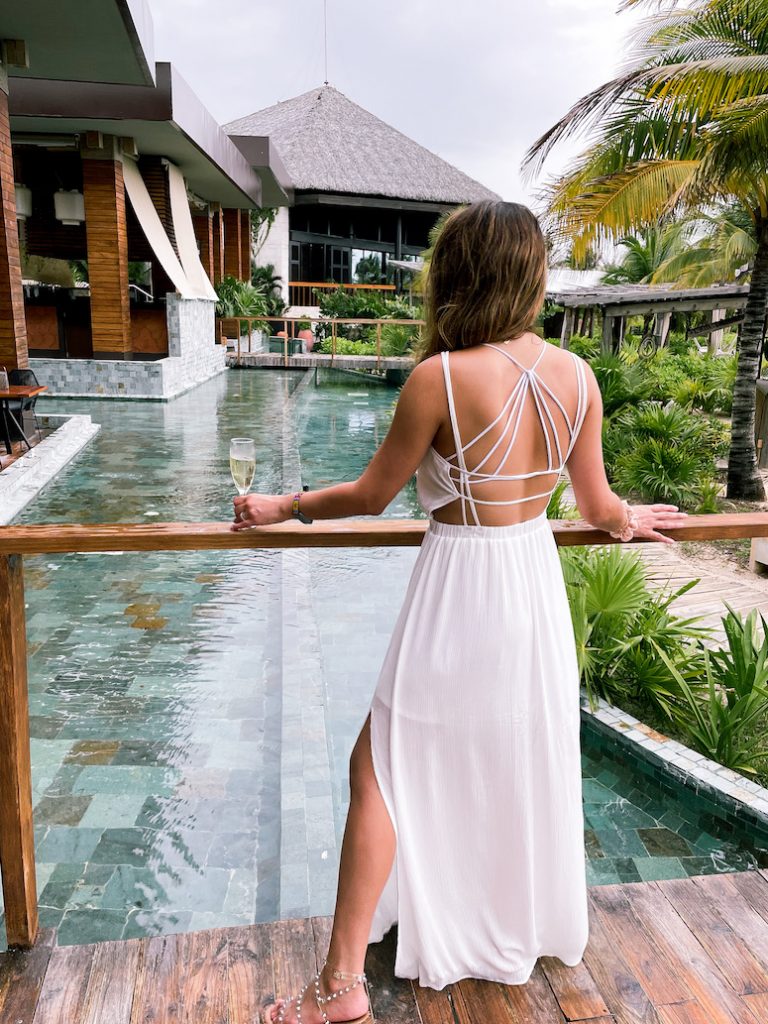 You can wear it on its own or with a strappy bralette like I did. This one also doubles as a fabulous beach dress so you can easily repurpose it.
White Party Cocktail Dresses
If the dress code says it's a formal event, then you'll probably need a cute white cocktail dress.
The Glisten dress from Revolve would be absolutely stunning at a white party. The backless detail makes a statement but it's dressy enough for the evening. Pair it with some nude heels and statement-making earrings.
Another excellent option is this bestselling Elliatt dress. It's under $200 and has gorgeous crystal-embellished straps. This one would also look fabulous as a bridal party dress, too!
Classy White Party Outfits
One of my personal favorite cute white party outfits is a chic blazer and pants combo aka, the white suit! Something about this look is decidedly fashion-forward and definitely makes a statement.
What's more, this one works whether you're in need of an outfit for a winter white party or for the summer. The blazer will keep you warm and stylish no matter when you decide to wear it.
This white blazer is crisp and clean and looks so elegant paired with white trousers. It's also 100% linen so it's the perfect breathable fabric for a summer white party. And yes, you can do it with a white blouse instead of a bra underneath. Or, you can give it a go with a bralette crop top!
For a chic look that's a bit unexpected, try a blazer with white shorts. It's another great look for a summer party and has total cool-girl vibes.
PRO TIP: Look for white shorts that are on the dressy side to make this look work. It's not something you would pair with denim.
The New Year's Eve White Party
Speaking of blazers, they're also cute if you've been invited to a New Year's Eve white party. This is also a great time to bring on the glam! A cute sequined blazer would be a great outfit choice for this occasion or any dress with beautiful, embellished details.
This white sequin dress from Lulu's would be perfect for watching the ball drop. Even though the sequins are in silver it would be appropriate and gorgeous for a New Year's white party. What's more, it's under $100!
Effortless White Attire with Jumpsuits
When it comes to white outfit ideas, jumpsuits and rompers are probably the easiest. It's a chic outfit that's so easy to put together.
This white ruffle jumpsuit is incredibly chic and would look gorgeous to an evening event.
This cutout jumpsuit from Lulu's is another great find and well-priced at right under $100.
---
RELATED: Is Lulu's Legit? A Lulu's Review + Try-On Haul
---
What Do You Wear to an All-White Backyard Party?
A lot of these white parties are indeed garden parties, so think about your shoe choice and where the event is going to be held.
If you know you'll be in the grass all night, definitely avoid wearing high heels. If you absolutely have to wear heels because it's a cocktail party, at least try these heel protectors that will prevent your shoes from getting damaged from digging into the grass.
Even though a garden white party might sound more casual, you should still bring your fashion A-game. Typically, these aren't exactly casual and still require a cute white summer dress!
Can You Wear Jeans to a White Party?
Again, this really depends on the dress code so check your party invitation!
Is it a daytime event? Do you know for a fact it's going to be on the more casual side? If so, then you absolutely can do a pair of crisp white skinny jeans.
This look from Express featuring skinny jeans and a cute white top is so easy to recreate!
If you aren't sold on white jeans but want a more casual look, then consider a white blouse paired with a cute pair of shorts. You don't have to go denim for this; there are plenty of cute linen white shorts and other fabrics that are on the dressier side.
PRO TIP: Look for a nice white blouse, blazer or cami and leave the white T-shirt behind.  
What Color Shoes Do You Wear With White? 
Let's talk about shoes and accessories because it's a common concern! Can you wear black shoes with white pants? Does it have to be head-to-toe white? What color accessories should you wear with a white dress?
Don't stress about having to wear white heels to a white party, you certainly don't have to. The important thing to get right is that the outfit overall is a white look.
This also means you can mix shades of white to make this work.
If the invite is for a super casual affair, then feel free to bust out the white sneakers! This casual style can be really cute paired with an everyday cotton white dress.
And when it comes to accessories, feel free to shine. Black shoes with an all-white outfit are ok and can add a fun, bold element to your look. This typically may look like a chic clutch paired with black heels. Just be sure to stick to a dainty black shoe vs. something clunky. 
You can also wear gold or nude-tone shoes with an all-white outfit. Gold is a beautiful metallic if you want something on the dressier side while nude-tone shoes can be dressy or more casual.
Generally speaking:
Black is bold and gives the biggest contrast against a white outfit
Brown will tone down your outfit and make it look more casual
Nude can be dressy, formal, casual
Gold is glam and gorgeous, a natural pairing with white
Silver is beautiful against white, too.
What Jewelry Looks Best with a White Dress?
As far as accessories, go with whatever metal tone feels comfortable to you. Gold-tone accessories particularly pop against all-white outfits and make for a glam look. But silver against a beautiful white dress can be stunning, too.
Curious how you stand out at an all-white party? Look for a statement necklace that will pop against your all-white outfit.
Winter White Party Outfits for Women
Though white parties are typically reserved for the warmer months, there are sometimes occasions where a white party might happen in the winter like a work event, milestone anniversary or birthday party.
There are a lot of different shades of white, so try to look for warmer whites if it's a winter party. These will be a bit more yellow-toned and creamier than the crisp white that you'd see in the summer months. Case in point: this white sweater dress as seen here on Sydne Styles.
A cute white jacket or white jumpsuit would also be perfect for this occasion and will keep you warm.
In the winter months, it's also easier to experiment with mixing textures. You can pair your white pants with some faux fur; or go for a silky white slip skirt with a soft cashmere sweater like this look by Fashion Jackson.
Where to Shop for White Outfits
In addition to the retailers I listed and linked to above, another great option to check for white outfits is Rent the Runway.
Rent the Runway is one of my go-to's when it comes to special occasions like this since you may be in need of something more exciting than normal, but also something you may not wear again to future events.
---
I hope this list of white outfit ideas helps you plan for that party! As you can see, there really are so many different ways to wear white outfits that the sky is practically the limit.