25+ Cute Dresses to Wear to a Christmas Party
The holiday season is here, so plan ahead and order your holiday party dresses now!
There's no worse stress than having to worry about having nothing to wear and scrambling to get a dress last-minute.
So let's take this task off your to-do list so you can enjoy the festivities while feeling great, too.
Here, I've rounded up some of the prettiest Christmas party dresses for 2022, no matter what occasion you're planning for.
There's no doubt that you will thank yourself later for planning ahead now!
The Cutest Dresses to Wear to a Christmas Party in 2022
Work Christmas Party Dresses
Office Christmas parties can be a bit more ambiguous when it comes to the level of formality.
Some work Christmas parties are more casual, and some can be on the fancier side, even black-tie events!
The one thing they all have in common is that office Christmas party dresses tend to be a bit more on the modest side.
Here, you'll find a few different options for that office Christmas party.
An office party often calls for something a bit more modest and demure. This sweater dress is just that while still being on-trend
If red dresses aren't for you, this one also comes in dusty pink.
A sweater dress is always great when it comes to Christmas party outfit ideas.
Wrap sweater dresses are flattering on most body types, and the length is ideal for an office-appropriate look.
This dress also comes in cream and is perfect if you're looking for a more casual outfit idea.
This knit sweater dress is another stunning option for a work Christmas party dress. It's an effortless look that will go from happy hour to corporate events and beyond.
This one also comes in beige.
SHOP WORK CHRISTMAS PARTY DRESSES
This square-neck sweater dress with puffy shoulders is right on trend. The long sleeves are perfect for cold weather nights. This one also comes in black.
Sequin dresses are always fitting for the holiday season, and this one is a perfect mix of dressed up, but not over the top!
This dress could be styled with high heels, booties, or even flats depending on the occasion.
It would also work well for a cocktail party or that holiday gift exchange with girlfriends.
Velvet is perfect for the Christmas season, and the texture is a great way to elevate a simple dress.
This dress with short sleeves would be a great fit for your work Christmas party or family gatherings.
This halter midi dress is also great for that work Christmas party or a cocktail party dress option.
The emerald green is gorgeous, but it also comes in black, red, fuschia and tan. Plus, it's under $100!
Cocktail Christmas Party Dresses
A lot of holiday parties call for a cocktail dress. So this may be the bulk of what's on your social calendar this year!
You might need a cocktail dress for your own work holiday party, or maybe you're attending your husband's work party as his plus one.
Either way, you'll find stunning cocktail dresses for your upcoming Christmas party below.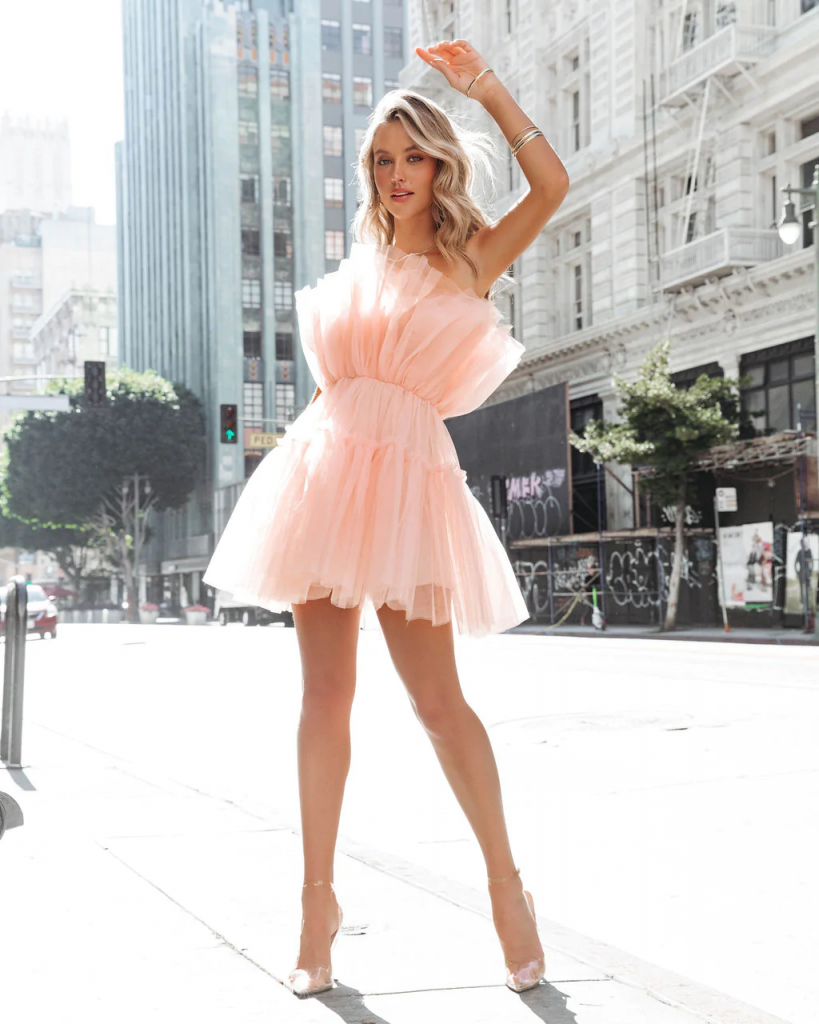 This tulle mini dress is adorable and comes in red, blue and blush pink! Plus, it's a steal at under $100.
Holiday cocktail dresses are some of my favorites because they can be so much fun, and this one is exactly that!
This one would work well for more formal events, and could also be worn for New Year's Eve or even as a New Year's Eve wedding guest dress!
Little black dresses are always great for the holidays, and nothing says holiday like a velvet dress.
This off-the-shoulder ruffled midi dress is an elegant take on the classic LBD and is perfect for cocktail parties.
---
RELATED: What to Wear to a New Year's Eve Wedding
---
This cocktail dress is a stand-out for your upcoming party. The color, the texture, and long sleeves of this one make for a unique and exciting look. In fact, I purchased a similar one in black (pictured below) for a Vegas outfit.
This cocktail dress is under $100 and would be gorgeous for a Christmas party where cocktail dresses are the dress code.
Love sequins? If so, look no further than this gorgeous pink sequin dress, which is perfect for the holiday season and beyond.
SHOP COCKTAIL CHRISTMAS PARTY DRESSES
A cowl neck dress is a classic silhouette. This dress also comes in black.
If you love a black dress but want something a bit different, try this one with feather trim.
If you're on the hunt for a dress that lands somewhere in the middle of cocktail and formal, this one is your match. The off-the-shoulder element on this dress is simply stunning.
Formal Christmas Party Dresses
Formal Christmas parties can be so much fun to dress up for because they seem to give us a reason to put on an elegant dress outside of our "norm"!
Although themes of formal holiday parties can vary, I've pulled some of the most beautiful formal dresses of the season below.
This long sequin dress dress is a show-stopper for this holiday season. The oversize bow is ultra-glam. This dress also comes in black.
Green dresses for the holiday season are so elegant, and this deep green velvet dress is stunning. This style is so tasteful, and a perfect match for your formal holiday party.
This may just be the perfect holiday party dress! Oversized bows and red dresses are a match made in heaven.
Even better: this dress is priced under $100!
This black open-back dress from Petal & Pup is another showstopper. If you're looking for a sexy Christmas party dress that would also work for other occasions, this one is definitely worth a look.
SHOP FORMAL CHRISTMAS PARTY DRESSES
You'll definitely turn heads in this gorgeous red dress, which reminds me of the dancing emoji!
Strappy heels and a matching red lip are all you need to complete the look.
This off-the-shoulder mesh gown is also gorgeous for a gala or a formal Christmas party.
The Family Christmas Party
Does your family dress up for Christmas?
I know some families can be a bit more on the casual side for the holidays, so I had to include a few short dresses and casual look options if you're looking for something less dressy this season!
This red sweater dress from Amazon is both comfy and casual; I wore it last Christmas and love how warm it is yet pretty!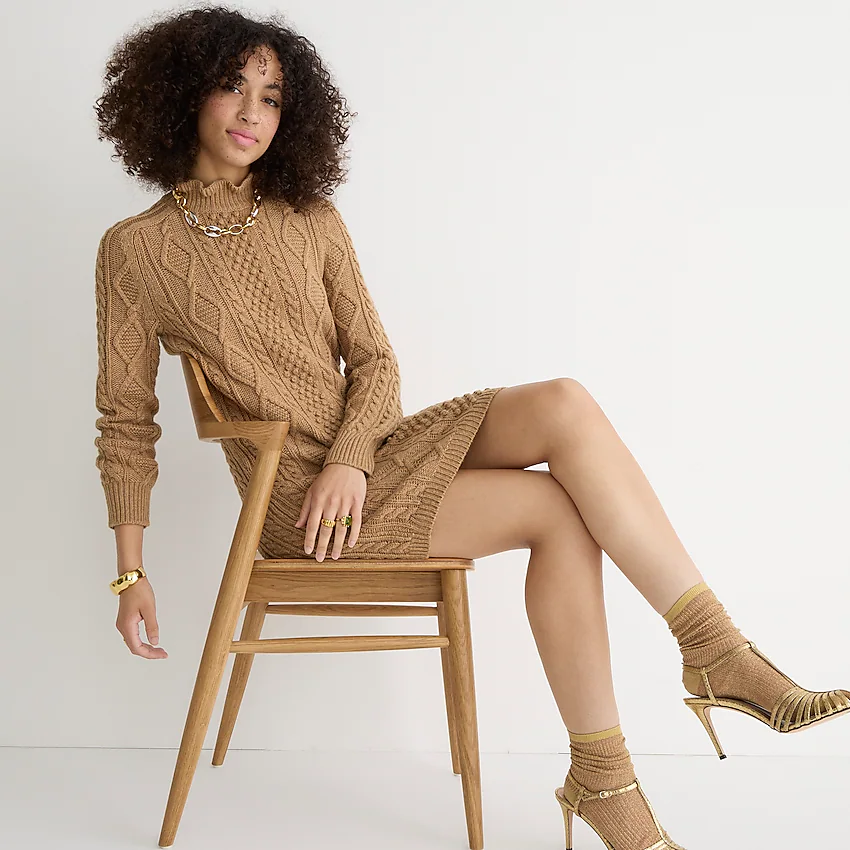 This chunky knit sweater dress will work for your family Christmas party and beyond! I love the neutral color.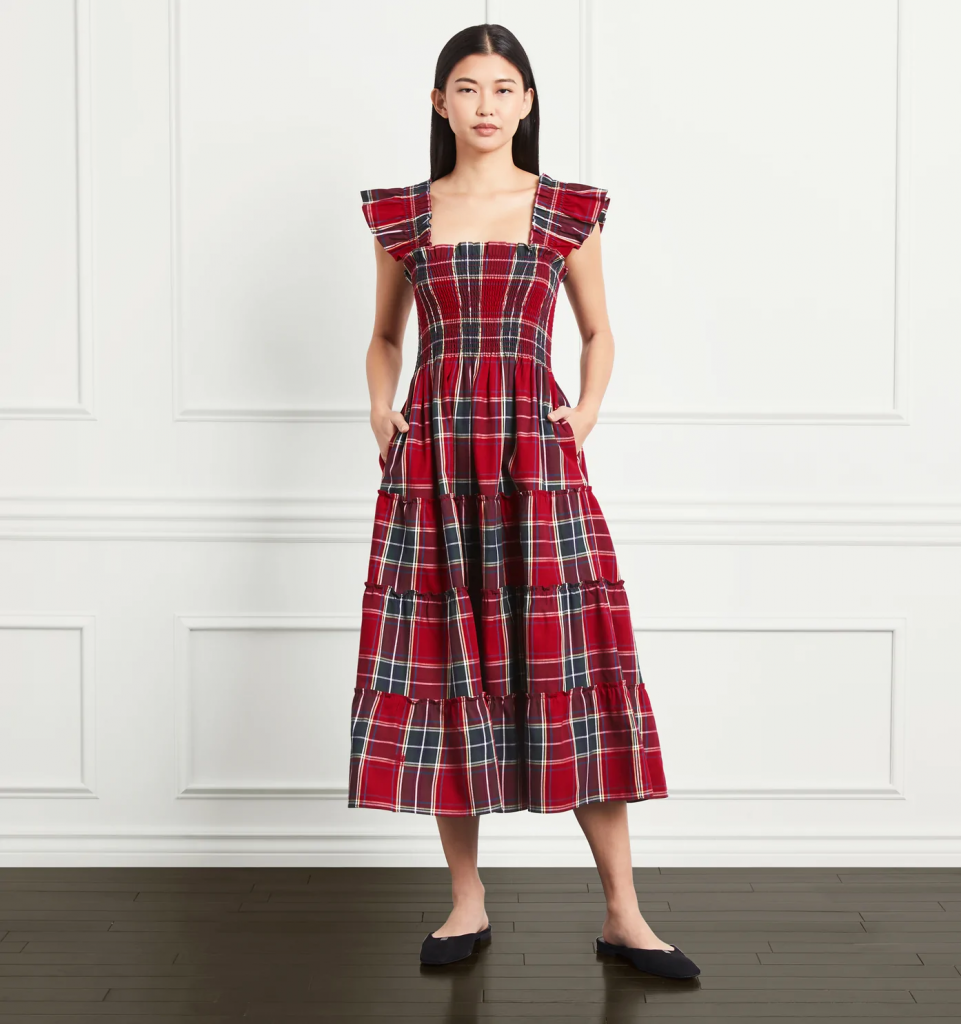 Looking for something a bit more traditional? Try the Nap Dress in this gorgeous tartan print.
This burgundy ruffle dress from Amazon is another fun and casual Christmas party outfit idea. It runs true to size and I love the faux wrap skirt detail.
Where to Shop for Christmas Party Dresses Online
Need more Christmas party outfits to peruse? Here is where I recommend shopping for Christmas dresses:
I hope this roundup of holiday dresses for the upcoming festive season was both helpful and inspiring to you as you gear up for a busy, but wonderful time of the year!
---
What holiday parties are you excited to shop for this year? Let me know in the comments below!