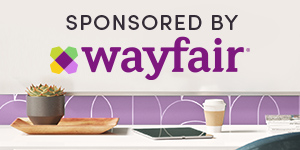 Special thanks to Wayfair for sponsoring this post
If you're looking for Christmas decorating ideas for your living room, you're in the right place! You'll learn how to do just that in this post, even when you don't have a fireplace.

Our Champagne-Themed Christmas Living Room Decor Without a Fireplace
Decorating your living room for Christmas when you don't have a fireplace is as simple as this one little trick: creating a focal point!
I do this in our home by turning our TV stand into a "Christmas mantle" complete with a wreath, garland and Christmas decor!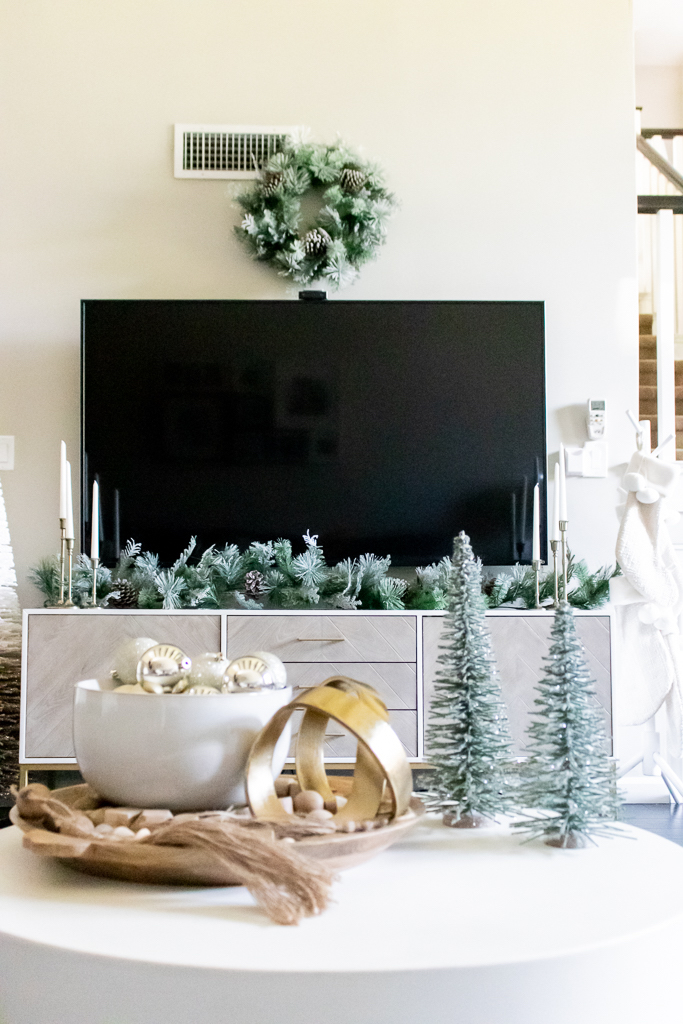 Since our living room also has our Christmas tree, it's nice to decorate the entire room and use the existing focal point as a place to concentrate our Christmas decorations.
How to Decorate Your TV Stand for Christmas
As it is for many households, our natural "focal point" (where all the furniture is pointed at) is the TV stand. So I turned this into our makeshift fireplace.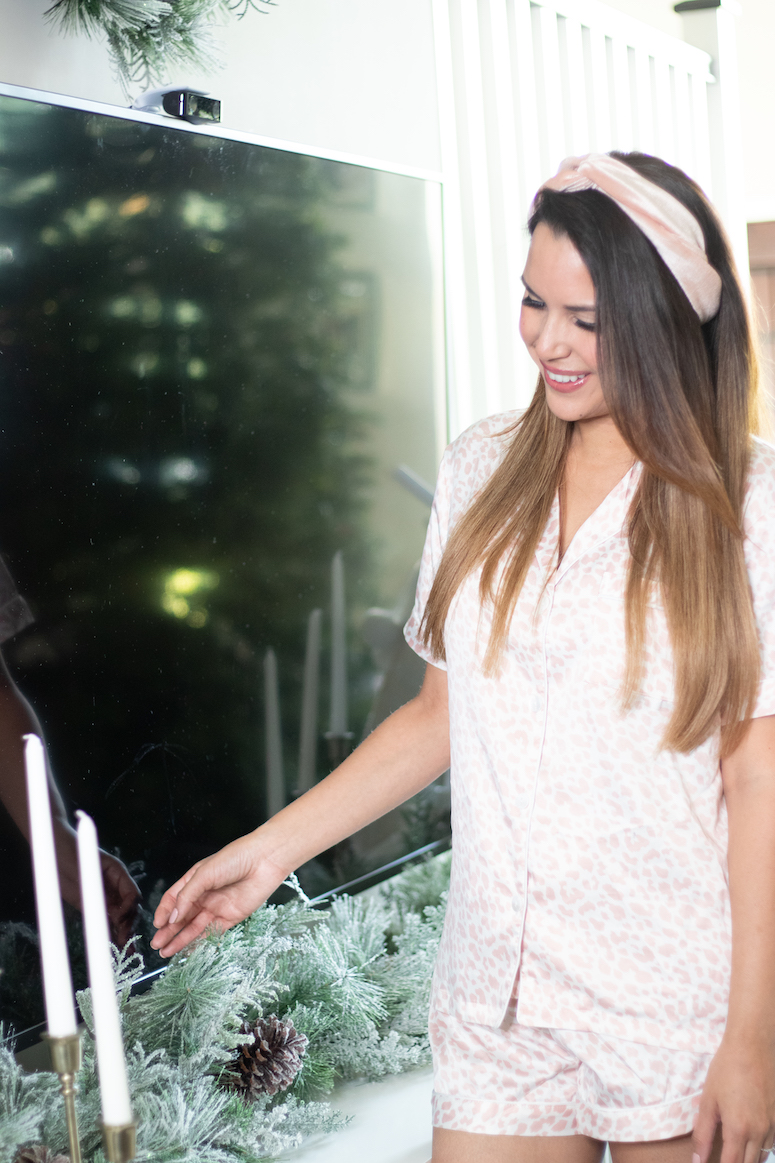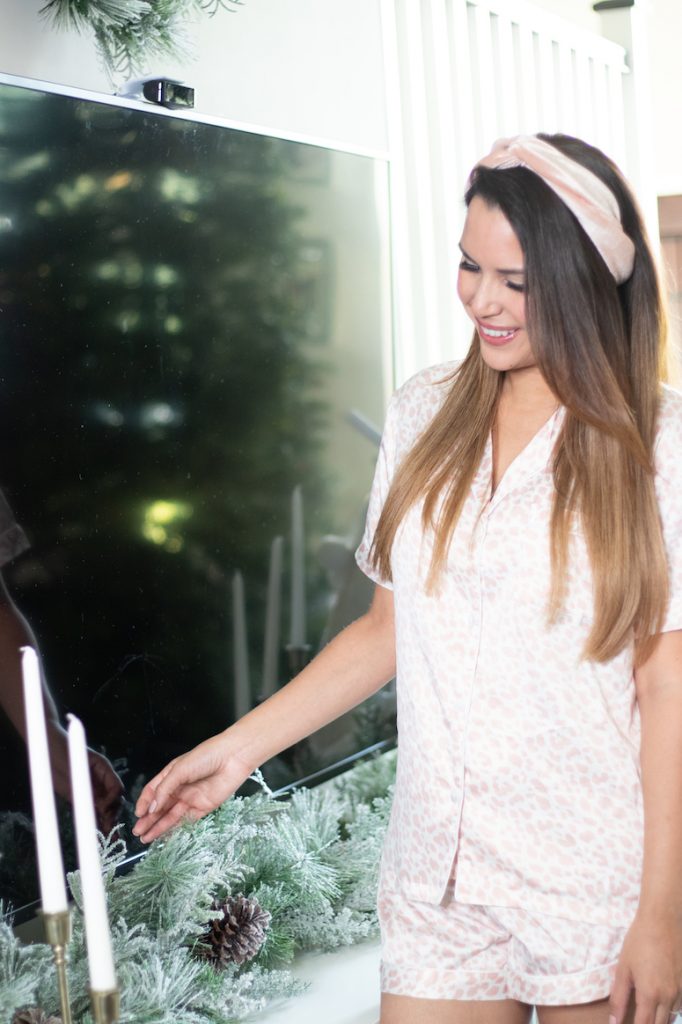 You can easily do this, while keeping it somewhat minimal, by being selective about what Christmas decor you put on your TV stand, so it doesn't actually cover the TV and obstruct the view.
Let's face it, my husband (and most husbands) would NOT be please about that!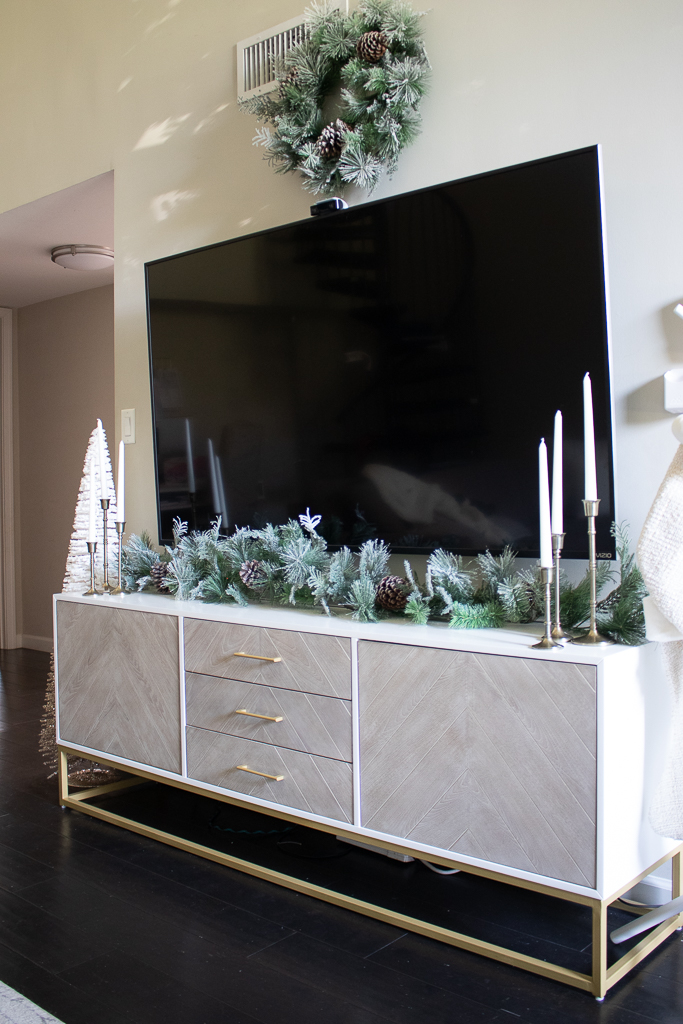 I grabbed this gorgeous garland from Wayfair and added some fairy lights. We simply set it on the TV stand without a need to anchor it down or add extra baubles.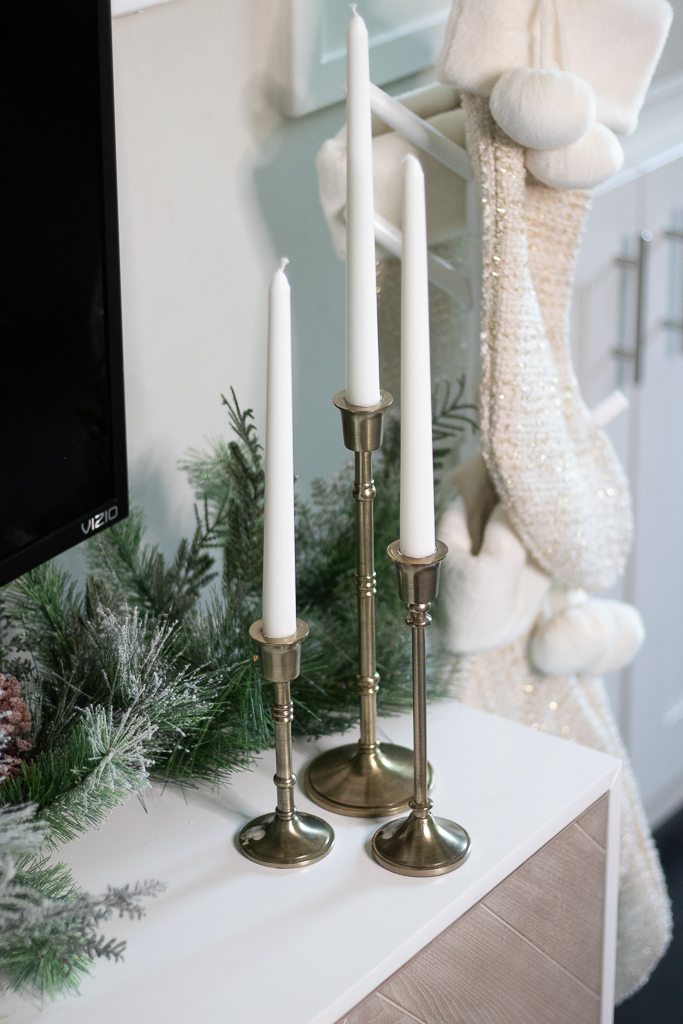 The ends are bookended by tall gold candleholders and candlesticks; I wanted something that wouldn't obstruct the view to the TV stand but still pulled the look together.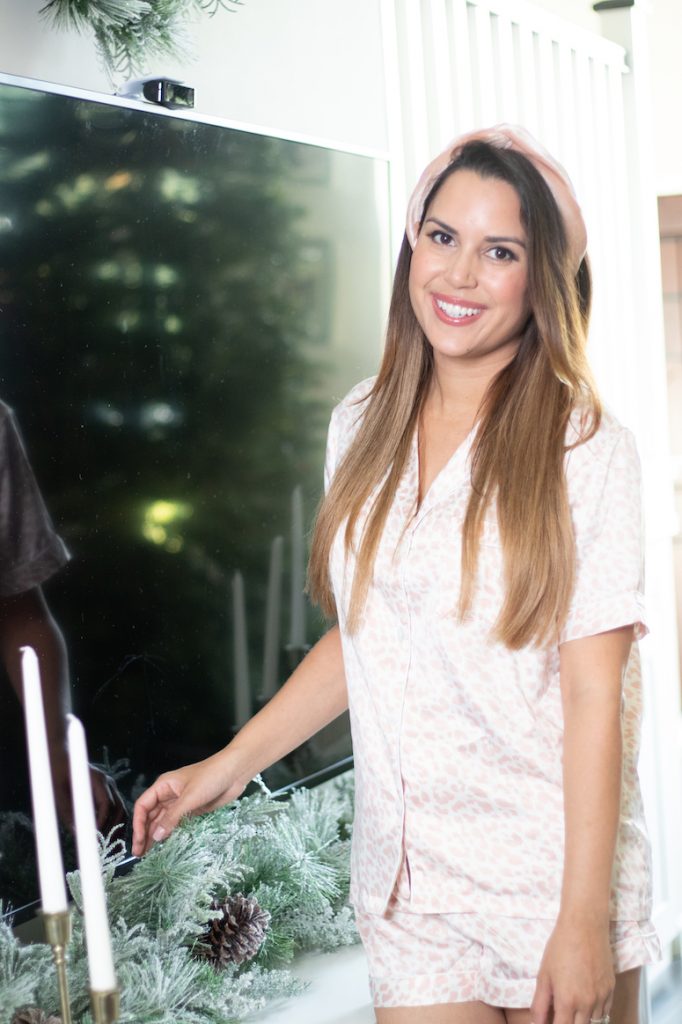 If you have room, you could add in other Christmas decor around the TV stand, as if it were a mantle. I did this with a tall decorative Christmas tree on one end and our stockings on the other.
Where to Hang Your Stockings When You Don't Have a Fireplace
If you need an idea on where to hang your stockings if you don't have a fireplace, steal this one!
I bought a small kid's coat rack and hung our stockings there as an alternative to the fireplace/mantle that we don't have in our home. It works well with the rest of the decor and the kids love seeing the stockings at their height!
This is also a great idea for anyone who needs Christmas decorating ideas for a small living room since it saves on space.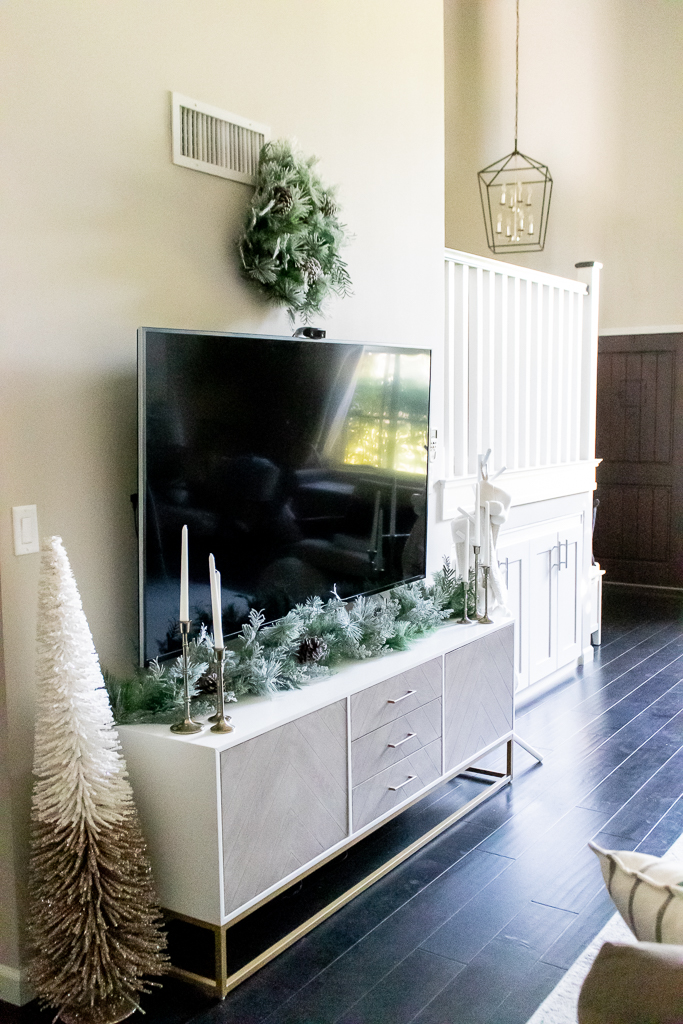 Above the TV, I hung the matching wreath to the garland. But you don't have to match it to each other if you don't want to.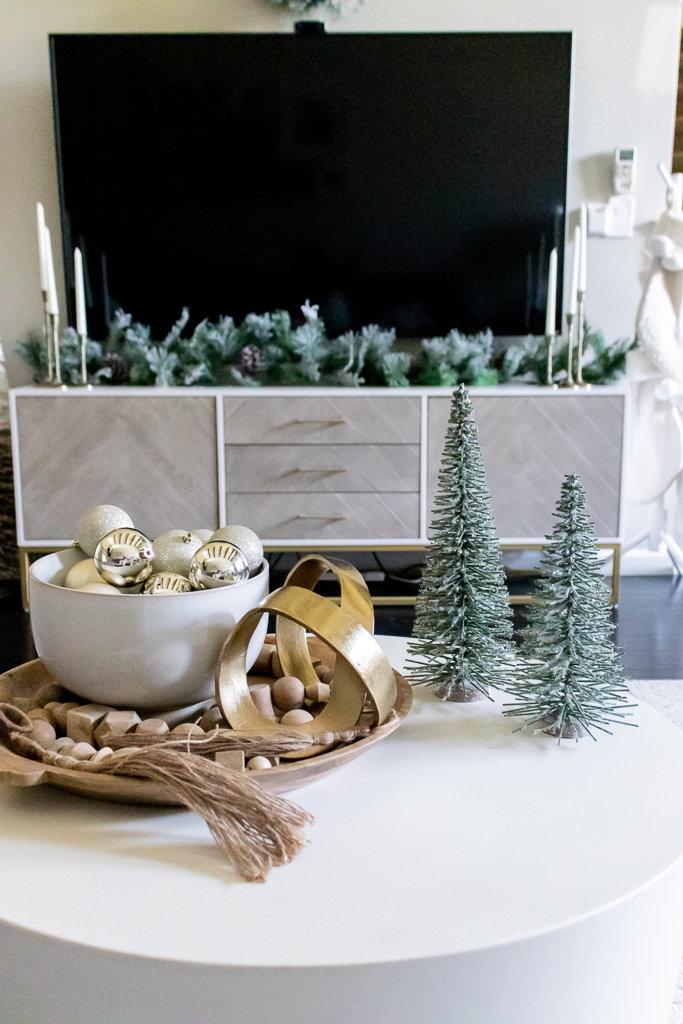 There are tons of garlands with matching wreaths on Wayfair, but if the exact one you want is out of stock I would recommend signing up for email notifications or simply opting for something similar.
Christmas Decorating Tips for Your Living Room
Remember, Christmas decor doesn't have to be matchy-matchy! Since my garland is flocked, I would've chosen any flocked wreath to match. But my Christmas tree isn't flocked and it all still goes.
Our Christmas decorations are stuck in storage so I had to opt for a new color scheme this year so I went with a Champagne color palette.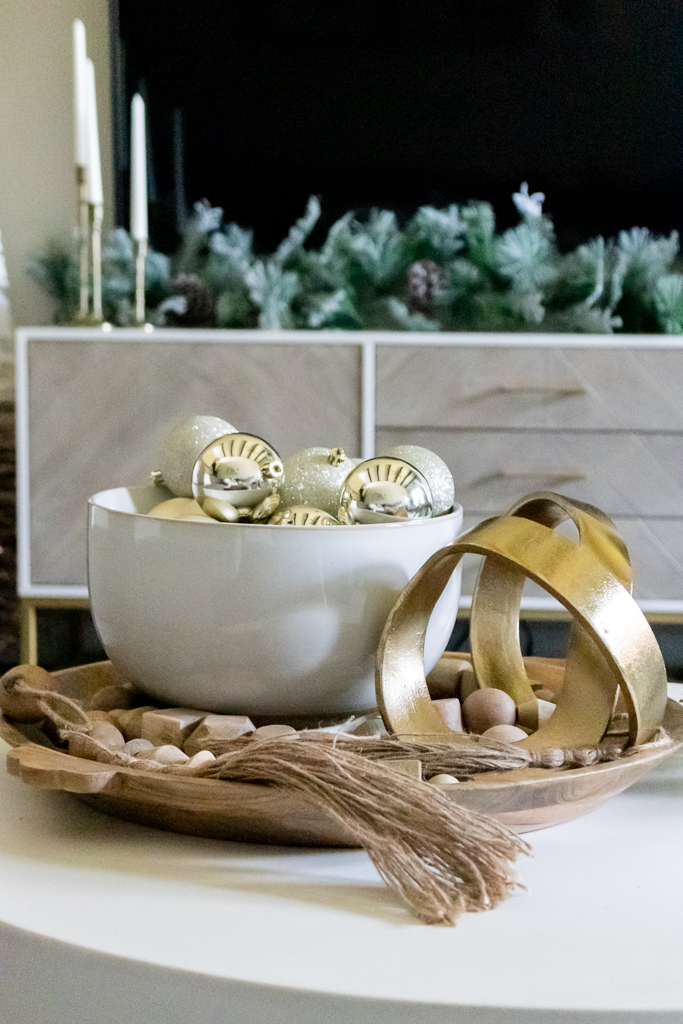 I filled this bowl with these gold ornaments for the coffee table decor and added these small Christmas trees. It was a quick and easy way to decorate our coffee table and really ties the look together in the room!
You can keep things simple yet elegant, without being too fussy, and easily decorate your living room for Christmas.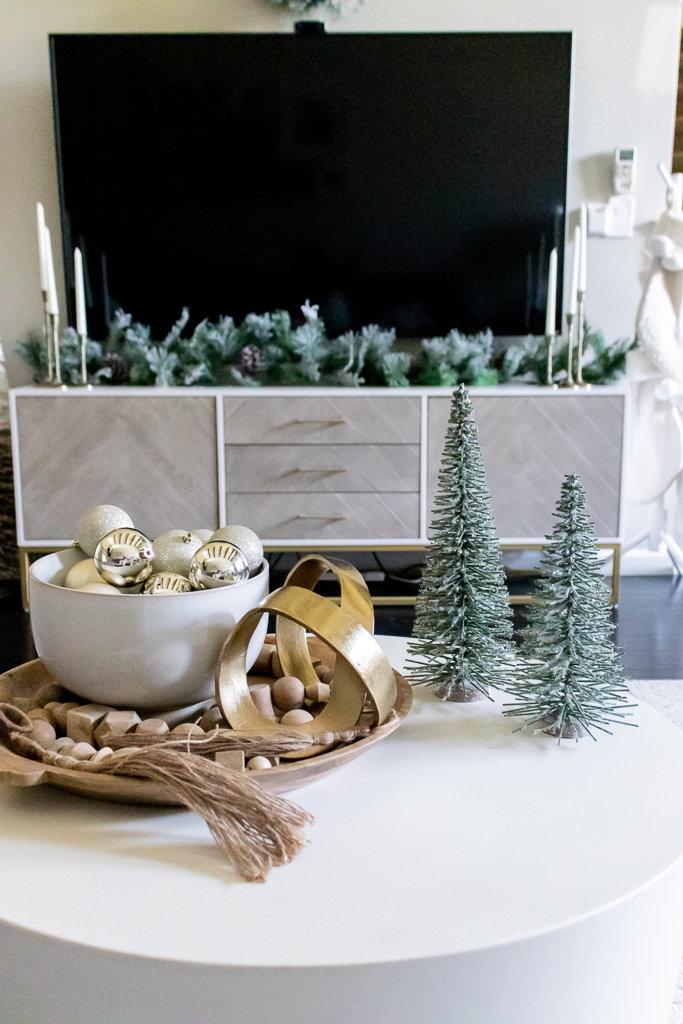 And if you really want that fireplace feel, just turn your TV on and head straight to Netflix or YouTube for a fireplace background. We do this all the time, throw the blankets in the dryer to warm them up and it instantly feels that much cozier.
---
Do you decorate your living room for Christmas? What tips do you have when decorating without a fireplace?