Does your makeup look like a toddler gathered up every lipstick, palette and makeup brush in your home and dumped it out with unmistakable glee? If so, you're not alone: organizing your makeup isn't easy!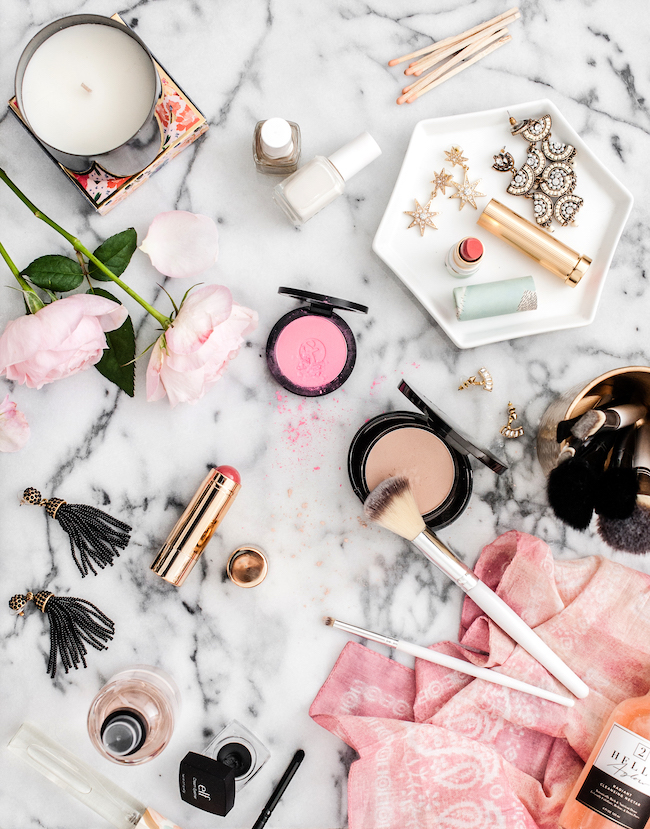 Now that I'm a mom, I've had way too many incidents of my toddler knocking over my favorite eyeshadow palette because I left something out. Seeing the sad powdered glitter littering my bathroom floor (I swear I still find glitter in the crevices to this day) I vowed to start organizing makeup the next day.

Now, if you're not sure how to organize makeup, then you may find the concept of organizing makeup to be a bit difficult. Don't worry: I've created a handy guide that will take you on the surprisingly satisfying journey of learning how to organize makeup once and for all and there's lots of makeup storage ideas, too!
Getting Started: Sort, Save and Toss!
The first step in organizing makeup is to sort through your collection. Yes, you might need to throw some things out. Newsflash, friends: makeup does expire!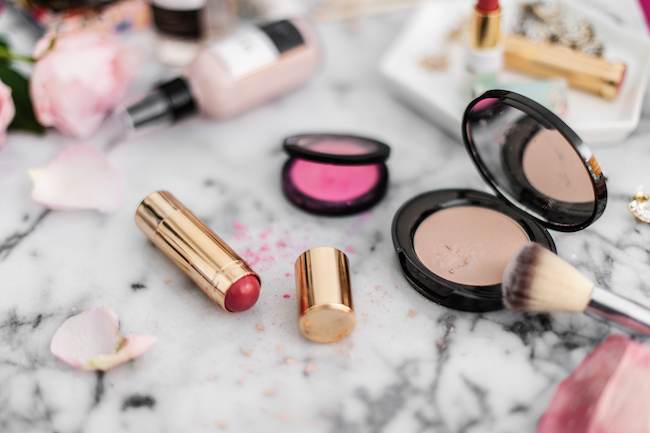 While sorting through your makeup, create two piles: keep and toss out.
What to Keep
You should keep makeup that is:
Something you use every day (as long as it's not expired)
Something you really love (even if you only use it for special occasions)
It's not like I do a full glam smokey eye on the daily, but I do keep those deliciously dark palettes around for special occasions. So that would definitely fall into the "keep" pile.
What to Toss
You should throw out makeup that is:
Definitely expired
Old and probably expired
You really don't want to take chances with old makeup, since this can increase the risk that there will be unwanted bacteria lurking in it. Skin infections are not worth the risk.
Besides, if you haven't used it in that long, you probably won't!
When is Makeup Expired, Anyway?
Do you throw out old makeup? If you don't already, you should start now. Old makeup is not just a bit grungy–it's potentially dangerous.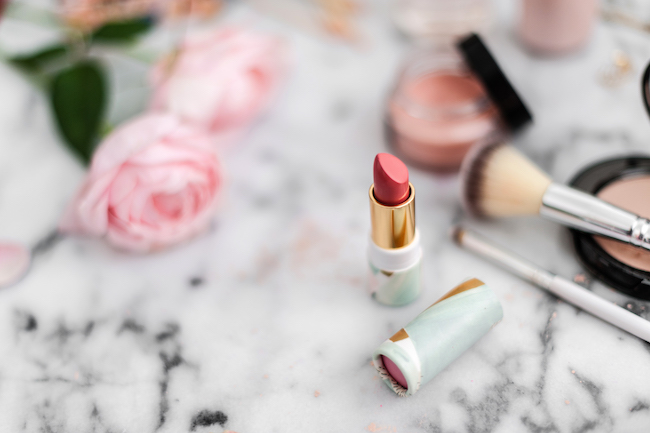 Old, expired makeup can harbor bacteria which can give you skin infections or even blood poisoning.
If your makeup is old, don't even think twice about tossing it. Besides, this gives you an excuse to buy something new!
This article includes some guidance on checking the cosmetic calculator to help determine when your makeup was manufactured if you're unsure.
Looking for even more help on this? Check out this guide to makeup expiration dates.
---
RELATED: The Best Beauty Buys on Amazon
---
Makeup Expiration Dates
Here's a quick rundown of the "shelf life" of common makeup items.
Eyeliner: 3 months (liquid or stick)
Eyeshadow: 1 year
Mascara: 3 months
Foundation: 1 year
Concealer: 1 year
Lipstick: 2 years
Lip gloss: 1 year
Powdered blush or highlighter: 2 years
Cream blush or highlighter: 1 year
As a general rule of thumb, anything that goes close to your eyeline (such as eyeliner and mascara) should be replaced every few months. Don't take risks when it comes to your eyes!
Organizing Your Makeup (Now that You Know What You're Keeping!)
Now that we've got that out of the way, it's time to start actually organizing your makeup. First, you'll have to decide on how exactly you'll be storing it so you can select the best way to organize your makeup.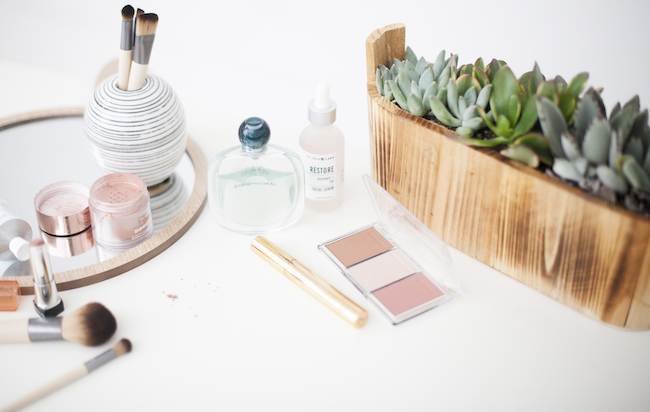 First, think about where you want to store your makeup. Some makeup storage ideas to consider include:
Countertop or vanity makeup storage solutions
Organize makeup in drawers with containers
Or, perhaps a combination of the two!
You should definitely stop to consider how you personally use your collection, as this can have a major impact on how you ultimately organize things.
Of course, the size of your bathroom and vanity will also have a big impact here.
If you're limited on countertop space, keep your dailies front and center.
Your favorite lipstick, for example, shouldn't be shoved into the back of a makeup drawer that requires you to pull something out to reach it.
How I Organize My Makeup Collection (In Case You Want to Adopt My Method!)
Need some ideas for storing makeup? Here is how I do my personal setup.
For my makeup, I use a mix of acrylic drawers and acrylic lipstick organizers similar to these.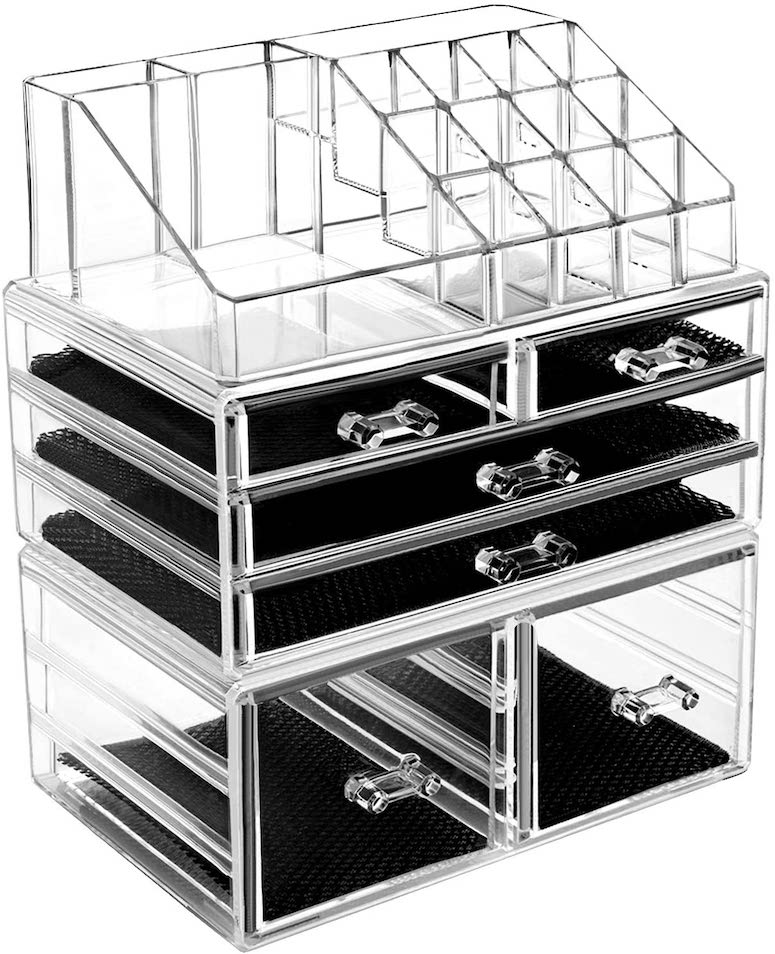 My eyeshadow palettes and blushes are stacked in acrylic drawer organizers and I have lipstick organizers that sit on top of the drawers.
I customized mine myself, but you can get some that look just like my setup here.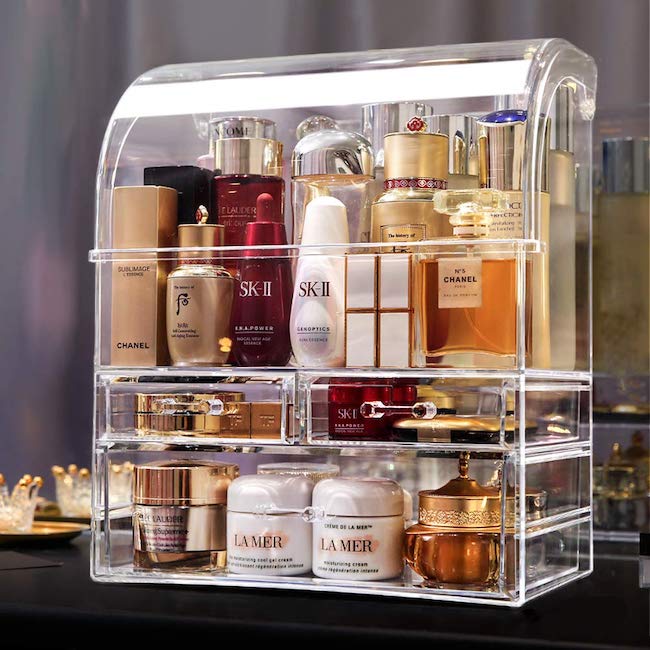 If you have larger items like perfumes and skincare you want to store along with your makeup, a beautiful large cosmetic organizer like this may be just what you need.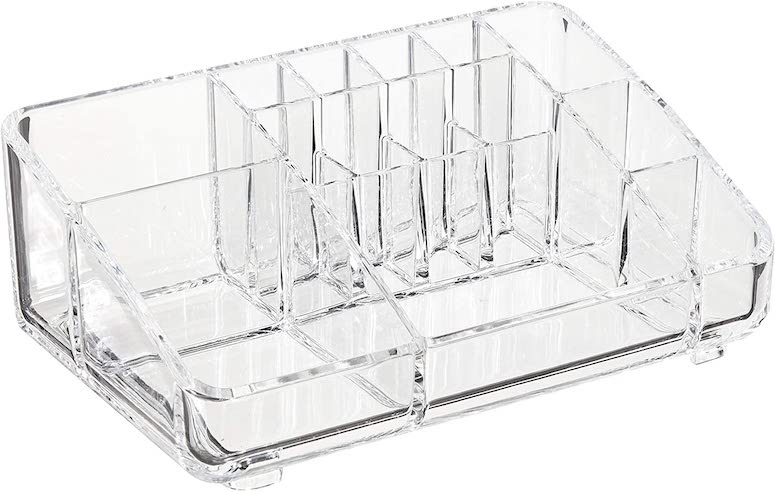 The lipstick organizers hold lipstick but also other wider essentials like my favorite foundation, eye shadow sticks, mascara, etc.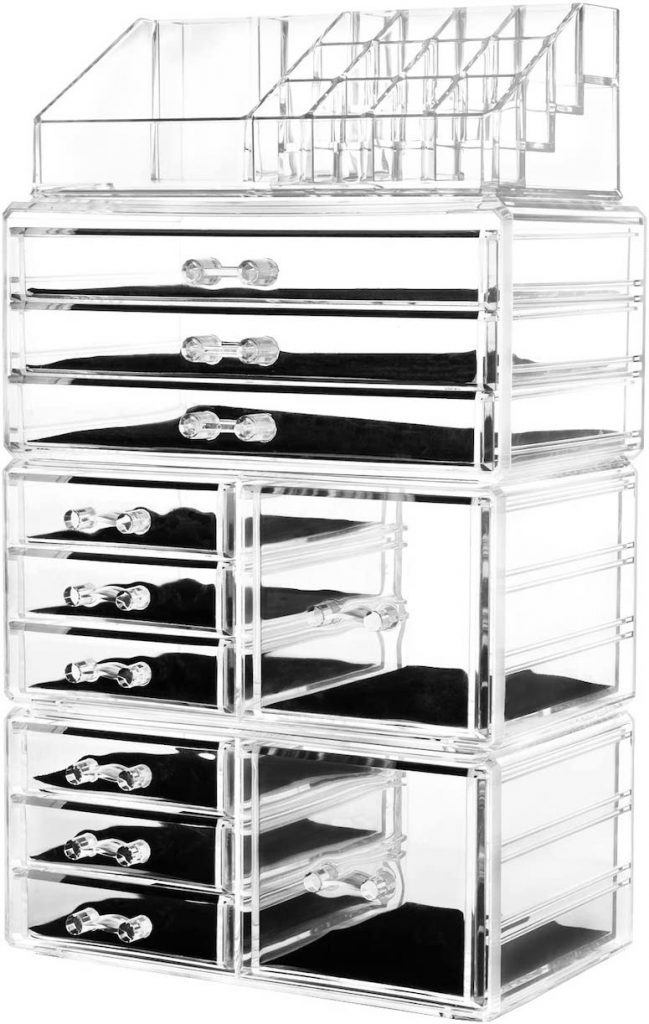 And for my makeup brushes, I actually ended up finding this really cool pencil organizer Lazy Susan. I grabbed one at my local T.J. Maxx and it ended up being perfect for this. It looks just like this one.
I could write a whole entire new blog post on organizing makeup brushes, but just wanted to give you an idea of what works for me!
Countertop Makeup Storage Ideas
If you've decided you need bathroom storage for makeup, I personally love and recommend the acrylic drawers.
They can be pricey, but it's nice to be able to see exactly what's inside each drawer and have easy access to your makeup.
Good quality acrylic makeup organizers should last you many years anyway! It's one of the more popular makeup storage ideas for a reason.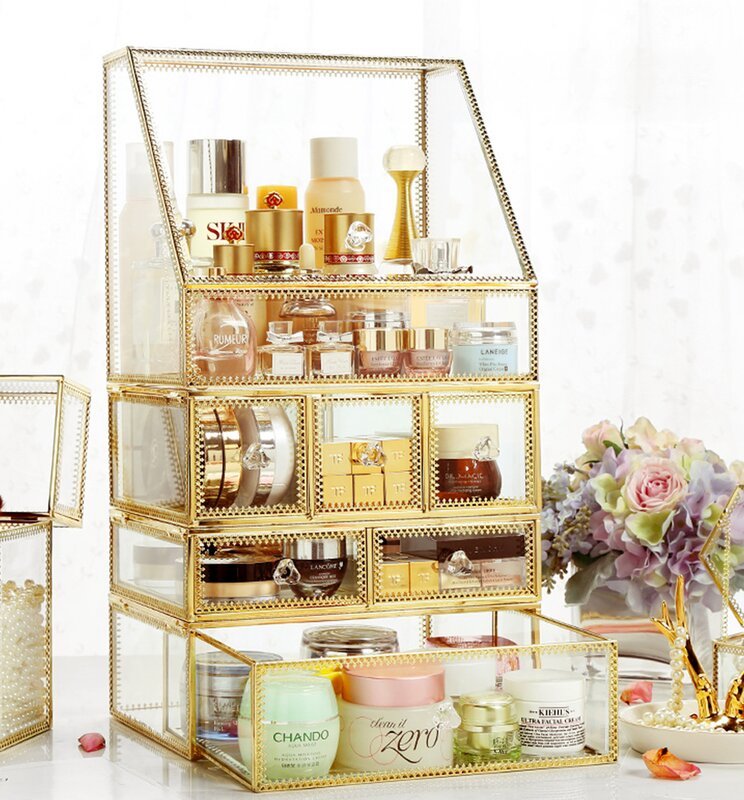 If you're looking for something stylish and chic, this glass makeup organizer would look gorgeous on any vanity or bathroom counter.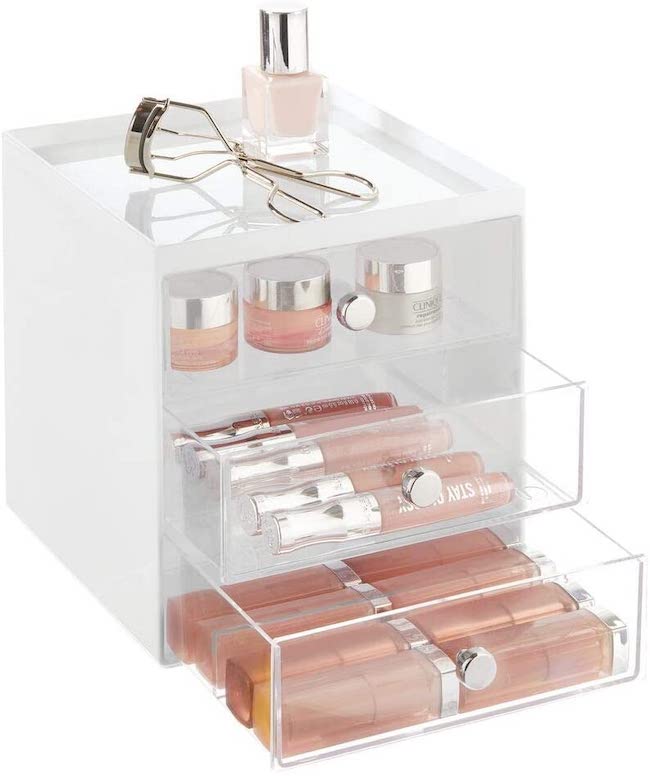 These mDesign drawers are stylish and practical. You can stash a few things on top as well. (I love all of the mDesign organizers actually, you can find them here!)
There are a ton of countertop makeup storage ideas that could also work inside a linen cabinet, too.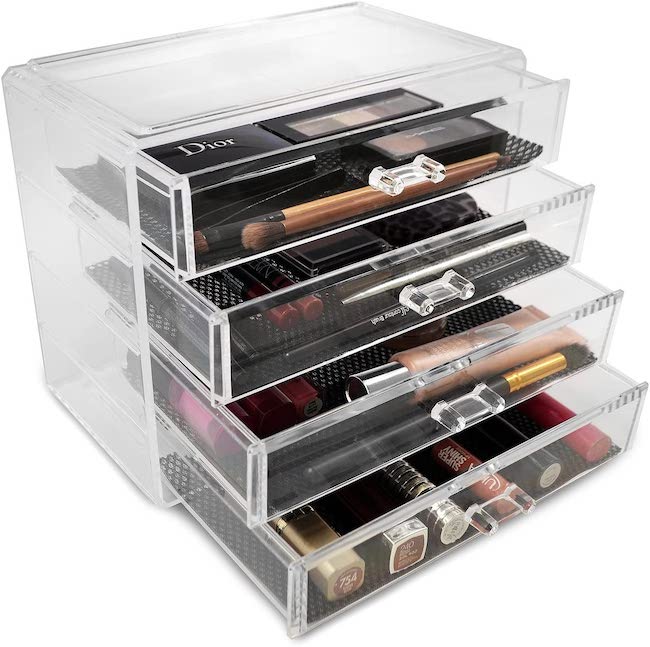 These makeup drawers, for example, have deeper storage and are super cute.
---
RELATED: Do You Need a Skincare Fridge? Here's What's in Mine
---
How to Organize Makeup with Storage Caddies and Rotating Organizers
Storage caddies make convenient holders for tall items. And caddies that rotate like this one are especially handy. These are great if you want to see all of your beauty items at a glance but are short on countertop space.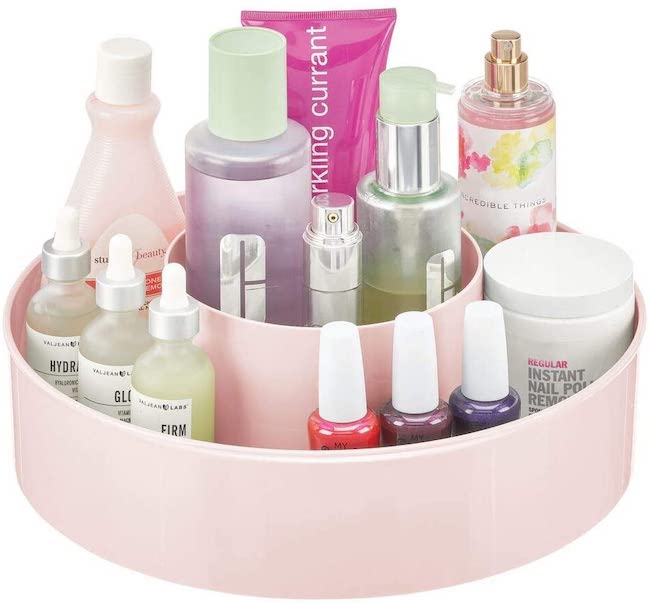 This Lazy Susan is also a great makeup storage idea since it rotates and accommodates taller items.
Storage caddies are perfect for brushes, mascara tubes, lip glosses, and other items that are tall or which can be safely stored upright.
Storage for Makeup: The Best Lipstick Organizers
If you own a ton of lipsticks, then you might need a dedicated lipstick organizer!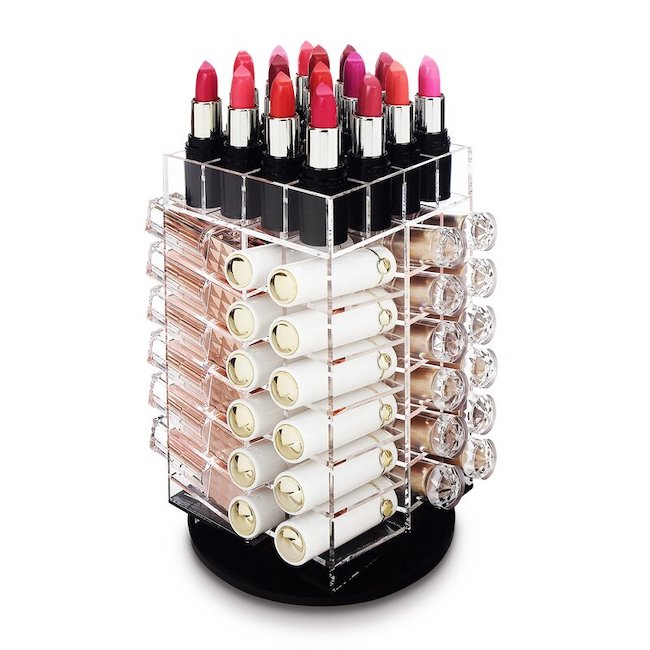 This lipstick tower rotates and can fit a whopping 64 lipsticks!
Here's the other thing about lipstick organizers—a lot can fit so much more than just lipstick!
Yes, they happen to be the perfect size for your lips favorites, but they do quite well for other items, too.
I think lipstick organizers are perfect for storing smaller items you use every day, like a favorite mascara or eyeliner.
Save Space with Stackable Makeup Organization Drawers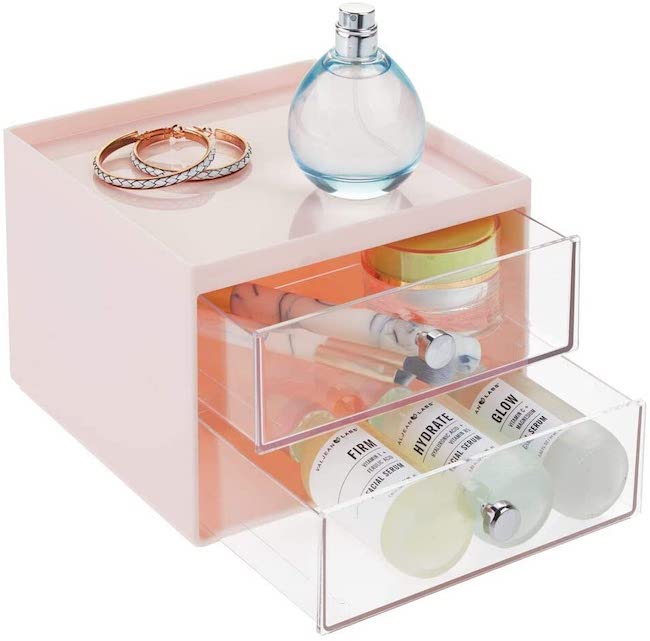 If you need ideas for storing makeup that are also space-saving, look for cases that are stackable like this drawer set. This also allows you to really customize your configuration for what you need.
Another popular makeup storage ideas is clear makeup drawers so you can see your items easily.
You can use stackable makeup storage on your countertop or inside deep drawers and cabinets. I have some in my linen closet and under the sink as well that I use to store other essentials like razors, cotton balls, Q-tips, etc.
Be Travel-Ready with Cosmetic Cases
Are you always on-the-go or looking to organize your makeup for travel? Cosmetic cases are an easy makeup storage idea.
This train case with removable dividers is my favorite for travel. It's easy to customize and has room for your makeup brushes, too.
I keep this one pre-packed with some of my travel makeup essentials to make getting ready for vacation a total breeze.
Of course, you could always go old school with cases like caboodles or large train cases! If you have a large makeup collection, this could be a great way to store makeup that doesn't need to be out on display at all times.
Hide the Clutter with Drawer Organizers for Makeup
Need to store your makeup in a drawer? Get some drawer organizers.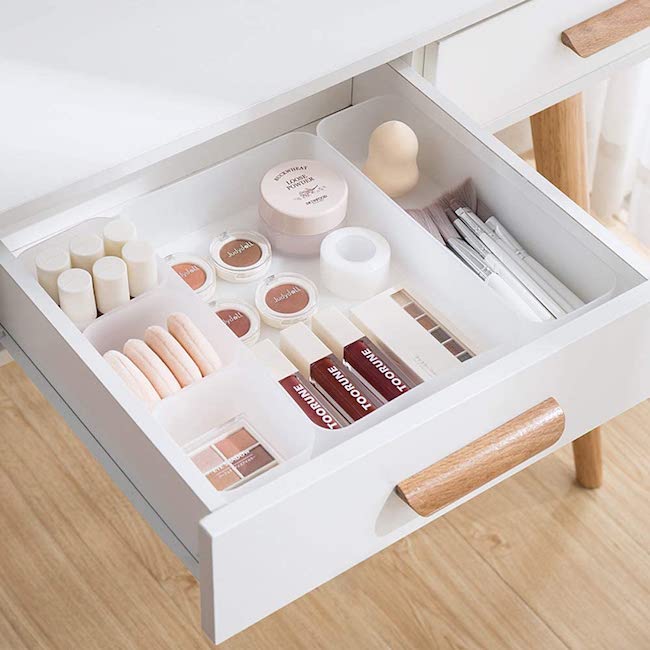 You can use customizable drawer organizers or even utensil organizers. Yes, a flatware server is one of my favorite makeup storage ideas.
This is a great way to separate your makeup and organize it into like-sizes or products.
What's great about these is that they're entirely customizable so you can use the little cubes to organize your makeup in the best way you see fit.
The first drawer in my bathroom is organized with cubes like this; in it I store things like toothpaste, my contact lens case and some skincare items that I want within reach but stored away.
How to Organize Makeup Palettes
Got a lot of makeup palettes? You may want to try a makeup palette organizer!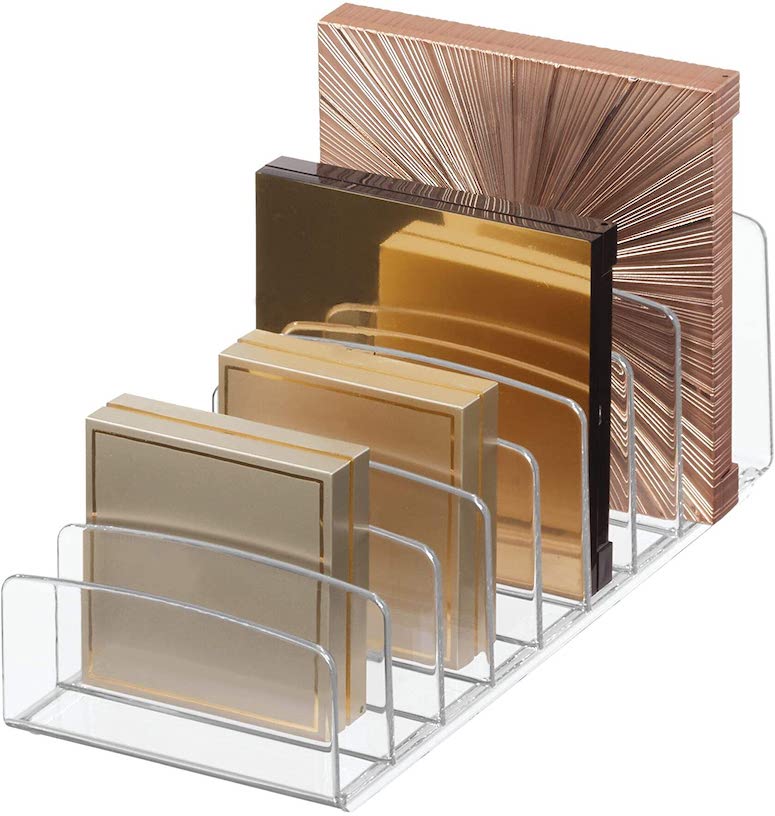 These are a great solution for corralling a few palettes and keeping them on display within easy reach. They can also be stacked on other trays and makeup drawers.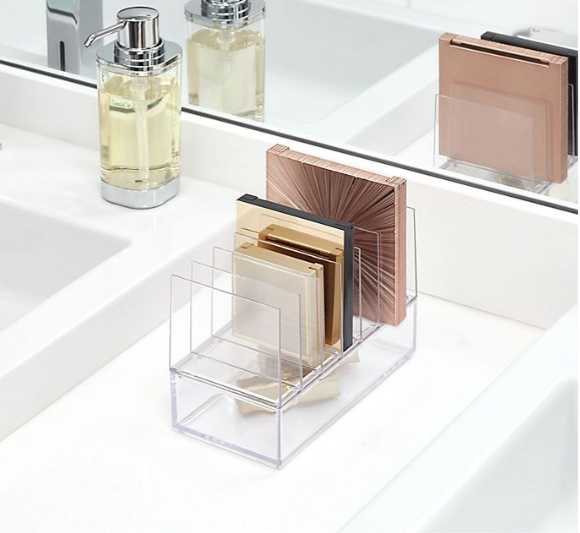 You can get even more specific like with this compact organizer palette, which is perfect for holding all of those blushes.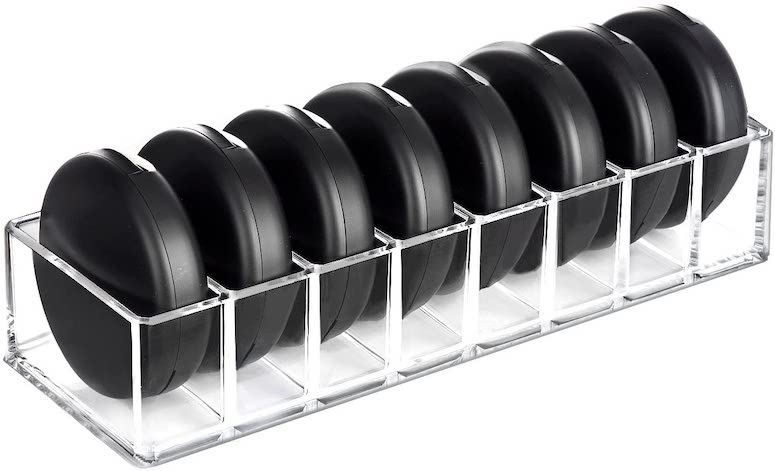 If you prefer to stash your palettes vertically, rather than stuffed inside of a drawer, then a makeup palette organizer may be for you.
Rolling Carts for Makeup Organization
My makeup collection isn't big enough to justify such a thing, but I know a lot of beauty YouTubers and enthusiasts may just have the space (and need) for a rolling cart!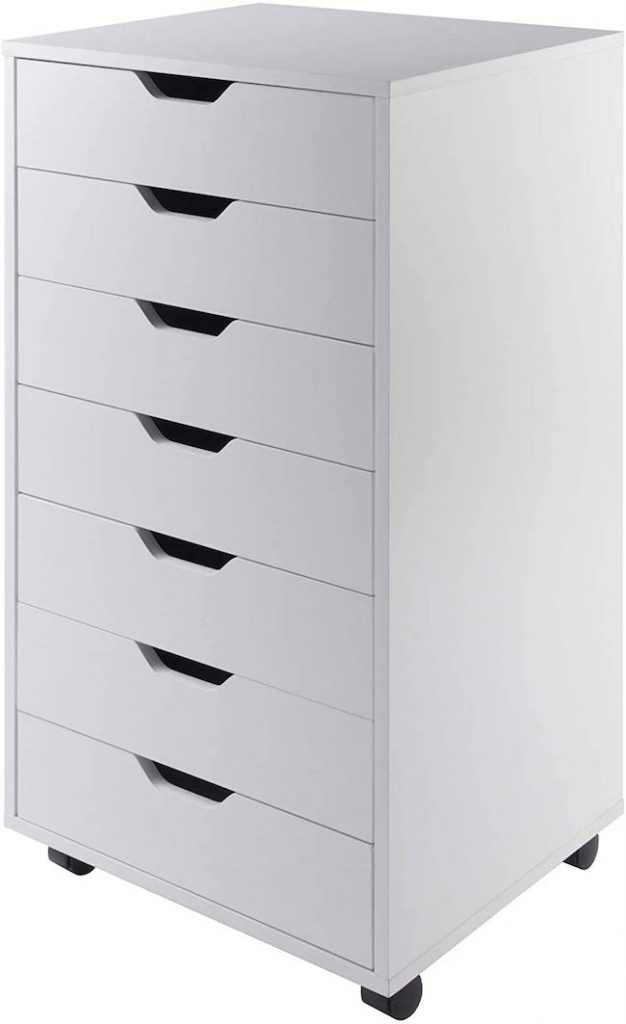 This cute white one has 7 drawers and will seamlessly blend into your decor. It's a great makeup storage idea if you have a large collection.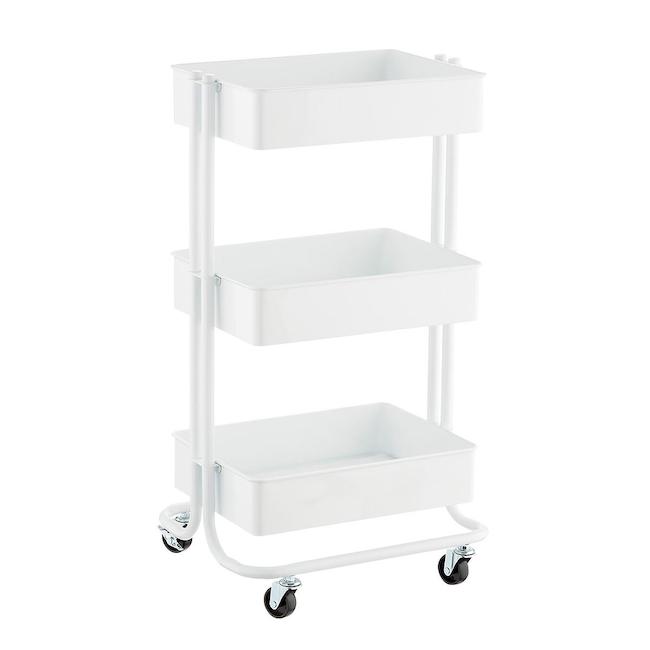 For an affordable pick, try a craft cart! You could also use this to store your hair tools, too. This one is under $30 and comes in a ton of colors to match your home decor.
If you decide to use a rolling cart as your primary makeup storage idea, keep these top organizational tips in mind:
Make sure to purchase makeup baskets to organize within the rolling cart
Keep your most-used makeup items toward the top of the cart
Consider unique makeup storage ideas like a pencil holder for brushes
Avoid makeup drawers which would be hard to see in a cart
---
Why Your Current Makeup Organization Method Isn't Working
If you've tried all the things and keep feeling frustrated with the way your makeup is organized or changing it up, there may be a few reasons why.
First, when it comes to organization in general, it does take a bit of trial and error to see what works for you. And, that can change!
I used to do my makeup on the floor, and now I do it on my vanity. A change like this meant a change in the way I organized some of my daily makeup and a need for organizing the vanity.
Here are a few reasons why it hasn't worked out for you in the past so hopefully you can keep your cosmetics organized once and for all!
Your makeup isn't close to where you use it (in another room or a drawer)
You can't find what you're looking for (not in a clear container or hidden under other things)
Half of it is in your purse (it's ok to buy duplicates so you have some for on-the-go!)
One more important thing to remember about organizing makeup: you can always change it if it doesn't work for you! So don't worry too hard if it's not perfect the first time around.
How to Store Makeup: Proper Care Tips
Now that you've got some ideas for storing makeup, what about the proper way to actually store it? Here are a few ideas and tips to keep in mind.
Keep items like nail polish away from sunlight, which can alter the color of your polish
Make sure your lipstick is out of heat, it can melt! Some people like to store lipstick in a beauty fridge
Avoid moisture and humid environments, which can encourage the spread of bacteria
---
Got a tip about organizing makeup that I left out? Leave a comment below telling me your favorite makeup organization tip below!