21+ Ways to Organize Your Nail Polish
Have you built up a good nail polish collection over the years, but you've realized you don't have a great organization system set up?
It's easy to let those one-off nail colors, nail supplies and nail tools get spread out amongst all of your other beauty products.
With a few simple storage solutions, you can turn your scattered collection into a nail-salon-quality organization system in your own home!
Become your own nail artist and consider these great ideas to help you clean up your collection and get the most use out of the nail polishes and manicure tools you already own.
Without further ado, let's jump in!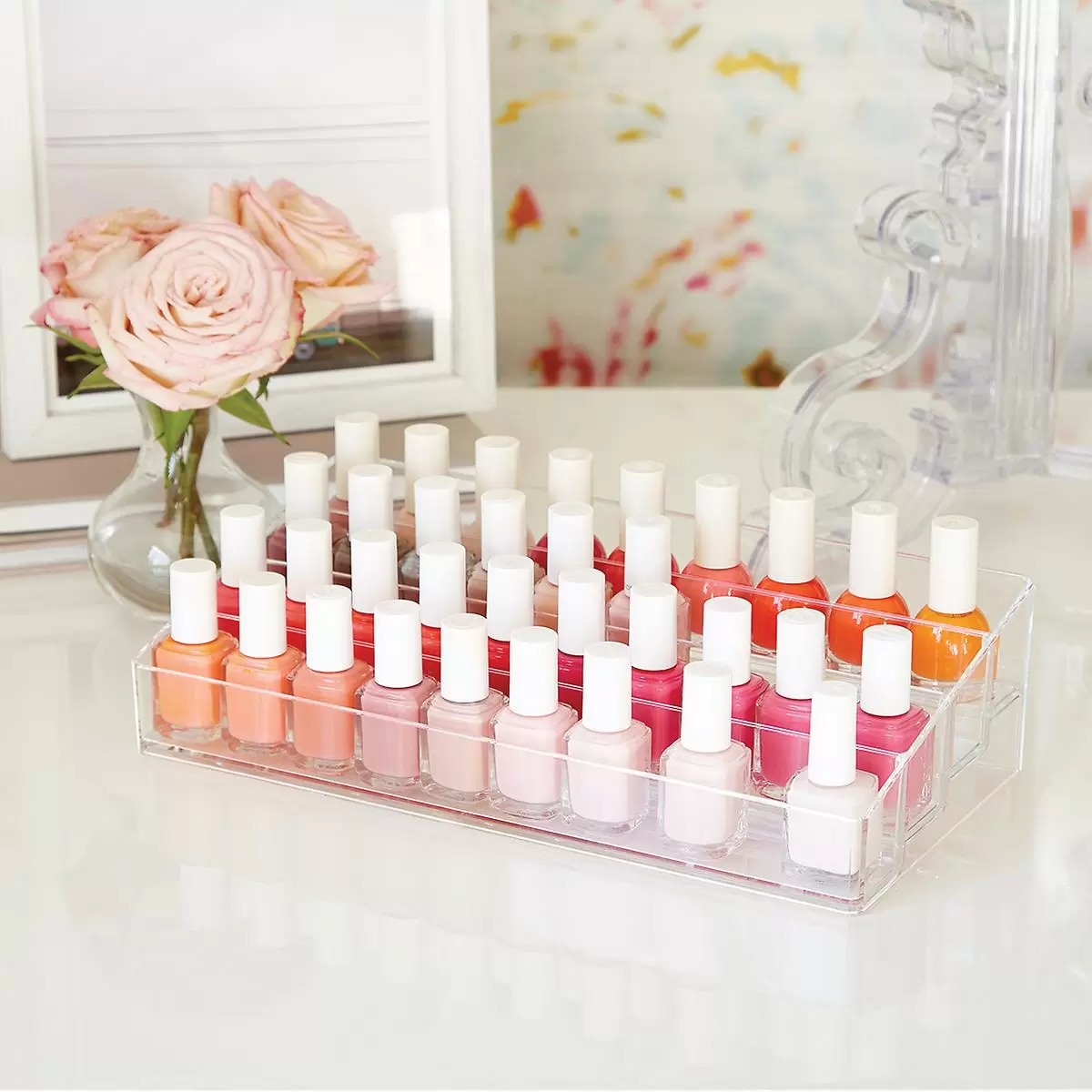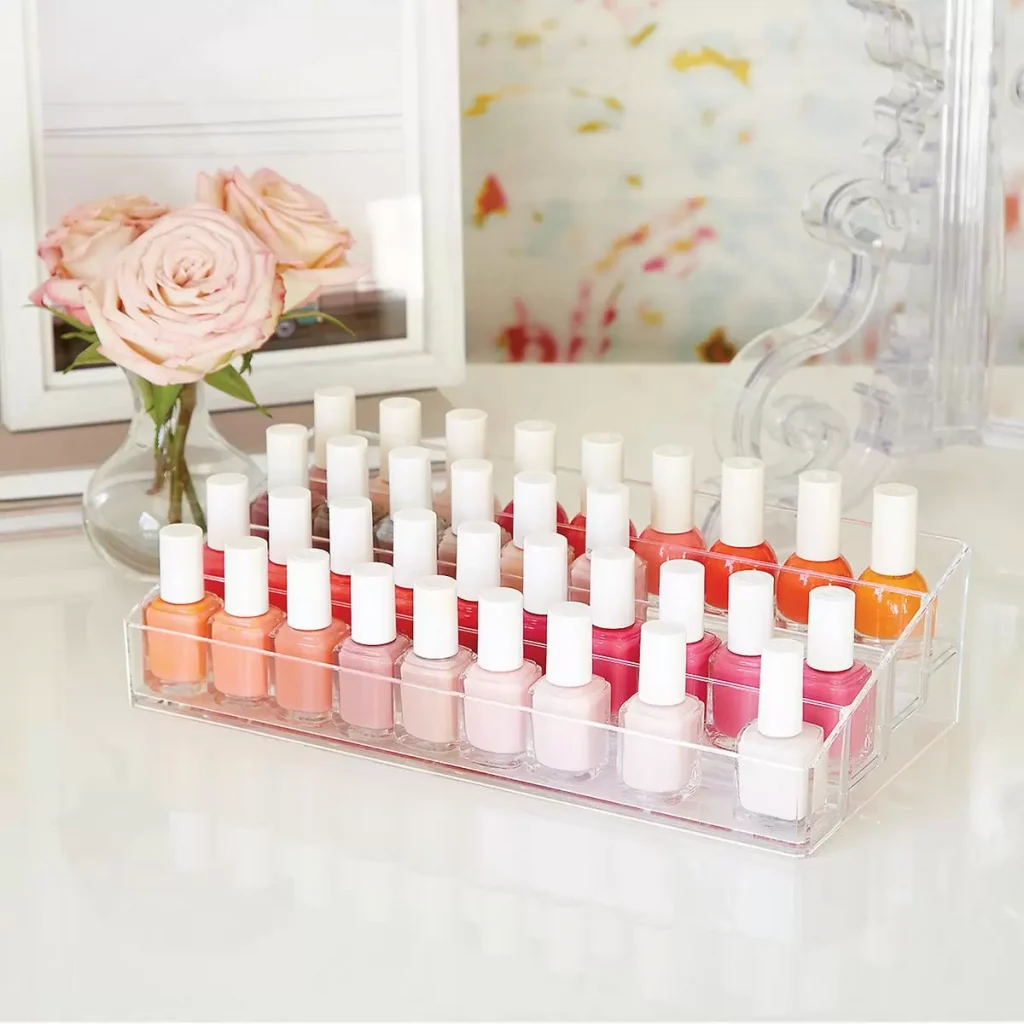 Look At What You're Working With
To start your nail polish organization journey, you'll first want to determine what you're working with. Some good questions to ask yourself could be:
How many bottles of nail polish do I have?
What size bottles do I have? Are they all about the same size?
What type of storage space am I working with?
What storage solutions do I already own, and what do I need?
What does my ideal storage solution look like?
It's important to consider how you will access and how often you access your nail polish and nail tools once everything is organized.
When all is said and done, you want your solution to work for you, and give you easy access to your pretty polishes.
Where And How Will You Store Your Nail Polish Collection?
First, declutter! Before you start to tackle your collection with organization tips and tricks, pull everything out.
Then, determine what is still good, what you no longer need, what is old, and narrow down your collection to polishes and tools you'll actually use.
PRO TIP: Nail polish lasts an average of 24 months or less! If you're unsure, toss it. If the color has changed, toss it.
You decide – do you want to put your nail polish collection on display or have it tucked away? Or will you need your supplies in a case that's easy to transport?
To fit the different needs you might have, I've pulled options for displaying your collection, tucking it away, and carrying it on the go.
For Displaying Your Nail Polish Collection
A great way to display and organize a large collection of nail polish bottles is to store them on an acrylic display rack like this one.
This rack has six layers, but for smaller collections, it also comes in options with three layers, four layers, or five layers.
An acrylic wall-mounted option like this one is an easy way to organize by color. When you organize by color, you can easily find what you're looking for!
With a wall rack, be sure the rack you select has enough space for your collection.
Depending on the space you intend on storing your nail polish, a tall, round spinner rack could be a great option for a smaller space such as a bathroom counter.
---
RELATED: THE BEST MAKEUP ORGANIZERS FOR ORGANIZING YOUR MAKEUP LIKE A TOTAL PRO
---
A square spinner rack is another nice way to display and store all of your nail polish color options.
A nail polish storage solution like this one could be a great option if you need to change up your storage method over time.
Using organization pieces like glass jars is a great way to potentially use what you have! Glass jars are also a great fit for holding smaller nail polish collections, and can level up your display to look like decor.
SHOP NAIL POLISH ORGANIZATION
For Tucking Your Nail Polish Collection Away
If you plan on storing your nail polish collection in a drawer or a cabinet, clear bin storage solutions could be the best way to organize your nail colors.
RELATED: 75+ Spring Nail Ideas to Try
Stackable bins are great storage solutions if you plan on using a bathroom cabinet under a sink. These are also excellent if you're looking for a dip nail powder storage idea.
You can easily store all of your dip powders and see them at a glance. Need to remove them? Check out this guide on how to get dip nails off.
If you plan on using drawers, clear drawer dividers of different sizes can help you accomplish your organizational dreams.
---
RELATED: THE BEST JEWELRY ORGANIZERS FROM AMAZON
---
If you're considering using a cabinet at eye level, a clear display rack like this one allows you to tuck away your collection in the cabinet.
The best part is that you can still see all of your different color options with ease.
If your collection is smaller, but you still want to display your colors in a way that allows you to see your options, a clear rack like this one could be the perfect size.
Who would've thought that a spice rack could be used for nail polish storage?
Pull-out spice racks could be a great option for underneath a vanity, especially for medium or large collections.
If you have a previously used jewelry hanger, such as an over-the-door hanger, consider repurposing it for holding your nail polish collection!
This is also a great option if you're tight on counter or cabinet space.
---
RELATED: ELEVEN CREATIVE JEWELRY STORAGE IDEAS TO ORGANIZE YOUR BEAUTIFUL BAUBLES
---
SHOP NAIL POLISH ORGANIZATION
For Transporting Your Nail Polish Collection
Universal nail polish holders are the perfect way to save space while also giving you the option to take your collection on the go.
If you have a lot of gel polishes and do your own gel nails at home, this type of organizer is perfect!
I bought this nail organizer recently to hold my gel polishes, nail lamp, nail files and everything else.
This carrying case is a compact option that allows you to carry several different colors and manicure tools.
This nail polish organizer has a detachable option that allows you to carry more or less nail polish bottles and tools as needed.
This nail polish organizer comes with adjustable dividers. This is a great option for saving space if your collection ranges in shapes and sizes.
SHOP NAIL POLISH ORGANIZATION
What Else Will You Need?
Swatch Stick Method
If you have a large nail polish collection, you might find it hard to remember all of your different colors.
Using a plastic nail swatch stick ring like this one helps you quickly and easily find the perfect color!
Don't forget to label your swatch sticks so that you know which swatch goes with which nail polish bottle. You'll feel like you have your own personal nail salon!
Additional tools like this untippable nail polish holder could be the perfect tool to add to home nail supplies.
Did you know that wearable nail polish holder rings exist? This helps keep your bottle in place without having to hold onto it while you're dipping the brush in and out of the bottle.
Often, storing and organizing your nail polish collection means that you also need to store items like Q-tips and cotton swabs.
This mini 2-drawer organizer can be stored on your bathroom counter or tucked away in a cabinet.
This tall 3-section hinged box is another great option for storing Q-tips, cotton swabs, and cotton balls.
And last but not least, how cute and functional is this acrylic Q-tip dispenser?
SHOP NAIL TOOL ORGANIZATION
I hope this roundup of nail polish organization tools, tips, and tricks inspires you to organize your own nail polish collection!
---
Did I leave out anything that you do to organize your nail polish? Let me know in the comments below!