Luxury Beauty Items that are Totally Worth the Splurge
With an Amazon Prime membership, you'll get free two-day shipping on loads of products. So it's really tempting to browse and see what luxury beauty Amazon finds you can get!
While I love shopping Sephora or Nordstrom for some of my favorite luxury beauty items, sometimes I want things fast. And for that, I'm looking on Amazon.
What's Considered a Luxury Beauty Amazon Find?
I ran a little poll on my IG Stories the other day, and the consensus is that any beauty item over $100 is considered a luxury splurge.
Wanting something more budget-friendly? I'll include a few recommendations there, too. And if you're really trying to save, you'll also love this list of makeup dupes.
You can also always find my favorite Amazon beauty picks on my storefront.
Bookmark the page to save for later as I'm constantly updating it!
Luxury Beauty Amazon Picks Worth the Money
When it comes to high-ticket skincare, it's best to invest in what's going to truly make a difference.
Serums are a powerhouse, so this may be one of the best luxury products you consider investing in.
Two I consider worth the money are SkinMedica HA5 Rejuvenating Hydrator and SkinCeuticals C E Ferulic Acid Anti-Aging Vitamin C and E Serum.
These luxury skincare products can typically only be purchased at a med spa, dermatologist or plastic surgeon's office because they are medical-grade. In other words, they are truly rockstar serums! 
A great vitamin C serum is essential for anyone's skincare routine; it helps brighten skin, even out skin tone, protect against free radicals, reduce hyperpigmentation and help you get that gorgeous "glow".
SkinCeuticals C E Ferulic Acid Vitamin C serum has long been considered the absolute best in the industry, and they have a proprietary pH formulation and the highest percentage of Vitamin C on the market.
A close competitor (SkinCeuticals C E Ferulic Acid dupe) is this Timeless Vitamin C Serum, which I use. It's typically under $20 and the closest formulation to SkinCeuticals.
Learn more about Timeless Vitamin C Serum here.
At more than $100 a bottle, it is a pricey potion. But you only need a few drops in the mornings so it should last you quite a while.
To make this product last longer, I recommend keeping it in a skincare fridge. I have this one and it's currently on sale for $5 off! Shop it here.
---
RELATED: Why You Need a Skincare Fridge + What to Store in It
---
As with anything on Amazon, please be sure to read the reviews. You can also purchase SkinCeuticals Vitamin C Serum on Dermstore here.
TIP: Whenever you use a vitamin C serum, it's really important to use a great SPF, too! You should be using one daily anyway.
Right now, I prefer and recommend Elta MD tinted sunscreen, which my dermatologist suggested. It is Zinc Oxide-based but doesn't leave behind white residue and nicely sinks into the skin! Check the price here.
SkinMedica HA5 Hylauronic Acid Serum
Another luxury beauty Amazon buy I love is SkinMedica HA5 Hyaluronic Acid Serum.
You guys, this stuff is the real deal! I did not want to love this, but the consistency is amazing and it immediately plumps your skin.
A great hyaluronic acid serum is a skincare essential, especially for those of us in our 30s.
As we start to age, our skin becomes drier and starts to lose collagen and elasticity. So we need a great hyaluronic acid serum that will help plump the skin, reduce the appearance of fine lines and soothe dry skin.
Yes, you can get Botox and fillers to help with fine lines and plumping, but you need a potent serum as well for the best results.
Think of it this way: it's not ok to take a multivitamin and eat junk food all the time. You need your greens and vitamins for best results.
So why SkinMedica HA5 Hylauronic Acid Serum when there are plenty of others on the market under $100?
Well, just like with the SkinCeuticals Vitamin C Serum I recommended, this has long been considered one of the best serums on the market and they have a proprietary formula that harnesses the power of 5 different types of hyaluronic acid, which no other product currently does.
There is actually a lot of cool science and technology behind it, which you can read more about here.
TIP: For best results, apply morning and evening with wet fingertips!
You only need a tiny bit of this product as a little goes a long way. So even though it's pricey, it should last you at least two months.
What I love most about this product is that you can immediately see and feel the results, and it gets better the longer you use it.
You can also shop SkinMedica HA5 Hylauronic Acid Serum on Dermstore.
What's great about that is you'll earn " target="_blank" rel="noreferrer noopener nofollow">Dermstore rewards, so you earn 5% back on your purchase that's redeemable toward future purchases!
Another benefit is you earn Alle points with each purchase. Alle points can be used as cash toward future treatments of Botox, Juvederm, Matisse purchases and more.
With every $150 purchase, you earn 100 points. " target="_blank" rel="noreferrer noopener nofollow">Learn more about the program here or shop SkinMedica on Dermstore, which is currently 15% off retail!
Dermstore is an authorized retailer of both SkinMedica and SkinCeuticals product.
---
RELATED: These are the 7 Holy Grail Skincare Products I Swear By
---
Luxury Beauty Tools Worth the Splurge
FOREO Luna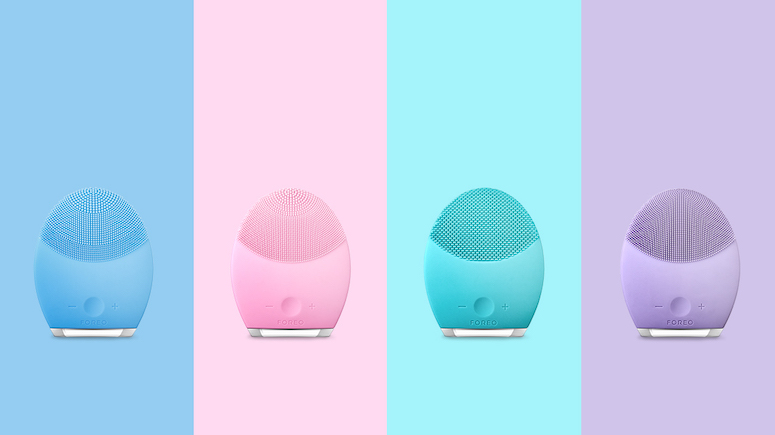 Most decent beauty tools are over $100, and in my opinion, it's not something you should short-change yourself on.
After all, we are talking about your skin! And that definitely deserves some T.L.C.
One of the best beauty tools I've used to get rapid and immediate results is my Foreo Luna.
Even if you have sensitive skin, this easy-to-use facial cleansing brush will make a wow-worthy difference in your skin.
You don't have to use it daily; every other or every 2 days is enough to make a difference.
What's great about the Foreo Luna is it doesn't get moldy like some of the other cleansing brushes do.
In fact, that's what I love most about sonic facial brushes.
The FOREO in a ton of pretty colors and is easy to incorporate into your skincare routine. I leave mine in the shower and use it a few times a week with a gentle cleanser like Cetaphil. 
The FOREO Luna 2 has multiple speed intensities and the charge lasts forever!
Not really forever, but I can tell you from experience that I can leave it out for months and not need to charge it. It's incredible.
Plus, the small size makes it super travel-friendly.
You will get fast, incredible results when adding this device to your skincare routine. My only regret is not having purchased this sooner!
DERMAFLASH
This isn't the first time I talk about how incredible the DERMAFLASH is; I purchased one from Nordstrom (currently 40% off here!!) during the Anniversary Sale (seen in this post).
This exfoliating treatment removes peach fuzz and reveals smoother, softer skin. It's the same dermaplaning tool many aestheticians use during facials!
I have had mine for well over a year and use it about once a month. My skin is ALWAYS glowing for several days afterward and it makes your skin look incredible before applying makeup.
You can use the included cleanser and moisturizer, but I personally prefer to use my own.
I typically slather on something super-hydrating after, like my Summer Fridays Jet Lag Mask and Indie Lee Squalane Oil.
This luxury Amazon beauty product comes in four different colors and with four blades.
It's an Allure award-winning device for a reason! And you can have it at your door with Prime shipping in just two days. 
If you see it under $200, it's a good buy.
---
Ok, phew! Those are just some of what I consider the best luxury beauty items worth the price tag. What are some you would add to this list?