30+ Cozy Aesthetic Outfits You'll Want to Live in Year-Round
For a while now, it seems that we've all been trending towards more comfortable styles and cozy aesthetic outfits in everyday life.
When we started wearing leggings for more than only working out, the everyday cozy vibe started to grow.
Jogger pants were THE pant of 2020 and 2021, but how does that evolve into 2023 and beyond?
Enter, the cozy aesthetic 'fit.
The cozy aesthetic is all about luxury, comfort and effortless style.
Think: Silks, cashmere, matching sets and an overall more refined outfit than just plain jogger pants and a T-shirt.
You'll also notice that a lot of these cozy outfits tend to embrace a more neutral aesthetic.
And, you won't want to leave out your accessories!
I, for one, am here for it. And it definitely fits into my work-at-home lifestyle.
If you're also craving some cozy luxury, here are a few outfit ideas to inspire you.
Perfect for cold days, this rib knit sweater and pants set has you covered to stay warm and comfortable from head to toe.
If you're in the mood for a little color, this cozy winter outfit also comes in a rich blue.
Finish the look with some chunky gold or silver jewelry.
Another hallmark of the cozy aesthetic is soft and touchable looks. So yes, fluffy is on the list!
This cute set is perfect for a rainy day at home. Don't forget to pair them with your favorite fuzzy socks!
If you have a smaller frame and are worried these oversize pieces will swallow you, look for V-neck tops like this one or an off-the-shoulder style.
When searching for cozy outfit ideas, you probably see sweatpants a lot.
The key to pulling this look off is to go for a matching set if you can. Throw on some chunky sneakers and you've got a fashion-forward look that's right on trend for 2023.
SHOP COZY AESTHETIC OUTFITS
It's sophisticated and elegant yet, it's soooo comfy looking too! This soft aesthetic outfit is totally giving me all the vibes.
Grab this sweater pant with the matching off-the-shoulder top to complete the look. Whether you're going out or staying in, this cozy look is definitely inspiring.
Now we can go from running errands to curling up with a good book, without an outfit change with sweatpants like this quilted pair.
Again, this 'fit looks great as a matching set yet adds interest with the quilted pattern. Paired with a neutral crop top and sneakers, it's lazy day with style.
RELATED: How to Wear Jogger Pants
Who says cozy looks have to be in neutral tones? Add some pastel colors to your sweatpant color palette, especially for spring and summer.
Crew neck crop tops like this one are a great addition to your closet. A piece like this can be styled with joggers or a wide-leg trouser.
Winter white is a huge 2023 trend, as is monochromatic dressing.
Fleece sweatpants like this pair are perfect to pull of this trend, and excellent for colder weather.
Layer on a long coat for a cute, comfy and cozy winter outfit idea.
SHOP THE LOOK
If your personal sense of style is more on the edge, the cozy aesthetic trend still has you covered. Don't be afraid to add a few bold pieces to your collection like this tie-dye set.
Finish the look with your favorite Teddy coat, another hallmark of the cozy aesthetic. This one from Revolve is a cute one to try.
A cozy knit sweater set like this one could even be dressed up with simple accessories for running a few errands.
I recently bought this one myself and have been wearing it on repeat! Though be forewarned that the pants run on the long side.
The fabric on this is super soft and since it's a set, I can wear it together or make different outfits as separates.
---
RELATED: I've tried Dozens of Cute Loungewear Sets, These are the BEST Pieces
---
This matching set has also been on my radar and is cute enough to feel put together while at home and will also work for running errands.
The cozy girl era is all about comfortable luxury. And for this, you'll need to focus on high-quality fabrics.
Nothing screams cozy aesthetic louder than a matching cashmere set like this one.
This cashmere set from Alo Yoga is also a beautiful yet comfortable one to try.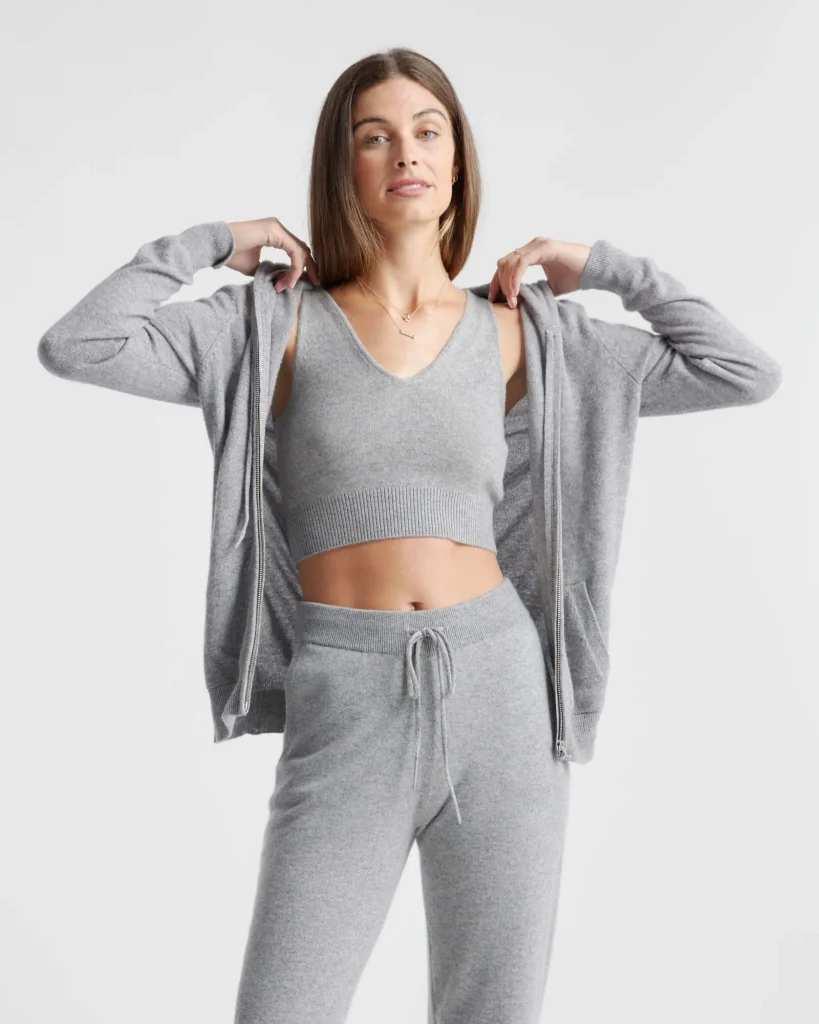 Quince is known for their affordable yet high-quality cashmere, so I had to include a few options on this list to try.
The Mongolian Cashmere Crop is one I've had on my wish list for a while as it's incredibly versatile.
It's soft and can be styled with your favorite loungewear (just add a cute cardigan on top!) or style it with a midi skirt.
This one also comes in brown and black.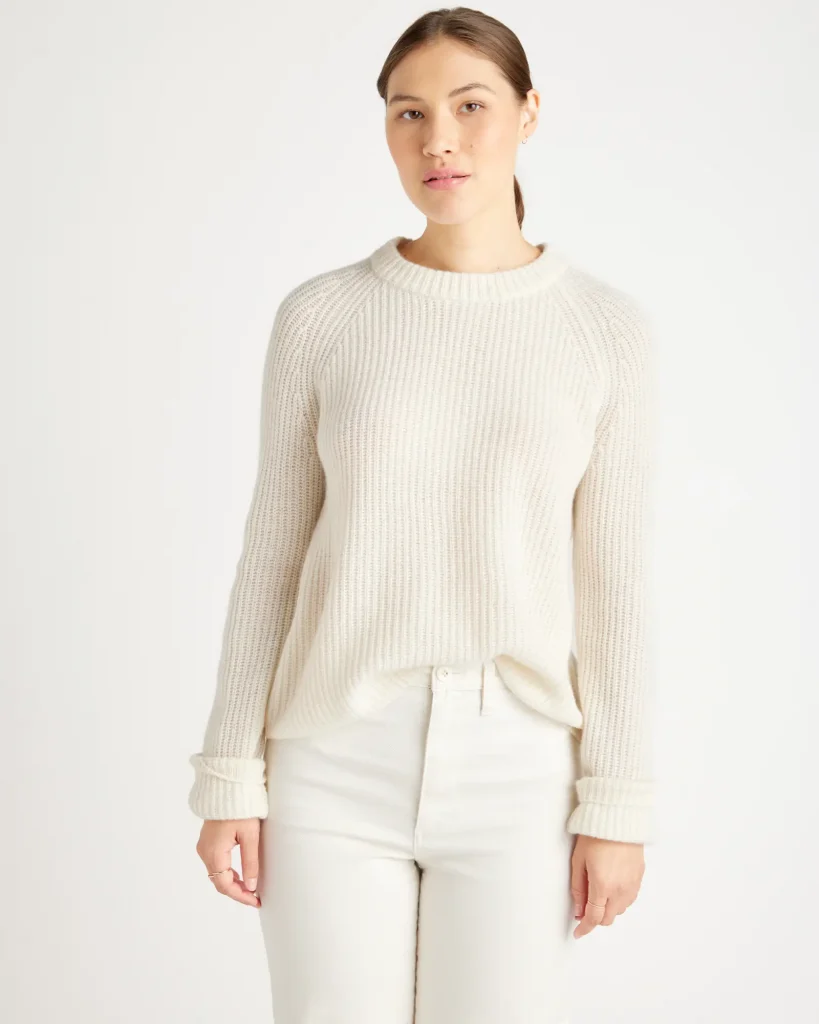 This crewneck cashmere sweater is another excellent staple to add to your cozy winter wardrobe.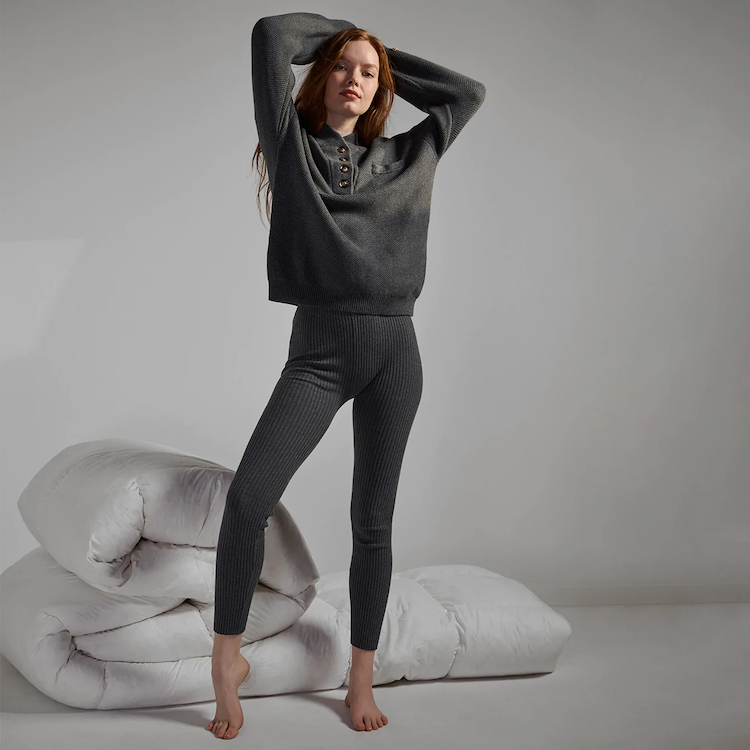 Lunya is another brand that really does a great job of featuring luxurious, high-quality fabrics in cozy loungewear pieces, sleepwear and initimates.
This cozy pocket henley is a winter staple and is made of 70% organic cotton and 10% silk.
Another favorite is the organic pima cotton wide leg pant, which comes in 5 gorgeous colorways.
There are a few different ways you can style these and these may just be the ultimate cozy pant.
These are from Lunya, which I've really been loving lately. They're motto is "good in bed" which basically says it all!
SHOP THE LOOK
Turtlenecks and mock turtlenecks are also perfect for the cozy aesthetic trend. It's a put-together look yet comfortable, too. Are you seeing the pattern yet?!
Turtlenecks are also easy winter outfit ideas. This set from Amazon is super cute and budget-friendly!
Style it with a chunky sneaker or a lug sole loafer.
Your cozy outfit collection can also have some statement pieces, like this one with both a graphic detail and thumb holes.
Styled with biker shorts, it's a perfect way to transition to spring fashion.
If you love cozy tees and sweaters like this, you may want to explore the granola girl aesthetic.
One of the best things about the cozy aesthetic is that you can wear it out or at home. Jewelry and a nice handbag elevate this otherwise lazy day look.
This one would be perfect for that weekend brunch with friends!
And if you're ready to go all in on the trend, there are several luxe sets that are worth the splurge.
Pullovers are also right on trend and a go-to when running errands or picking the kids up from school.
Another favorite (that I've been wearing on repeat) is this this Anrabess pullover sweater.
It runs TTS and is incredibly soft. I love it so much I ordered it in both purple and pink!
SHOP THE LOOK
A sweatshirt like this one could be styled with more cozy pants on bottom, like sweatpants, or even bottoms like jeans or leather pants when you're ready to head outl.
Crew neck sweatshirts with embroidered details allow you to stay chic and comfortable at the same time.
This rib knit set is a little on the casual side, but it's definitely both cute and comfortable.
If you're looking for the perfect airport travel outfit, look no further than this look. It's comfortable, stylish and is all about the layers.
Throw on a hat, grab your favorite tote bag and you're good to go.
As we approach the warmer seasons, consider adding a set with shorts to your collection. Knit sweaters and matching shorts are perfect for lounging on the weekends.
SHOP THE LOOK
I hope this round-up of cozy aesthetic outfits inspired you to add some comfortable, yet stylish, pieces to your closet!