I saw a funny meme floating around the other day that perfectly summed up AZ this time of year: it's winter in the morning, spring in the afternoon and fall by evening!
It's lovely, but it can also make dressing a total pain!

Today, I'm sharing 3 easy tips to transition to spring fashion. Hint: this gorgeous scallop cami (and layering) is one of my tricks!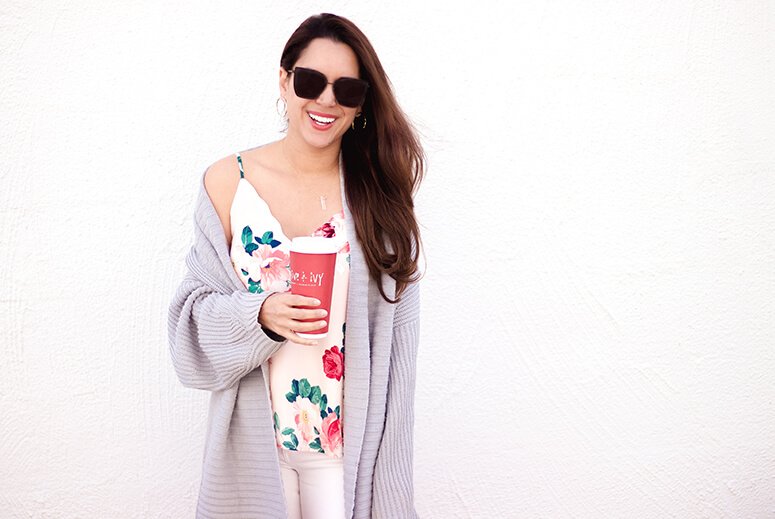 Transition to Spring Fashion with Spring Colors
Who says those winter sweaters have to retire? If they've got a spring vibe, like floral-prints, whites, creams or the color of the year, Living Coral, they're still a perfect match for spring!
Incorporating spring trends into some of your winter wear is such an easy way to transition your outfit to spring.
I like to try light colors, pastels, or another one of this spring's hottest trends—neon!
Layer with Cute Camis and Tees
This time of year I typically start wearing my favorite tees and cute tanks and camis.
I picked up this floral-print scallop cami at Nordstrom Rack, and it comes in a whopping 20 print and color combos!
At under $12 (40% off!!), it's a stellar deal and I am going to pick up a few more like the white one and black one, as these are really foundational pieces to any spring and summer wardrobe.
Note: They are selling out FAST! I started working on this post and then went to grab links and quantities are dwindling quickly.
---
RELATED: Cute Cardigan Outfits for Spring
---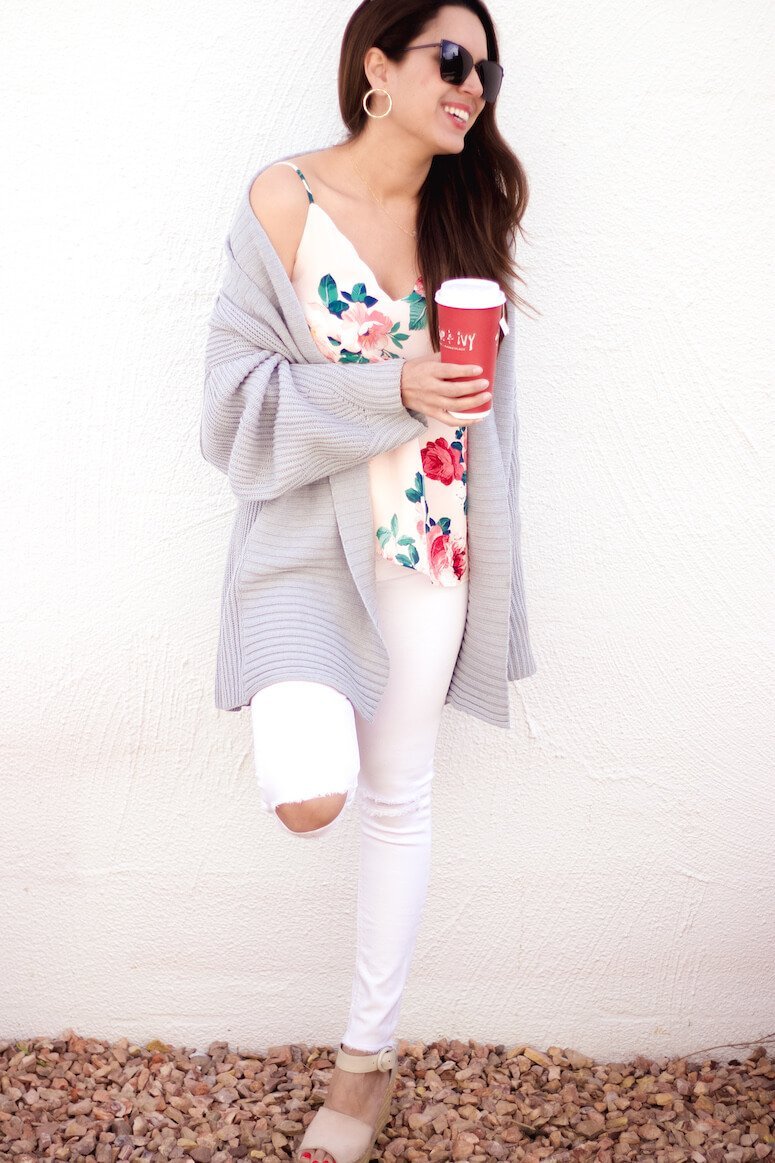 Keep Your Bottoms Summery
Ladies, it's time to bust out the white jeans! And your sandals and wedges, too.
If you're wearing a winter sweater, try pairing it with white jeans to make the look more spring-like.
Or, if you're still feeling leggings or dark jeans, you can still lighten up the look by choosing sandals, wedges or open-toe booties.
Transitioning your wardrobe from winter to spring is easier than you think, just think of spring colors and textures when you're picking out your outfits!
There are also a ton of winter sales going on right now, so I try to keep the spring season in mind when doing any shopping
---
What are your favorite ways to transition your wardrobe from winter to spring fashion?
[mailerlite_form form_id=2]