These are the 5 Most Wearable Spring Fashion Trends for 2023
With a new season it's time to take a peek at some of the upcoming spring fashion trends!
I'll be focusing on the most wearable spring 2023 fashion trends and we're just going to skip right over some of the more outrageous ones (I'm looking at you, no-pants trend).
Be sure to read through to the end as I do have plenty of bonus spring fashion trends for you to consider!
And as always…these trends are here solely to inspire you and give you an idea of why you're seeing certain things at the store.
This isn't to shame you into thinking you need to buy a brand-new wardrobe or pick up every single trend on this list.
In fact, I don't want you to do that because it's more important that you build a wardrobe of clothes you love.
If that's something you're struggling with, be sure to grab my e-book which will help you declutter your closet and start building a wardrobe full of clothes you actually want to wear.
More of a video person? Watch the video below + subscribe to my channel!
Now, onto the trends!
TREND 1: CARGO PANTS
We're going to start with one that may ruffle some feathers, and that's the cargo pants trend.
Cargo pants are EVERYWHERE for spring 2023. I mean, it's pockets on top of pockets. Do I personally love this trend? Yes and no.
I don't think the super utilitarian pant is very wearable. There's just too much going on which isn't flattering.
There are, however, some really cute cargo pant options that are a lot more wearable. Specifically, the dressier take on cargo pants that are more like a hybrid between a nice pant and a jogger. Like these:
These Cami NYC cargo pants are made of silk and come in 4 colorways. There are soooo many ways you could style these!
These black satin cargo pants are an excellent staple and date night look. These are another perfect example of a dressy cargo pant.
I would argue that out of everything on today's list, this is the one spring pant you should pick up.
The shimmer is great for a night out or any occasion, and it's not heavily pocketed.
You can easily style these with a sandal and cute top or even a pointy-toe heel which, spoiler alert, is another hot trend for 2023.
For something a bit more casual and for the daytime I love these neutral cargo pants. NOTE: They look blush pink on the website but are more of a tan IRL.
Again, they aren't nearly as heavy as denim cargo pants but are relaxed and comfortable.
TREND 2: MAXI SKIRTS & DRESSES
It's not like maxi skirts went "out" of style, but they haven't been at the forefront of fashion for a while now.
But this isn't the Millenial maxi skirt uniform with sandals, a striped top and a cardigan or jean jacket on top. The updated maxi skirt spring trend is much more modern and sophisticated.
RELATED: How to Wear a Maxi Skirt in 2023
We're also seeing a lot of these longer hemlines in dresses, too, which makes my heart happy.
We have the hottest summers in Arizona so breathable flowy dresses from long maxi dresses and skirts are really key.
I just got this black maxi dress which is easy to transition through the seasons.
I have a silk maxi skirt like this on my spring shopping list as it's elegant, sophisticated and right on trend for spring.
For a cute date night look, I'm also eyeing a statement maxi skirt like this stunning python maxi skirt.
And if you're looking for something a bit more on the casual side, denim maxi skirts are also a major spring trend (actually, denim in general is another huge spring fashion trend).
This black maxi pencil skirt is probably the closest I may get to trying the maxi denim skirt trend.
For my hot-weather lifestyle, I'm more likely to be seen in vacation-ready maxi skirts like these cute options from Petal & Pup.
TREND 3: METALLIC & SHINE
The future is bright! Well, shiny at least.
All things metallic and shine are a major fashion trend for spring 2023.
These metallic pants are the perfect example of this trend and look excellent paired with a soft and fuzzy sweater.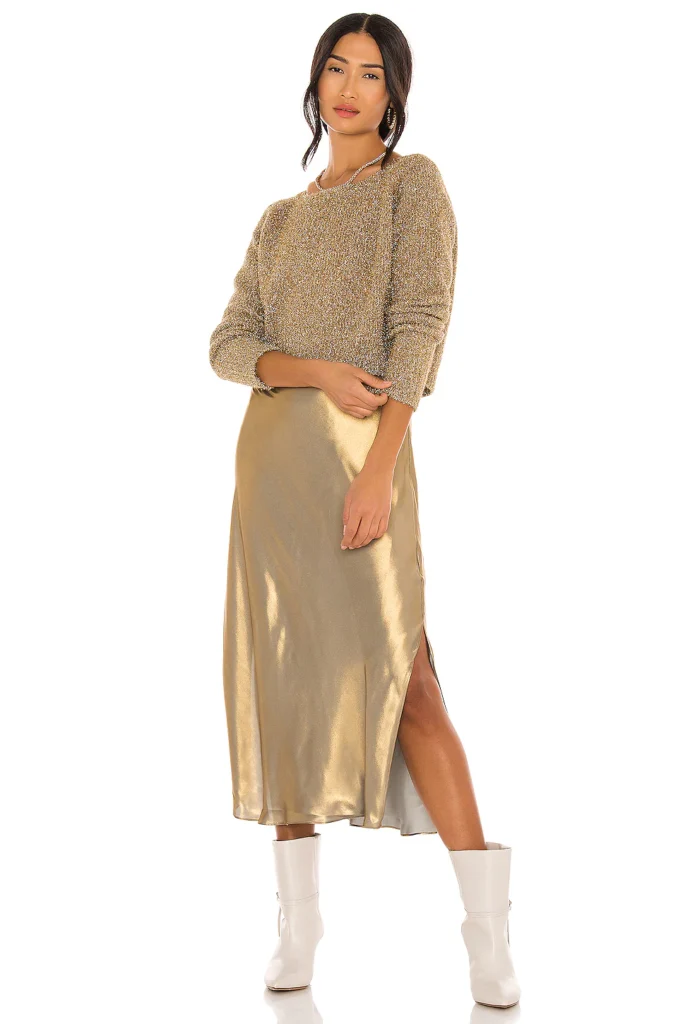 Speaking of pairing metallic shine with texture, this ALLSAINTS dress in gold does that just perfectly. (It also comes in silver here.)
If you feel like metallic and shine isn't exactly a wearable spring fashion trend. then consider dipping your toes into this trend with some fun accessories!
A fun sequin belt can add some pizazz to your LBD and be the unexpected accessory for your jeans-and-a-tee outfit.
I am all about the hair accessories and a crystal headband is another fun way to try this trend. (Here is a more affordable lookalike).
This metallic bodysuit is a great way to update a basic and would look cute styled with some dressy cargo pants!
This high-waisted faux leather metallic skinny pant is another fun look to try.
TREND 4: TROUSERS
Trousers are still hot and I'm here for it.
Move over, denim, trousers are the comfortable pant we need to upgrade from everyday joggers!
Tailored pants and wide-leg pants are big spring 2023 fashion trend and this is definitely a very wearable fashion staple.
I recently got these white trousers and they are amazing. The fit and quality is incredible (they're lined in satin!) and I'm sure these will last for years to come.
Since it's spring, why not consider some pretty pastels like this pink pant or these sage green pants?
For an incredible Amazon find, try these wide-leg palazzo pants, which are a bestseller.
They come in 32 colorways and have petite sizing as well. Though do note I ordered the regular size and I am 5'4".
These are really comfortable on the waist and offer a nice loose fit. You can style them with chunky sneakers for a modern look or dress them up in heels, too!
TREND 5: FEMININE MOMENT
There are a lot of feminine touches trending for spring 2023 that you can bundle it into one category and have fun embracing your femininity.
Clearly, this is one spring fashion trend I am here for!
From 3D floral rosettes that remind me of Carrie Bradshaw to ruffles galore, there are feminine touches everywhere.
Even bubble hems are making a comeback this season.
That being said, this is definitely a Trend with a capital "T" unlike trousers and maxis, which have much more staying power.
This playful bubble hem dress is fun and affordable, perfect for a girl's night out or date night outfit.
Embracing two strong spring fashion trends is this corset bubble dress which comes in black and burgundy.
This bubble hem miniskirt is fun and currently on sale!
Bubble hems are not for everyone, though. I personally prefer something more fun and flirty, like this cute ruffle mini dress.
If you're headed to a wedding this year and need a spring wedding guest dress, this gorgeous bustier gown is full or ruffly feminine touches.
I'm also VERY into this pink ruffle dress full of florals, ruffle and a dramatic high-low hemline.
I recently got this Tularosa Mini dress, which is absolutely adorable and perfect for that weekend brunch. (Do note, the top runs big).
More Spring 2023 Fashion Trends to Consider
What's wearable for me isn't necessarily what's wearable for you and vice versa, so here is a peek at some of the other most popular spring 2023 fashion trends to watch out for:
Corsets
Denim on denim
Leather on leather
Anything sheer
Ballet flats
And, the no-pants trend. Yes, friends, apparently just not wearing pants is a hot spring 2023 fashion trend somehow.
I don't typically say not to participate in a trend if you're over a certain age, but if you're looking for advice on what to wear when you're over 30 or over 40, then consider skipping the "no pants" trend.
What are some of your favorite spring 2023 fashion trends? Let me know in the comments!