Disclosure: This shop has been compensated by Collective Bias, Inc. and its advertiser. All opinions are mine alone. #DiaperGenieForTheWin #ForBetterBeginnings #CollectiveBias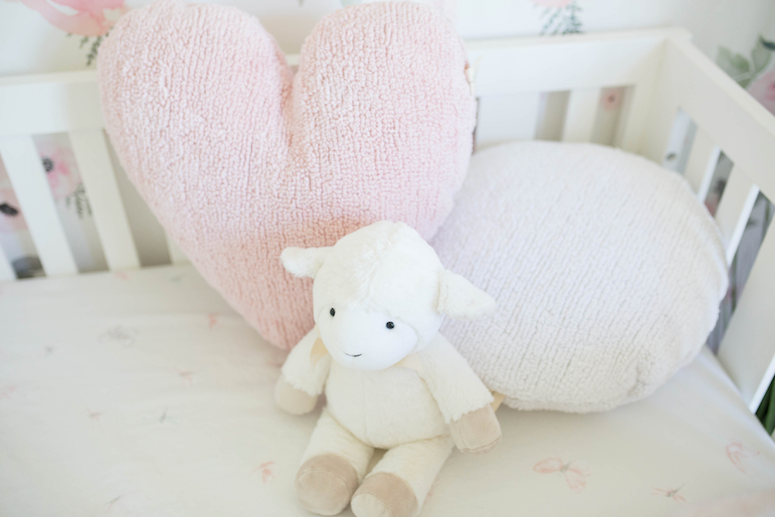 When we bought this house, I had no idea we'd live here long enough to have babies here. So my home office ended up becoming the nursery! Knowing full well it was a pretty small space to work with, I had to create some diaper station essentials for a small space.
Babies are tiny, they don't need as much space as we think they do! It just takes some clever planning. Here are all of my diaper station essentials for a small space to hopefully help you when planning your own!
A Small Dresser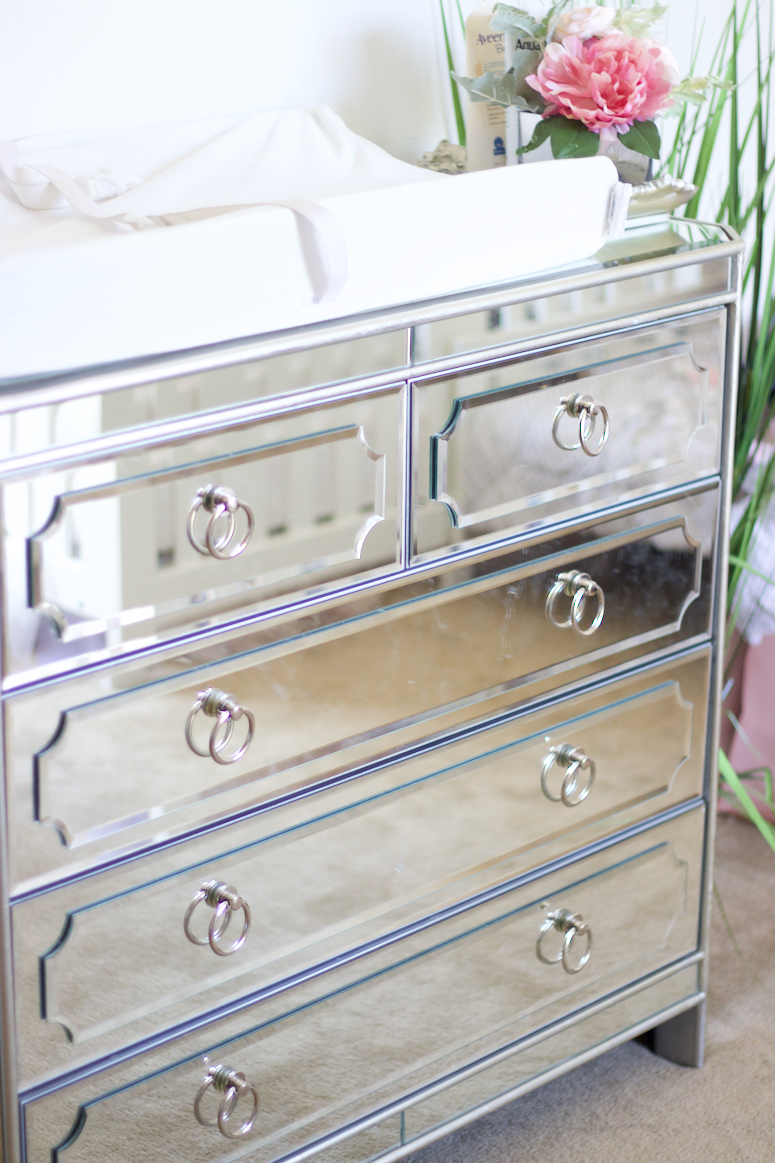 Forget getting a dresser and a separate changing table, for one there's no room for that. And secondly, it's a waste of space and money, in my opinion. You can easily convert any dresser into a changing table by just securing your changing pad on top.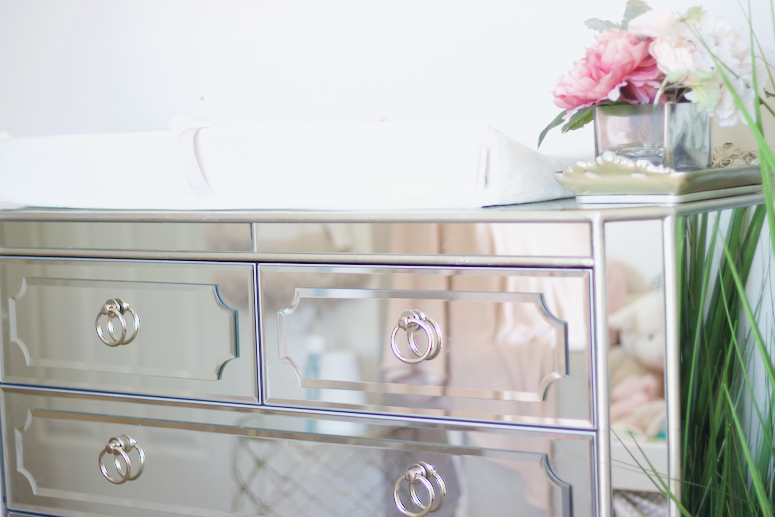 We went with a small mirrored chest since we have a smaller space. I also wanted something gender neutral (this was my son's nursery table).
Remember to please anchor your dressers to the wall! They are definitely tipping hazards when your baby starts climbing.
Clever Organization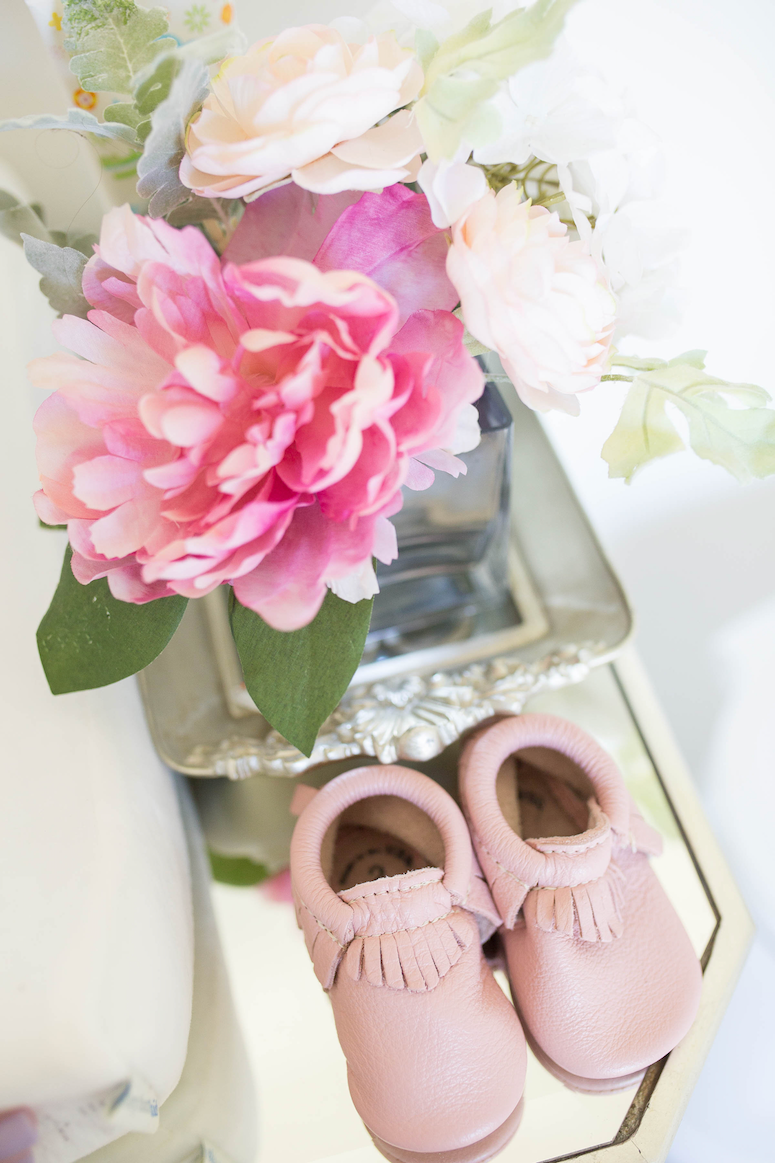 I don't particularly love to see clutter and with a small dresser, it forces you to hide #allthethings. So instead, I only have the essentials sitting on top of the dresser: lotion, diaper rash cream and sunscreen. I corral it all together on a cute tray I picked up at Home Goods and hide it behind some pretty faux florals and these cute Freshly Picked mocs!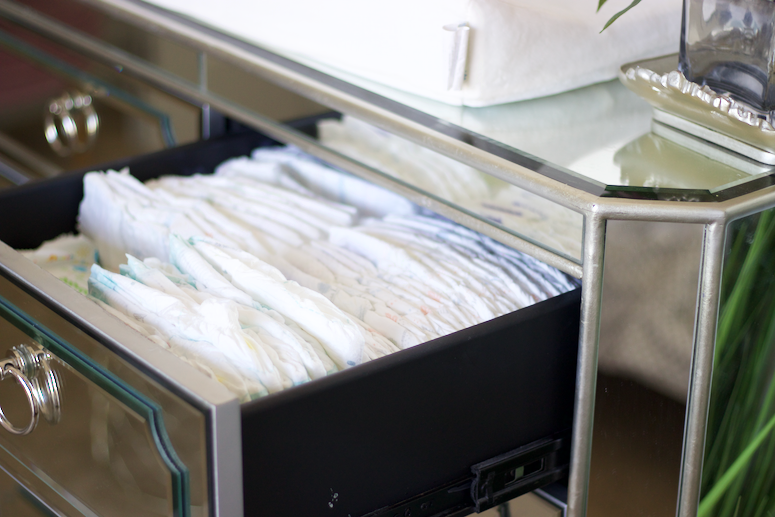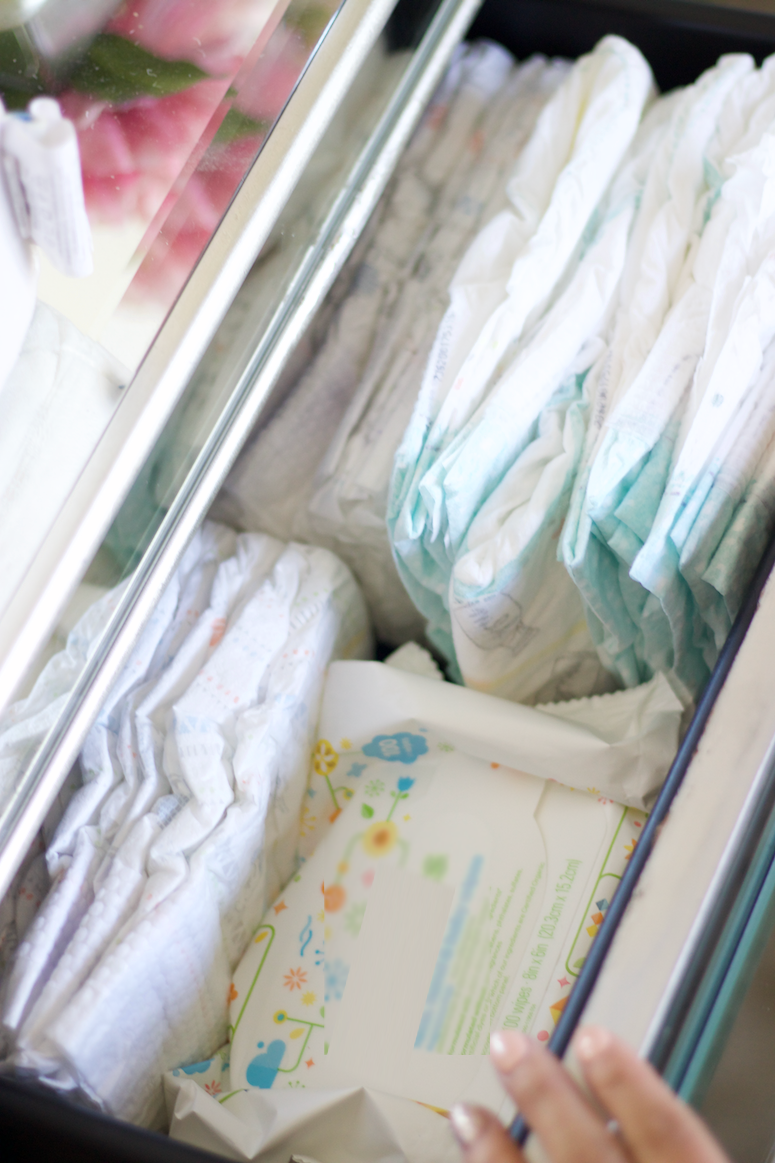 For the actual diapers and wipes, I keep them in the top drawer. They're easy to access and it's clutter-free! I store backup diapers, wipes and my diaper genie refill packs in the closet where I have a cubby system. I highly recommend some sort of cubby system or drawers to maximize storage! It makes all the difference in a small nursery.
A Compact Diaper Genie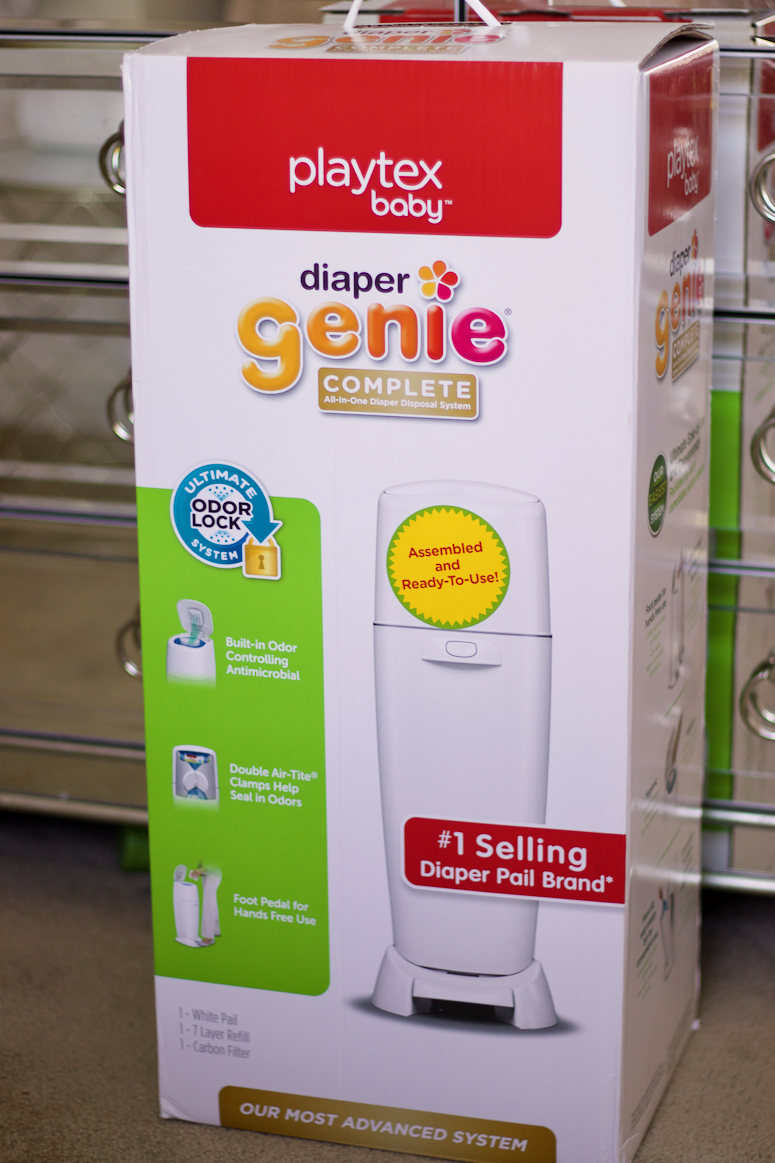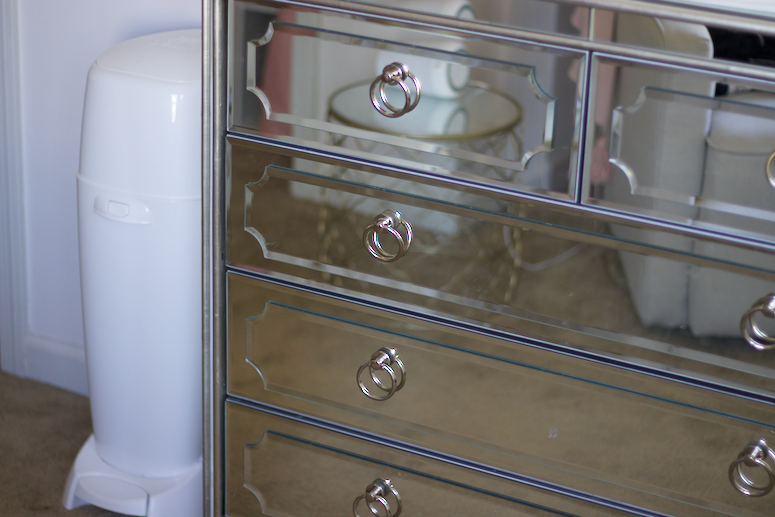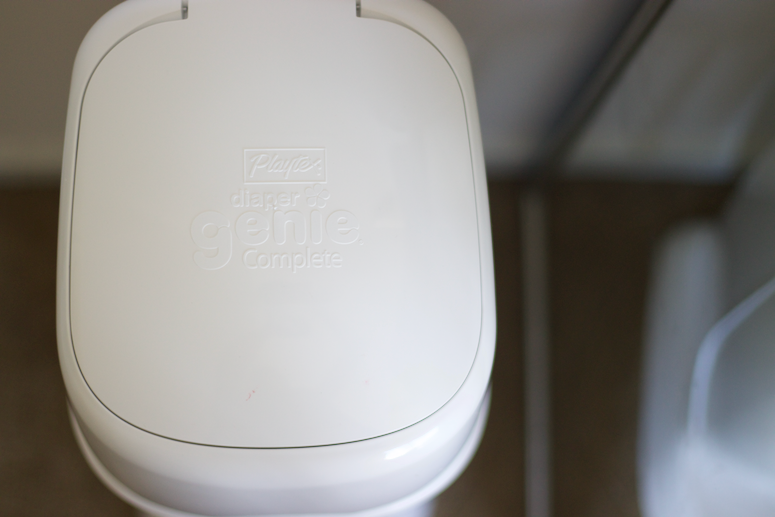 We bought the Diaper Genie® Complete Assembled Pail with our first baby, so it was a no-brainer to continue using it for our second! It is the original, and the best. It's the No. 1 selling diaper pail brand for a reason*! I had a few friends buy some trendy new diaper pails and then complain about the smell, but this baby does its job and contains it well because it features a built-in odor controlling antimicrobial carbon filter to absorb and lock in strong odors.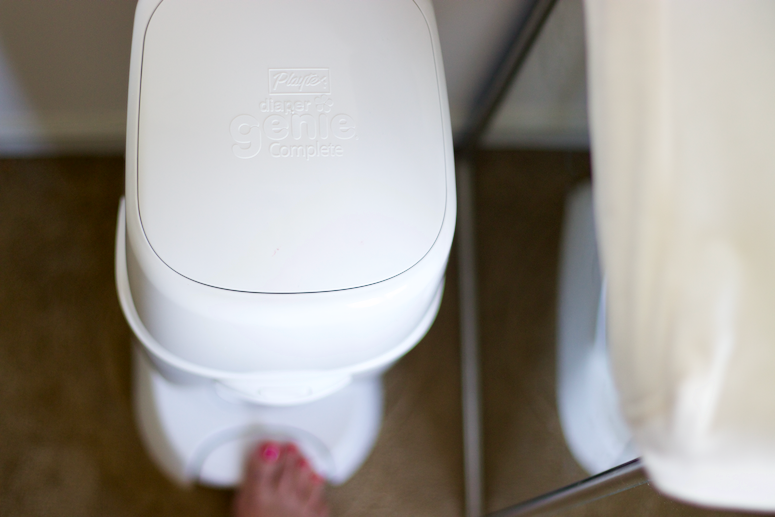 I also love that it's compact, making it easy to integrate into a small nursery and comes in different colors, too! It's super easy to use–no hands required!!–and we pick up the refills during our weekly Target run. It's slim, attractive, does it's just and definitely one of my diaper station essentials for a small space.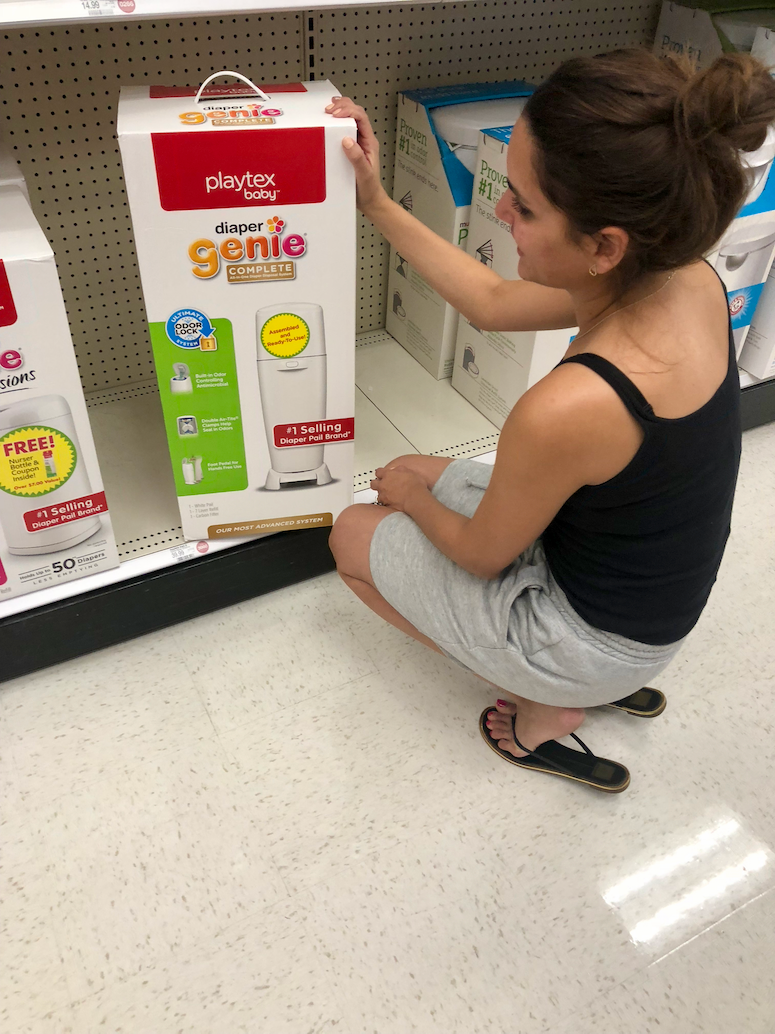 Diaper Station Essentials for a Small Space
When you've got a small nursery to work with remember that less is more! You don't need a ton of creams and lotions and you certainly don't need wipes warmers or organizer trays. Just get clever with your organization, pick up the essentials and you'll love your small nursery space.