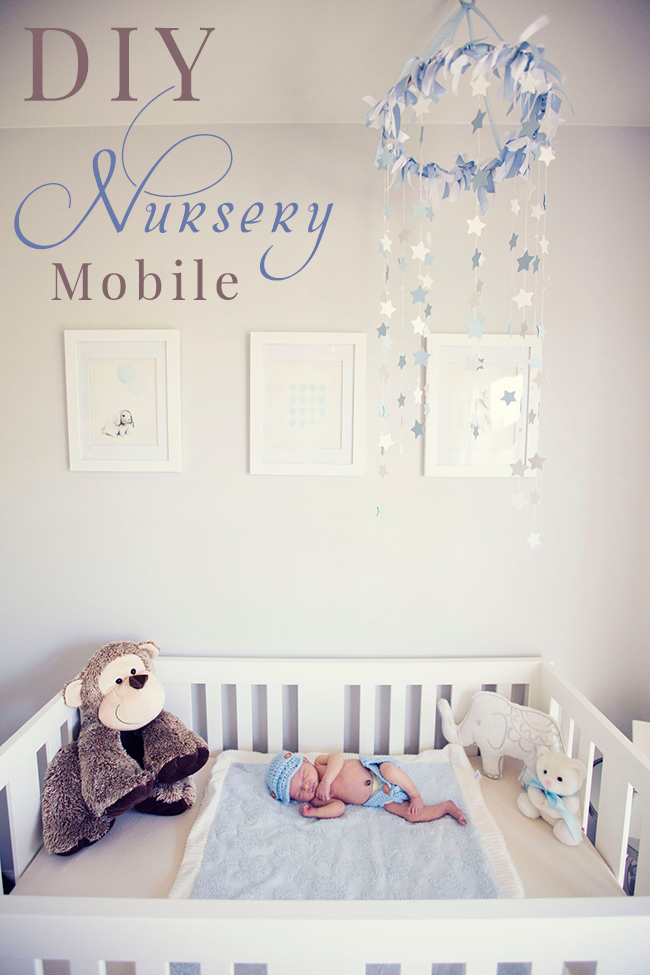 I made something. From scratch. For reals. And let me just remind you, I am NOT the crafty type. DIY is not a word you see tossed around the blog here a lot. But this DIY nursery star mobile was easy peasy. Easy enough for even the craft-retarded (like me!) to totally pull off. Promise.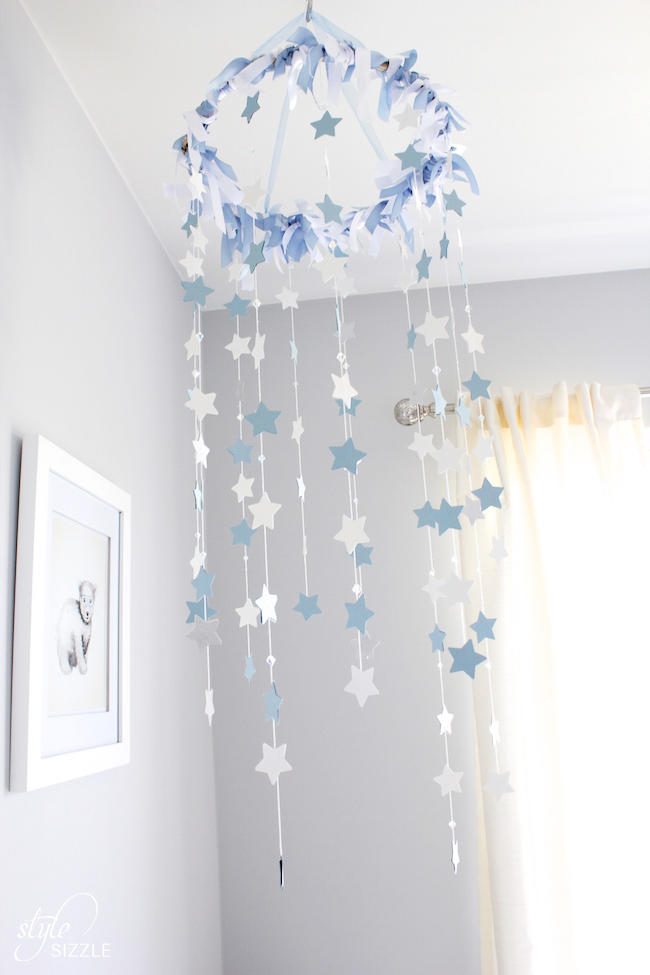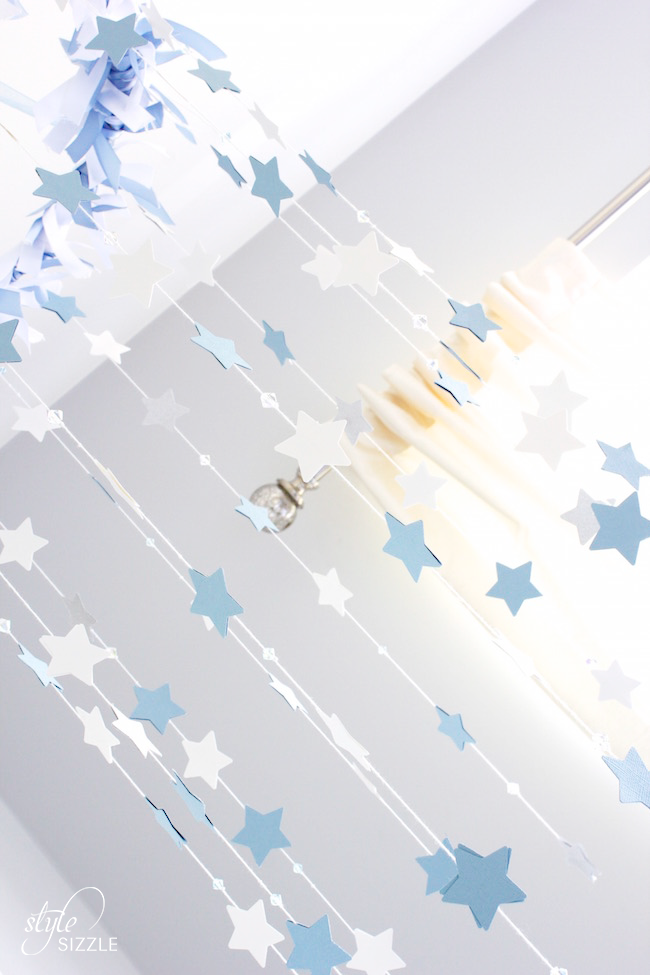 Last summer when I was planning the baby's nursery, one of the very last elements I looked into was the mobile. And let me just say, I had quite a bit of sticker shock! Like any baby thing that you don't really need but want SO BAD because it's your first little one and everything should be absolutely perfect, I obsessed. And obsessed. And just couldn't bring myself to spend $80 on these gorgeous handmade paper mobiles on Etsy. Or $150 on floating airplanes. Barf.
So I figured, I can do this. It'll be something special and handmade I made for my baby while expecting. And besides during those last few weeks, you can totally sit around and put this together.
Here's how what you need:
Star Punch. I also bought this Martha Stewart Punch and ended up returning it because I hated it. You can also do butterflies, airplanes or any shape you like!
Cardstock. You can get cardstock at Michael's for as little as .49 a sheet. I picked three colors: blue, white and a glitter silver for a bit of shimmer.
Yarn
Zots
Embroidery Hoop
Ribbon
Ceiling hook
Your favorite Netflix show to binge watch in the background.
Optional: Swarovski crystals. I just had to. And let me just say, when the light catches them they shimmer and the baby just loooooooves it.
[Tweet "DIY nursery star mobile, get this super easy tutorial! "]
Do it:
 Cut the yarn in varying lengths and tie around the embroidery hoop.
 Start on the hoop trim. I simply took ribbon, cut and made simple knots all the way around.
 Punch out stars. LOTS of stars.
 Using one zot, adhere two stars of the same color together on top of the yarn.
 Make a knot and thread a crystal through. Alternate stars and crystals however you want!
 Repeat a lot, then sit back and marvel at your awesome creation!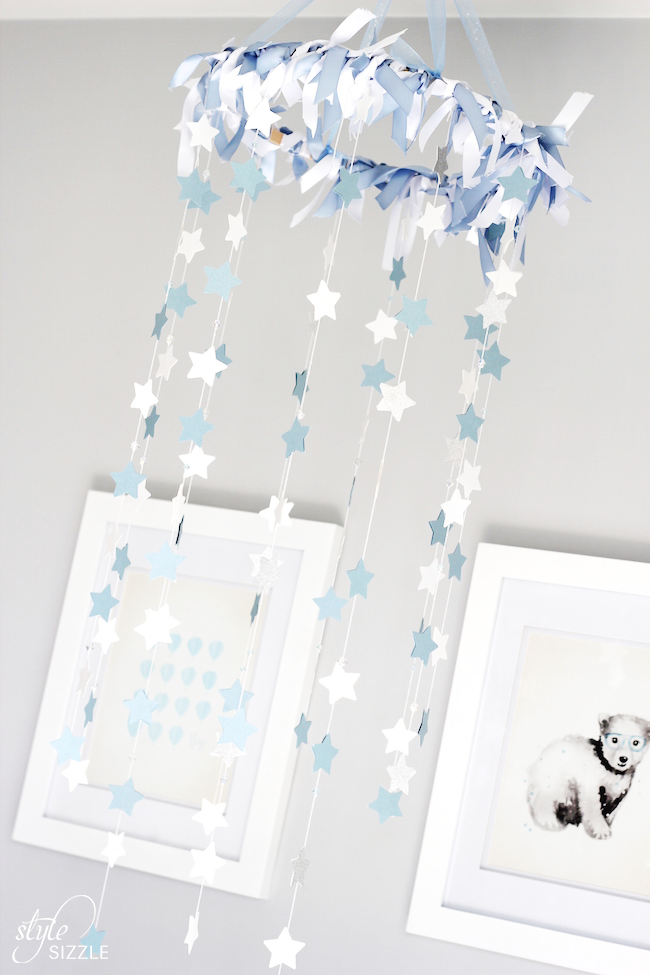 I'm not the first blogger to attempt this project. Some recommend hole punching the stars and threading them through, this just sounded too complicated for me. I also tried a glue stick, which got messy real quick. These zots though were ah-mazing! Total project time: a few hours. There was some trial and error and like I said, I'm not very crafty. But if you do give it a try, you'll end up with a gorgeous and special little handmade-by-mama gift that your little one will love to stare at. I know mine does.
[Tweet "Check out this tutorial for this gorgeous and easy DIY #baby mobile! "]
Have you made your own nursery mobile? Would love to see your attempts, feel free to leave a photo/link below!
Let's connect! .  You can also find me on Facebook, Twitter and Pinterest, too.