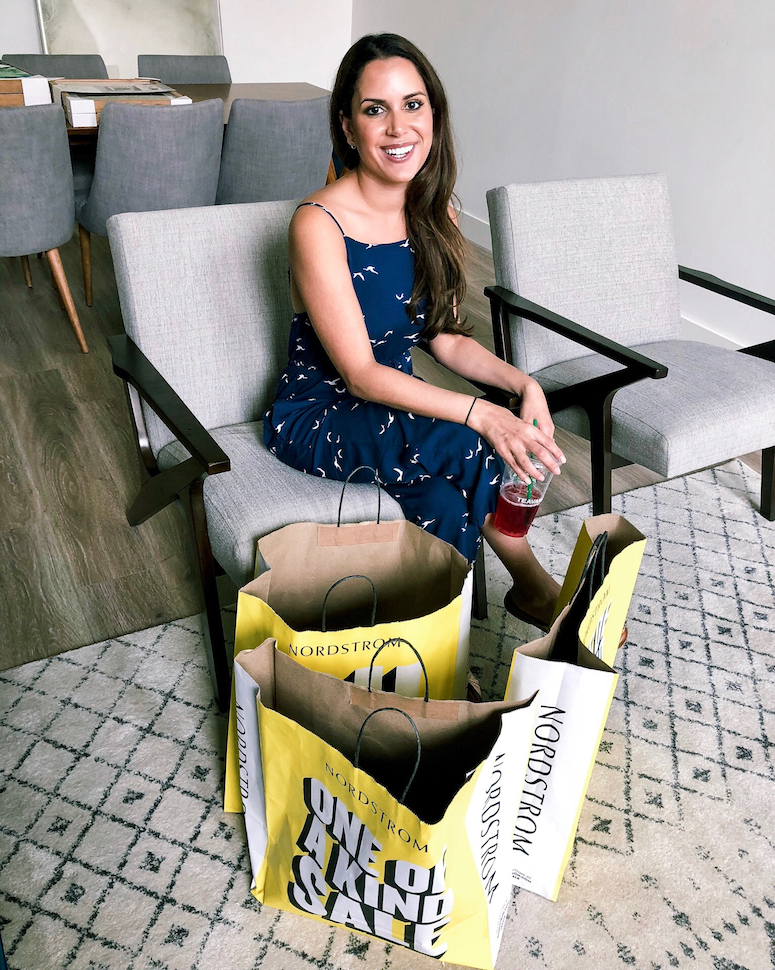 I'm excited to finally share my 2018 Nordstrom Anniversary sale dressing room diaries and try-on session with you! This took me a bit longer than I wanted to pull together because I ordered some things online that I'm STILL waiting on. Ugh, the wait is real.
I have linked a ton of my favorites over on this shop page including my favorite beauty buys and boots, too. But I know sometimes you just need to see how something wears, especially when shopping online!
A few of these pieces surprised me and I would not have bought had I not tried on, so I hope you enjoy my 2018 Nordstrom Anniversary sale dressing room diaries! I'll be sure to update when my other items finally come in!!
For more posts like this, join my email list and I'll send you a free e-book on my best effortless style secrets.
This Gibson cardigan was basically the first thing I added to my shopping cart on the night of the sale! You can wear it up too in a second style. It is SO soft and the color is lovely. I ultimately returned it because I have an almost identical sweater, which just goes to show how much I like it!
I LOVE this wrap top. It's a beautiful blush/Champagne color and quite shimmery in person. I know I'll be wearing it plenty come fall. (I'm not sure why it says "grey" online as it's definitely more of a blush pink.) Wearing XS.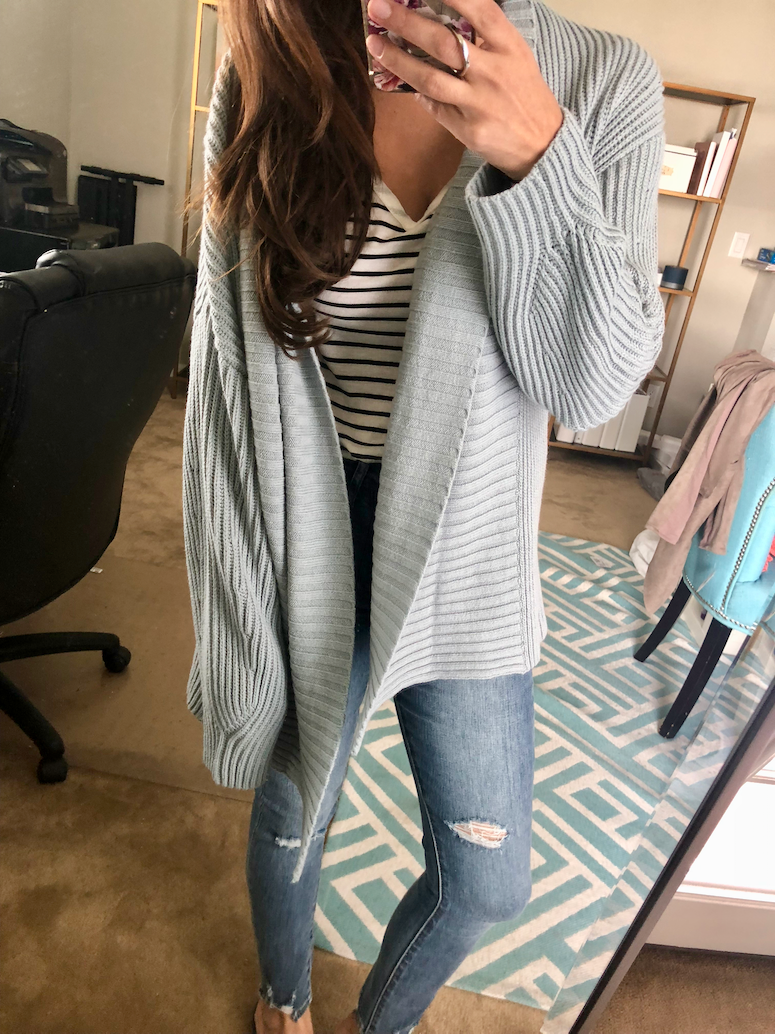 These jeans are amazing! They're under $50, comfy AF, high-waisted, ripped in all the right places and cute for your butt. They also make my list of top 10 buys from the #Nsale! Size down.
I LOVE, this baby blue chunky sweater. It's a color that looks great year-round and matches my new Chloé bag! I sized up for a more relaxed, oversized fit.
I've mentioned before that these are some of my favorite tees, and for $11.90 I had to grab a few more! I paired them with these DL1961 Emma Ripped Jeans that are super cute and comfy. Size down in the tees, wearing XS. Eleven color options so grab a few! These make great basics.
I've never been a big romper/jumpsuit person as I feel like they go up my crotch, but I'm so glad I tried this one on! It's a lovely silky material that makes it look nice and dressy in person. The front tie is adjustable, too. At first, I thought it was gaping but I was able to fix it right away. It's under $100 and one of my favorite purchases! Fits true to size.
The famous Leith dress which flatters EVERYONE is back in a new style! This wrap style is just as complimentary and it's a steal at just $33. I love this wine shade, too. I sized up in the original dress but this one fits TTS.
These Spanx faux leather moto leggings are simply amazing and make my list of the top ten items to buy at the Nordstrom Anniversary sale under $100!
They are SO flattering; they lifted my bum and tucked in my tummy–yes, please! And they are wickedly stylish. I highly, highly recommend these!!
I'm a sucker for a beautiful drape front, waterfall cardigan! And this suede piece from BlankNYC is no exception! This is an item I wasn't looking for but that came home with me anyway.
This silky wrap bodysuit is a bit of a risk for me and something I normally would never buy. But, I saw it on another blogger and decided to give it a try! I'm glad I did as I can see how versatile it is and tried it on with jeans and a nice black skirt. Plus, it's only $35.
I'm wearing it with this Halogen cardigan which is on sale again this year! It's just $42 and probably one of my most-worn pieces. It comes in 7 colors! And these loafers are under $70 and also on sale!!
MORE NORDSTROM ANNIVERSARY SALE POSTS