In Which my Louis Vuitton Neverfull Peels…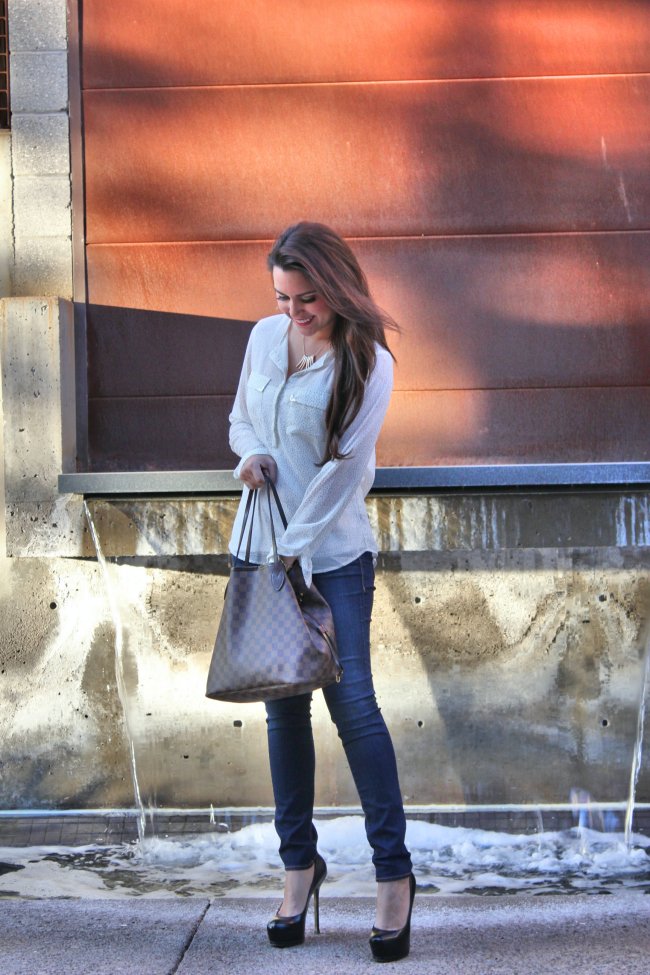 {Bag: Louis Vuitton. Top: c/o The Limited (similar). Jeans: c/o Articles of Society. Shoes: YSL}
I own this gorgeous Louis Vuitton Neverfull handbag. It's a great size tote, classic and one I've been carrying for years.
I love that I can change the shape of it, I love that it matches with pretty much anything, and I love that I can take it out for a date night or stuff a few diapers in there to hold my mom stuff, too. (I use this LV insert diaper organizer)
What I'm not loving at the moment is that this several-hundred-dollar-handbag has started to PEEL. Yes, this is the story in which my Louis Vuitton Neverfull peels…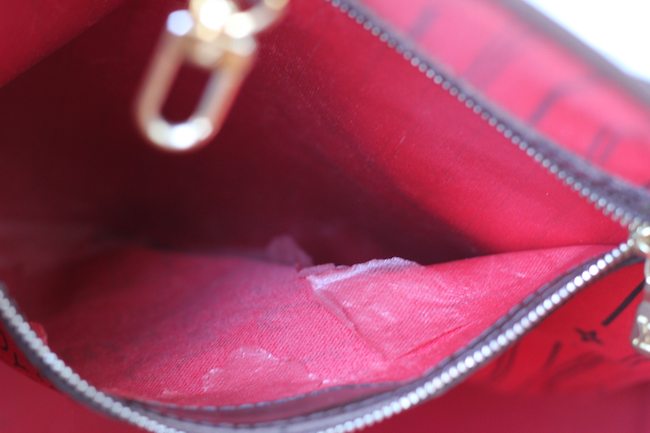 This post is just a small PSA, in case you're in the market for a Louis Vuitton handbag.
I was out and about the other day and noticed small bits of red film in my inside pocket. I thought it was plastic from a gum wrapper or something and thought nothing of it. Then, I found some more…and some more! So I peeked inside and lo and behold, my inner pocket was melting. What the hell!
A quick Google search didn't take long to find out that this is actually pretty common with Louis Vuitton handbags, especially if you live in a humid climate. I don't, but this happened anyway.
[mailerlite_form form_id=1]
Let me just say, the inner pocket peeling is just nasty. And I'm extremely disappointed that this would literally just fall apart in between my fingers.
I took my Louis Vuitton Neverfull to Scottsdale Fashion Square where I purchased the bag and was told I could send it in for repair, but it would take six weeks and $210. A little outrageous, in my opinion, since that's nearly 1/3 of the price of the entire bag and we're just talking about a small interior pocket.
The saleswoman did tell me that because of the way the bag is made, they also replace the top leather trim, rendering my bag "practically brand new!". My leather trim is just fine though, and I really can't see how this little piece being replaced will make my bag look new again. Sorry, try again later.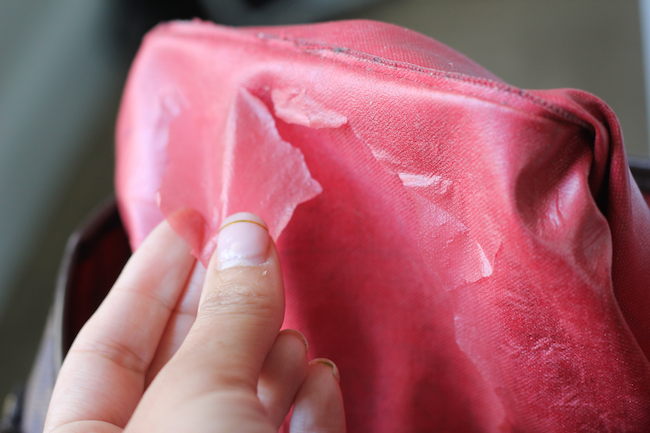 I've had this purse for more than five years, so it's considered "normal" wear and tear, not a quality control issue. And since they don't know what I put in the purse pocket (uh, cell phones and keys?!), they can't cover the repair. Ok, fine.
But the purpose of making a purchase such as this, an investment piece, is to love and treasure it for many, many years. And to actually use the interior pocket. That's what it's there for, after all.
Part of purchasing an investment piece is being able to depend on a quality product that will hold up against the test of time. I have several other designer handbags that have held up just fine throughout the years. They're well loved, and well maintained. And when the time comes that a little TLC is in order, that's totally fine. But it seems like your bag shouldn't start disintegrating after a few years. And that a company known for its "quality" products should stand behind them a little better.
I was also told they no longer make the lining like this, which instantly made me raise my brows. If it's not a "quality control" issue, then why change the way it's made?
If you're looking for a place to repair your Louis Vuitton lining that's not the boutique itself, you may want to try your local shoe/leather expert. I took mine there and was told he sees this kind of thing all the time.
I can't guarantee this would help or hinder your resale value, but it may be a simpler and cheaper solution to get your lining back in shape.
---
Have you had this problem as well? Let me know if you decided to fix it! 
[mailerlite_form form_id=2]