What to Wear to a Pumpkin Patch: 15+ Cute Outfit Ideas!
October is here, and it's time to start planning fall activities! One of my favorites is a visit to the pumpkin patch.
While you're there, take advantage of the cute scenery for a mini fall photoshoot! Whether it's for the 'gram or your family holiday card, it's the perfect photo opp.
Not sure what to wear? Don't sweat it. Here are plenty of cute + practical ideas on what to wear to a pumpkin patch.
Pumpkin Patch Family Photo Outfits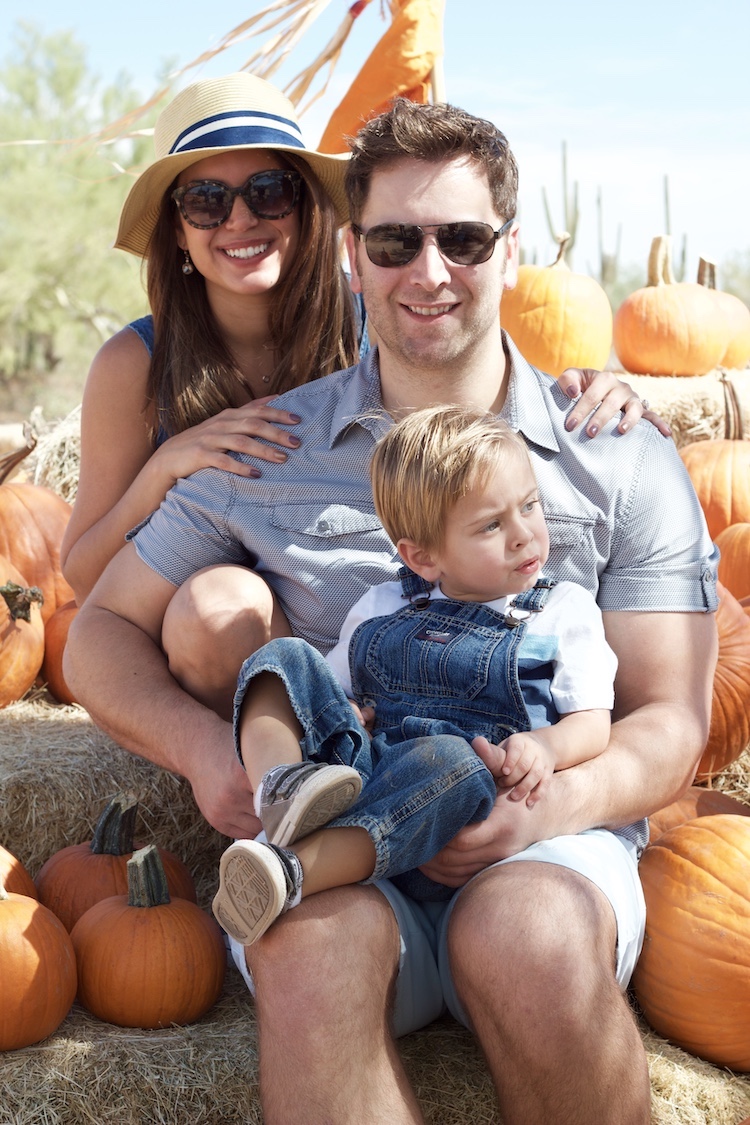 You can hardly tell in this photo, but I wore a denim romper + hat + sneakers to snag a cute family photo at the pumpkin patch.
Shades of blue really work well against an orangey backdrop, and it's easy to coordinate if you're trying to get a cute family pumpkin patch photo.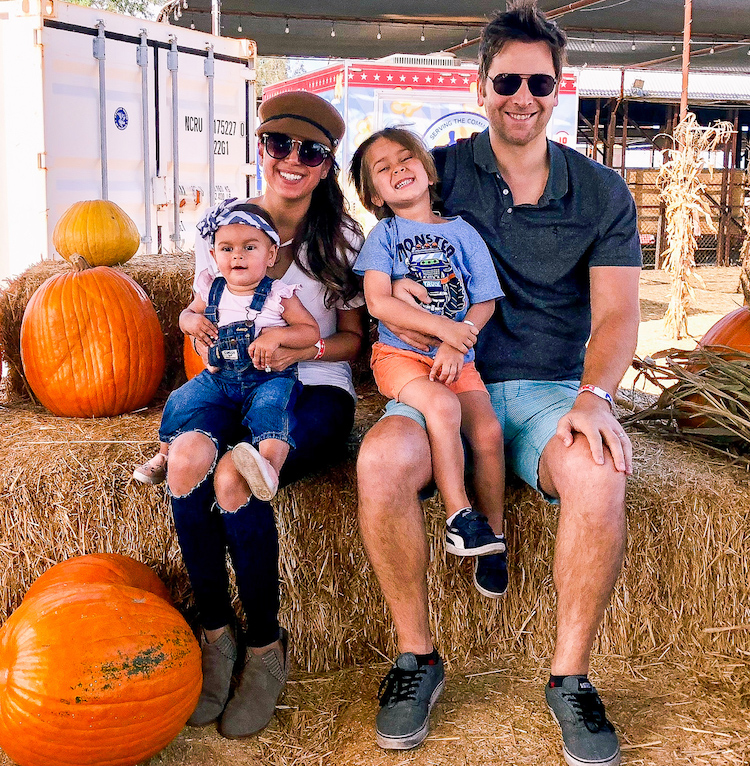 Here is another example of a casual, simple look that won't clash with a pumpkin patch backdrop. You can't go wrong with denim, blue, and white for an easy look for the whole family.
Accessorize with warm-toned pieces like I did to keep the fall vibe going.
What to Wear to the Pumpkin Patch When It's Hot Out
Here in Arizona, it's often around 100 degrees when it's time to go to the pumpkin patch. So no cute sweater dresses for us!
If you're looking for ideas on what to wear to the pumpkin patch when it's hot out, try a cute pair of biker shorts and fall graphic tee like this one.
It's cute, casual, and comfortable and you won't be sweating in it.
PRO TIP: Don't forget your hat and sunnies as it can be a long, hot day out in the sun!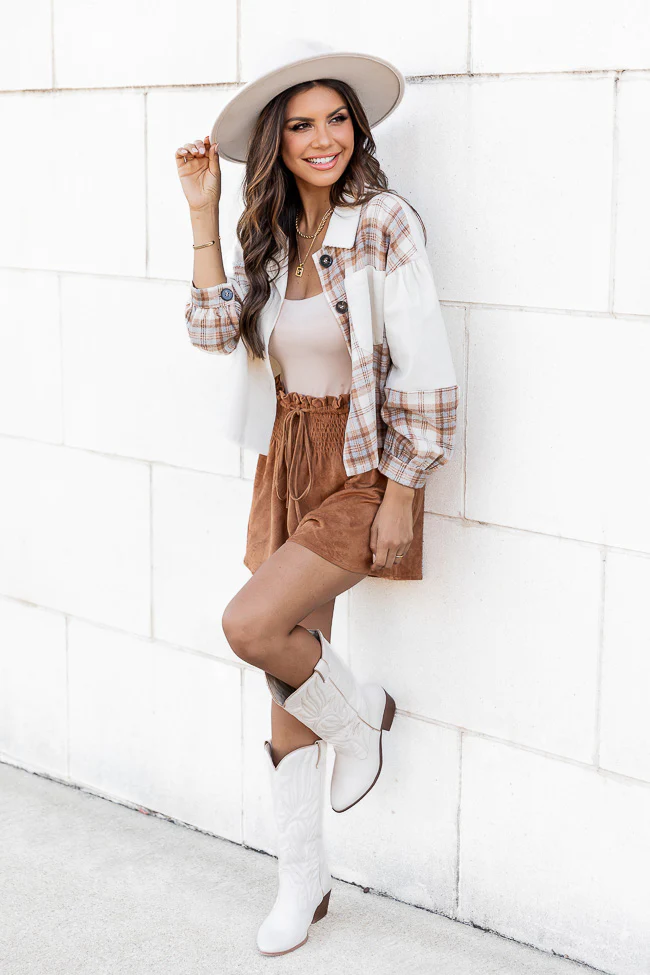 Here is another great option for warmer weather. Pair any shorts with a warm-toned shacket like this one to create a look that is perfect for fall.
I love these white cowboy boots, they are right on trend this season. Shop a similar pair here.
Pumpkin Patch Outfits with Jeans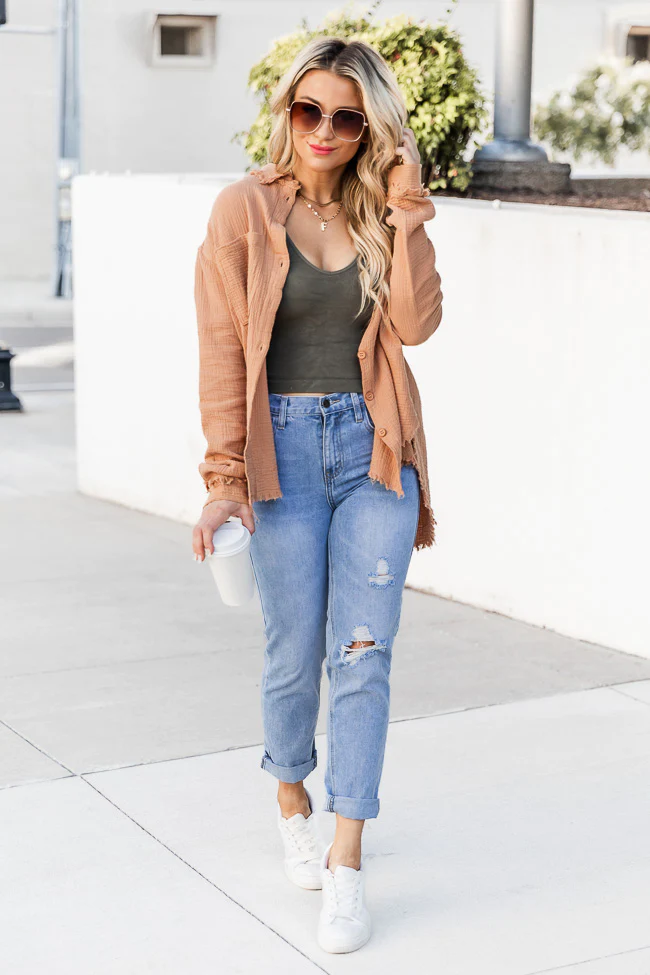 Keeping it casual and simple with jeans is the perfect comfy but cute option for a pumpkin patch outfit.
Layer pretty fall tones like this gorgeous rust-colored button-down and army green tank to finish the look.
The Influencer Uniform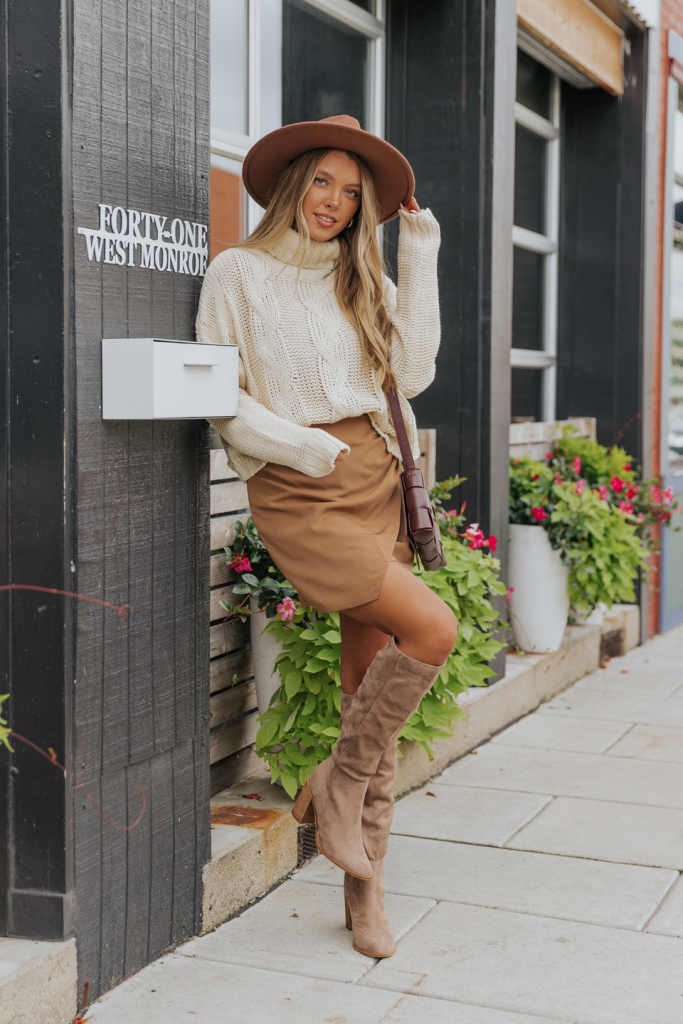 You can't go wrong with this fall look we all know and love! Pair a chunky sweater like this one with a skirt and over-the-knee boots, and you are good to go.
Accessorize with a wide-brimmed hat to create a trendier look that will stand out in pictures and protect you from the sun.
RELATED: 9 Fall Skirt Outfits that are Easy to Recreate
A Sweater Dress + Boots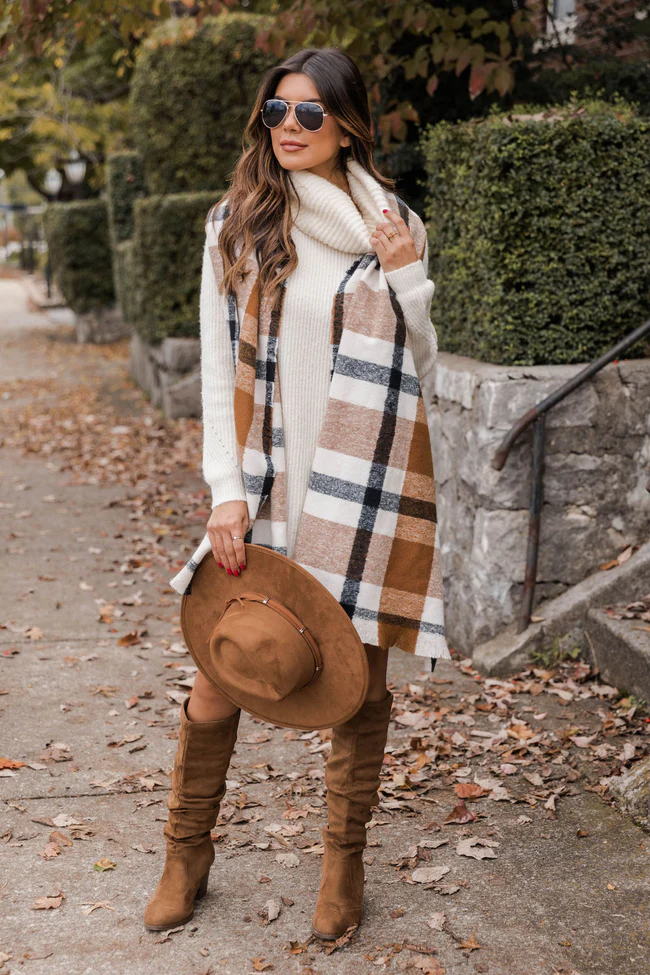 For those of you who live in cooler climates, I think a sweater dress is one of the easiest, most chic options! This beautiful cream sweater dress is perfect because you can accessorize so easily
Pair it with a warm scarf like this one, or a jacket, or keep it simple and add a fun over-the-knee boot!
RELATED: 21+ Ways to Wear Over-the-Knee Boots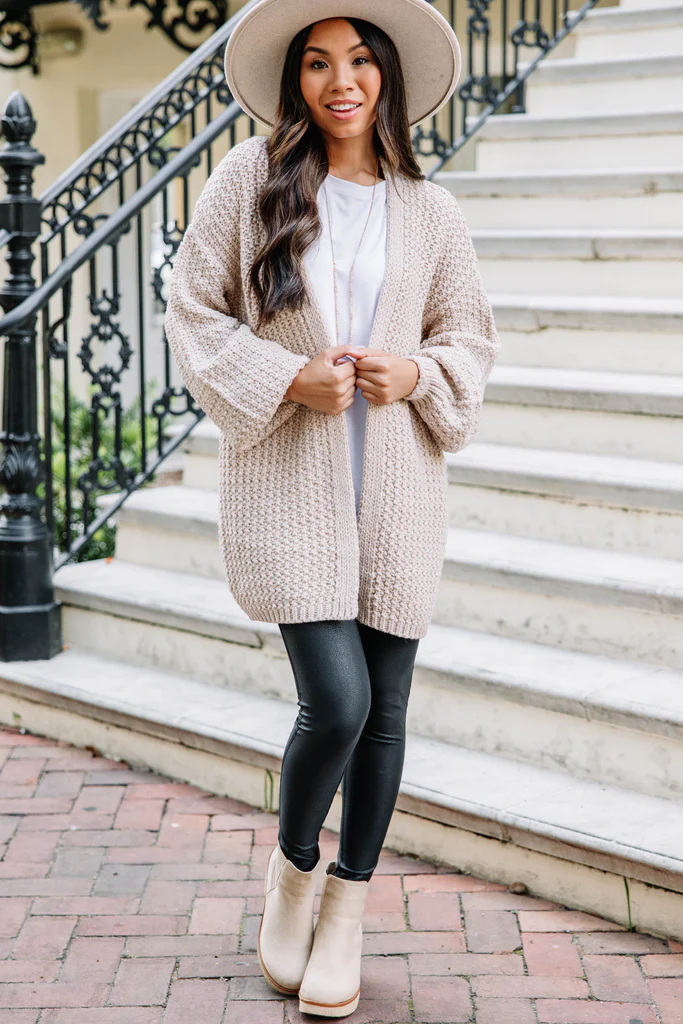 For another practical and comfortable option, go with leggings! A long, oversized cardigan like this cream one is perfect to layer on top. Choose a faux leather or metallic legging to elevate the look!
RELATED: The Best Tops To Wear With Leggings
Cute Overalls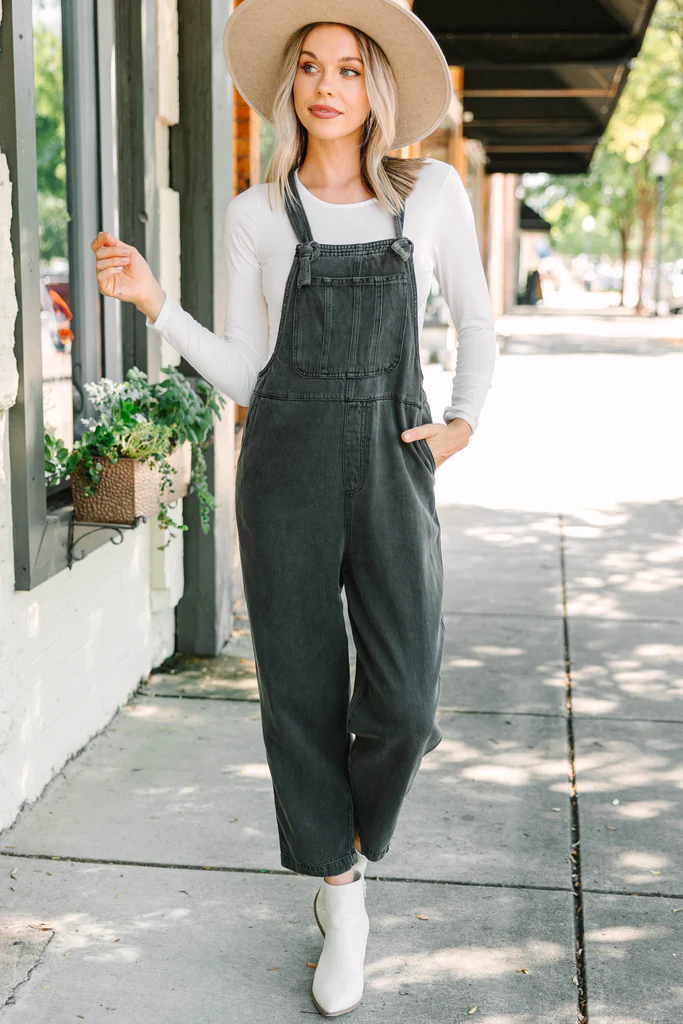 I'm in love with the overall trend this fall, and what better location to wear this look than a pumpkin patch!
This dark denim overall would be adorable with a white or cream sweater underneath. Or, go with a light wash denim pair and layer with deeper tones like browns or burgundies.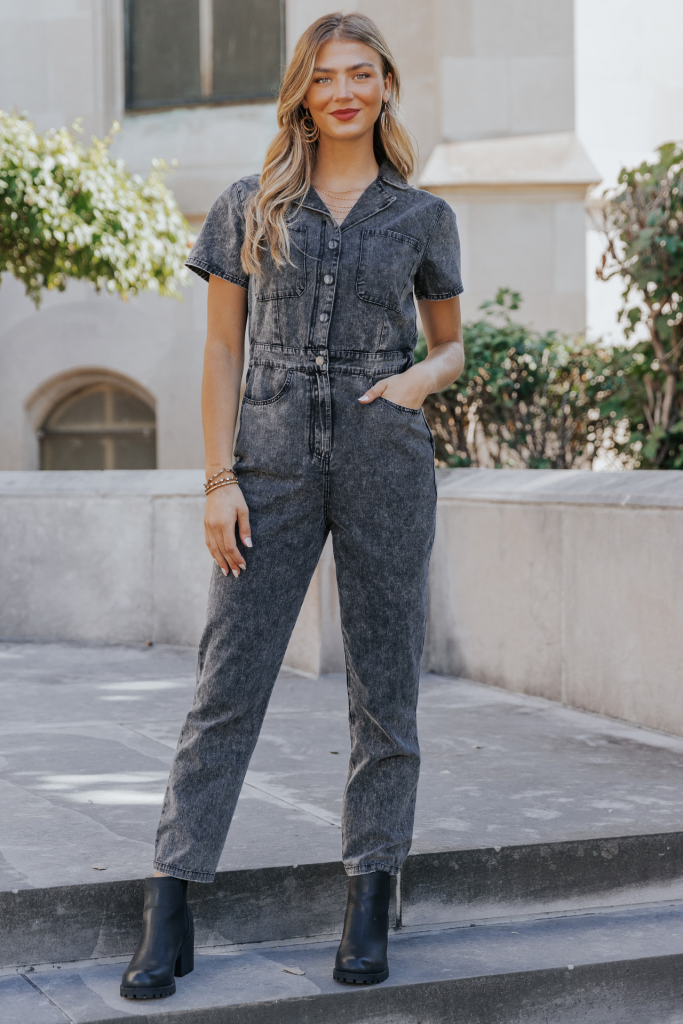 For another one-piece option, go with something like this fun black denim jumpsuit! I love this because it's truly so easy.
Add some black accessories and your favorite jewelry and you are set with a trendy, standout outfit.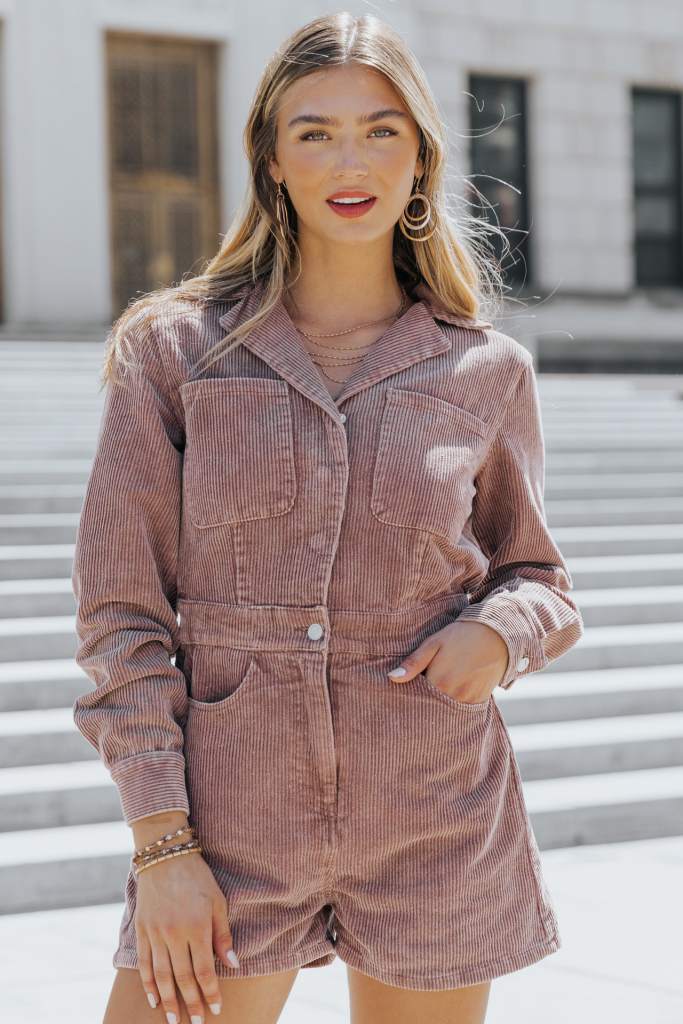 For my warm climate girls who love the one-piece look, go for a romper! I'm obsessed with this dusty rose corduroy piece, it screams autumn and will look stunning in photos.
PRO TIP: Play with textures! Corduroy, leather, velvet, cable knit, and tweed are perfect for fall.
The Shirt Dress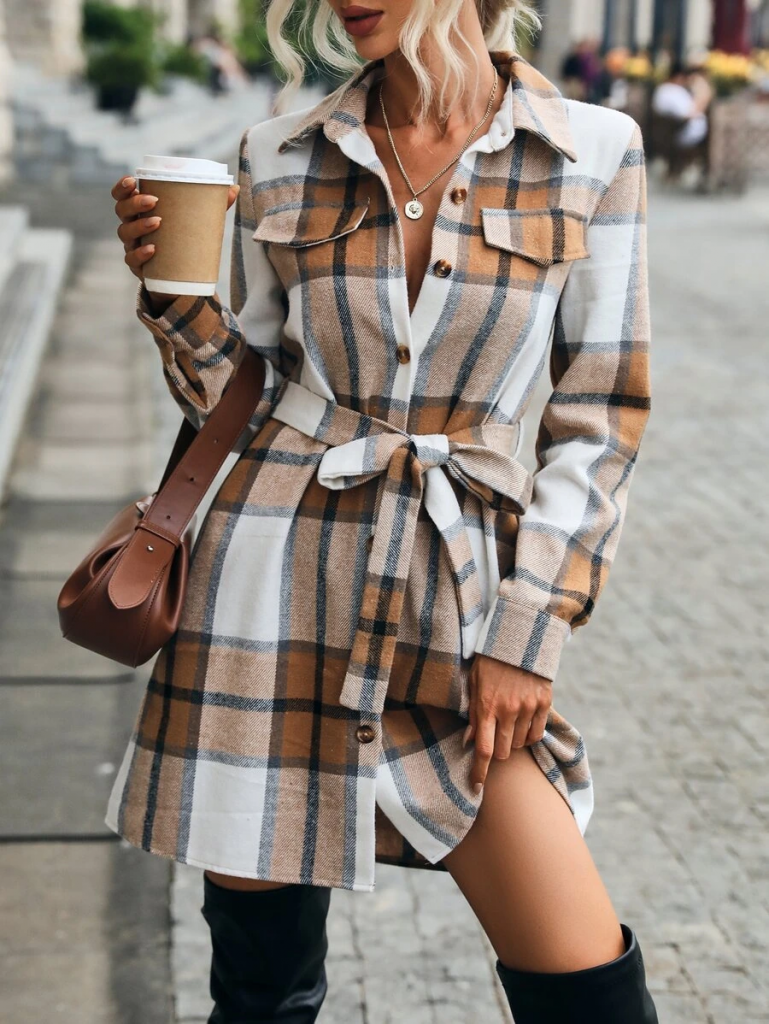 This plaid shirt dress is adorable and comes in a few colors that are perfect for fall! Something like this would be perfect for a family pumpkin patch photo shoot–it's easy and chic.
Pair it with over-the-knee boots to finish the look.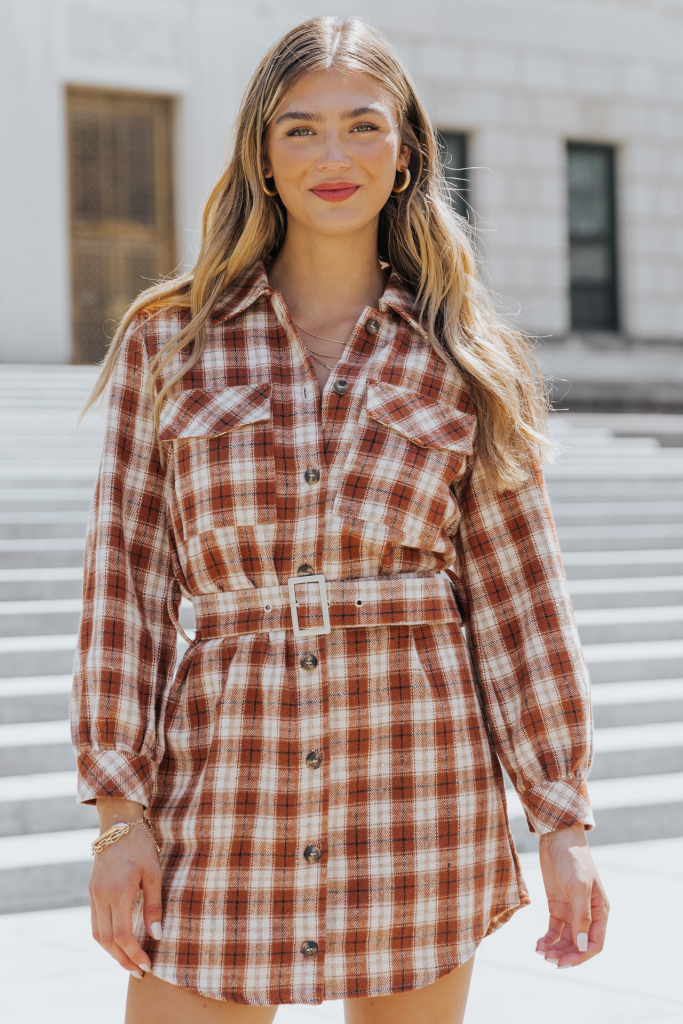 Here is another shirt dress option I'm loving. The orange-tone plaid on this piece would look so pretty against a backdrop of fall colors.
Keep the look warm by pairing it with gold-tone accessories and brown leather boots.
Short Dresses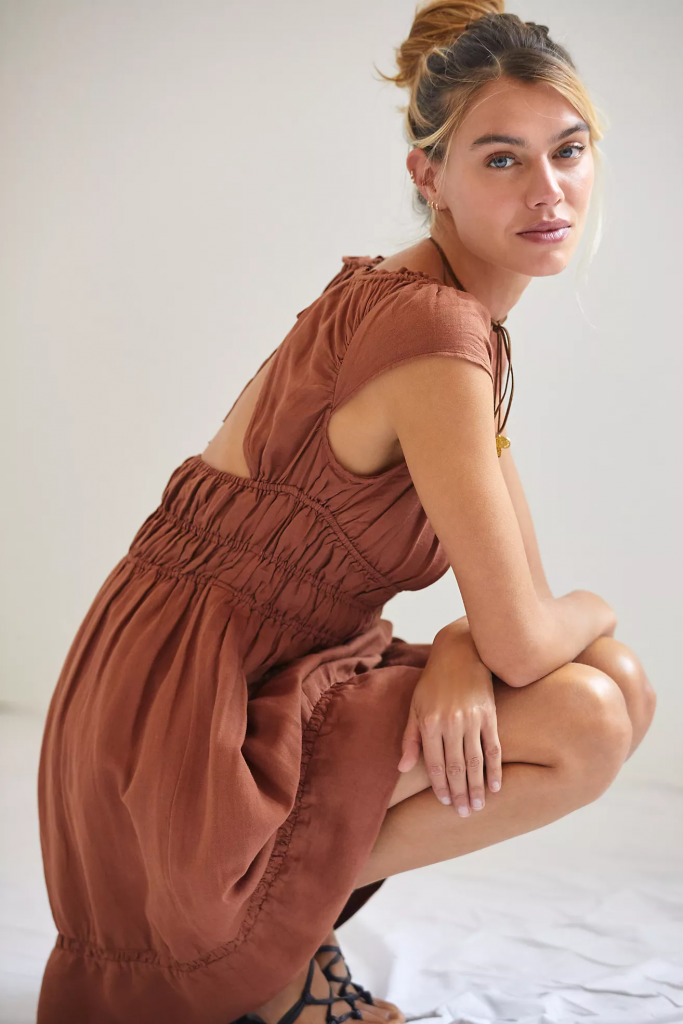 This gorgeous Anthropologie dress is the perfect shade of orange for a fall look! The silhouette of this piece is sweet, flirty, and simple. This shade of orange is on the muted side, so it would also be easy to pair with other neutral tones for a coordinating family photo or cute Instagram moment.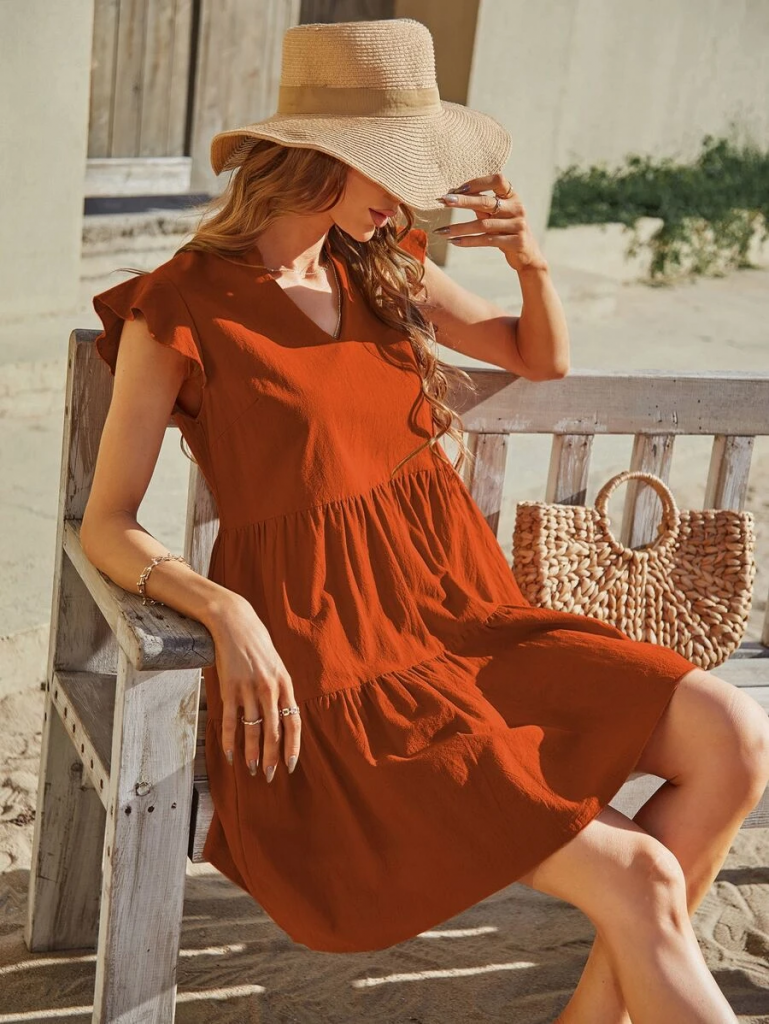 I love easy pieces like this orange ruffle dress because they're comfortable and so easy to accessorize. Add a neutral-tone tote bag, lots of gold jewelry, or a belt to add a little more interest to this cute fall piece.
More Tips for Pumpkin Patch Outfits
A visit to a pumpkin patch is such a fun fall tradition for our family. Whether you're going with girlfriends, family, or little ones, here are a few helpful tips to make sure you have the right outfit for the occasion:
Dress practically. If you're going to be spending the day chasing kids around, be sure to stay away from short skirts or stiletto-heeled boots.
Check the weather! You don't want to be freezing cold or trudging through mud in your new white cowboy boots all day.
Check out the location's website. If you're planning to snap some family photos at the pumpkin patch, I recommend looking at photos beforehand for color inspo!
I hope you enjoyed this festive post! I'm so excited to start playing with fall pieces this season. What fall looks are you the most excited to try this year? Let me know in the comments!