Well, you've heard the news: skinny jeans are out and mom jeans are in!
Honestly, mom jeans have been around for quite a while. In fact, they've pretty much become a wardrobe staple at this point.
While skinny jeans will always have a place in your wardrobe, a great pair of high-waist jeans is flattering and fashion-forward.
If baggy mom jeans is what first comes to mind don't fret; there are tons of different styles to choose from like a loose fit, relaxed fit, tapered leg or an early 90s look (I'm looking at you, acid wash jeans!)
Generally speaking though, it's more of a relaxed look and typically involves high-rise jeans.
Feeling intimidated? These mom jeans outfit should inspire you to try something new this season. After all, it's one of the biggest fashion trends of the year! And, they're comfortable, too.
If you have never tried out mom jeans or would like some ideas on how to wear them, keep reading!
How to Wear Mom Jeans in the Spring
Try: Light Layers & a Shacket
When spring arrives, you immediately will want to ditch the dark colors. So grab a lighter wash mom jean and bust out the layers since it can still be cool out!
This look by ProperLush is an easy way to layer with pieces you probably already have in your wardrobe.
A plain white t-shirt can be effortless with a pair of light wash distressed mom jeans and sneakers. The overall look is casual and comfortable, perfect for everyday wear!
A utility jacket, or this season's shacket, is an easy way to incorporate light layers. Utility jackets are a great staple item for your closet and this cream-colored one is a great neutral to have.
Loving this pair of ripped mom jeans? Here is how to recreate this look.
Shop Similar Jeans
Shop Similar Jacket (Check Print)
How to Wear Mom Jeans in the Spring and Summer
Try White Wash Mom Jeans
One of my favorite ways to wear mom jeans in the summer is to opt for white denim. A lot of people can get nervous about white jeans, but a crisp pair looks so modern and fresh!
---
RELATED: The Best White Jeans that Aren't See-Through
---
A simple muscle tank is right on-trend and so easy to recreate. This particular jean style is more of a straight leg so it's a great jean to start with if you're just dipping your toe into the mom jeans trend.  
Love this look? Let's recreate it:
Shop Similar Jeans
Shop Similar Top
How to Wear Mom Jeans in the Fall
Trench Coat and Boots
Just because the weather has got a bit colder, doesn't mean you have to forget about style. Mom jeans are essential in your closet as they can be worn all-year-round!
I love how emilylucyrajch has put together her outfit. She has gone for a light blue wash of mom jeans and tucked them into a classic black boot.
Also notice how her jeans are slightly rolled at the bottom so you can see where the boot meets her jeans.
A solid color top layered with a cute jacket completes this look that's effortlessly stylish yet fashion-forward.
Get the Look:
Shop Similar Jeans
Shop Similar Trench Coat
Mom Jeans: How to Wear in Winter
Cozy Layers
When it comes to wintertime, you need to stay warm but still look on-trend. The easiest way to do this is with cozy layers, of course! A simple sweater + a cute trench coat is all you need to pull off this look. If it's really cold where you live, layer a white T-shirt or button-down underneath.
For winter, it's nice to get out your dark wash jeans. Black is also a great option and they also look fantastic with boots, and I'm really loving this pair of combat boots.
---
RELATED: How to Wear Combat Boots
---
This look is neutral, warm and feels classic yet fashion-forward.
As well as wearing mom jeans throughout the year, you can also style them for any occasion. To show you just how versatile mom jeans can be, I've popped below how you can dress up and dress down the staple item in your closet!
Shop Similar Jeans
Shop Similar Boots
Can You Wear Mom Jeans Over 30?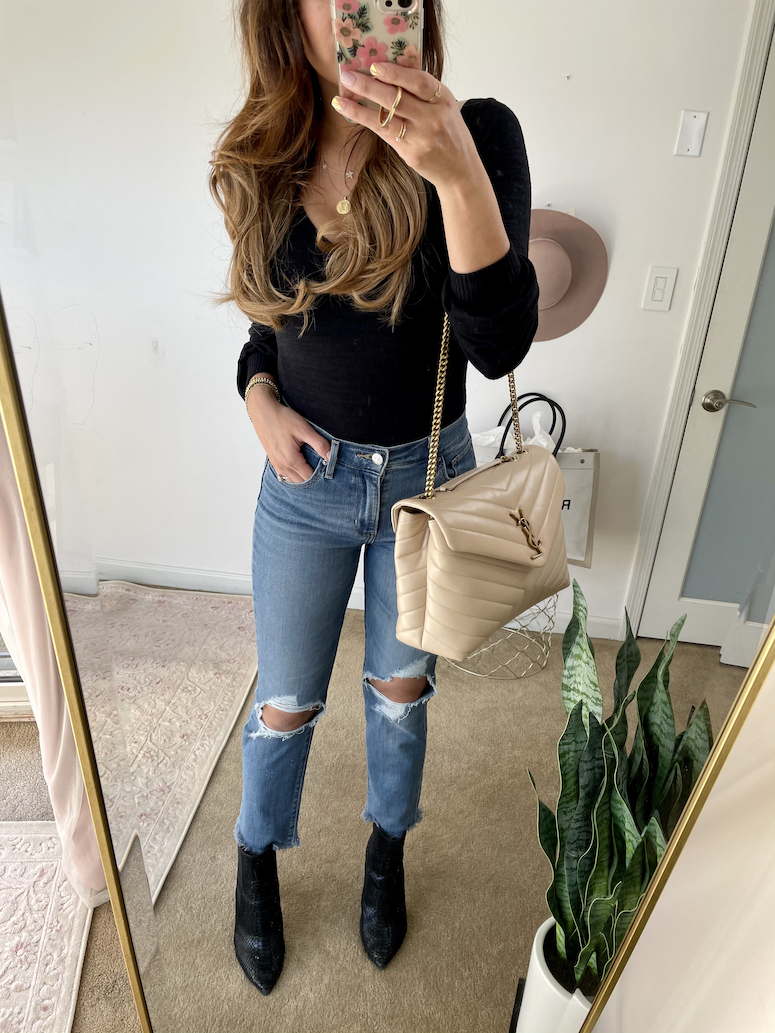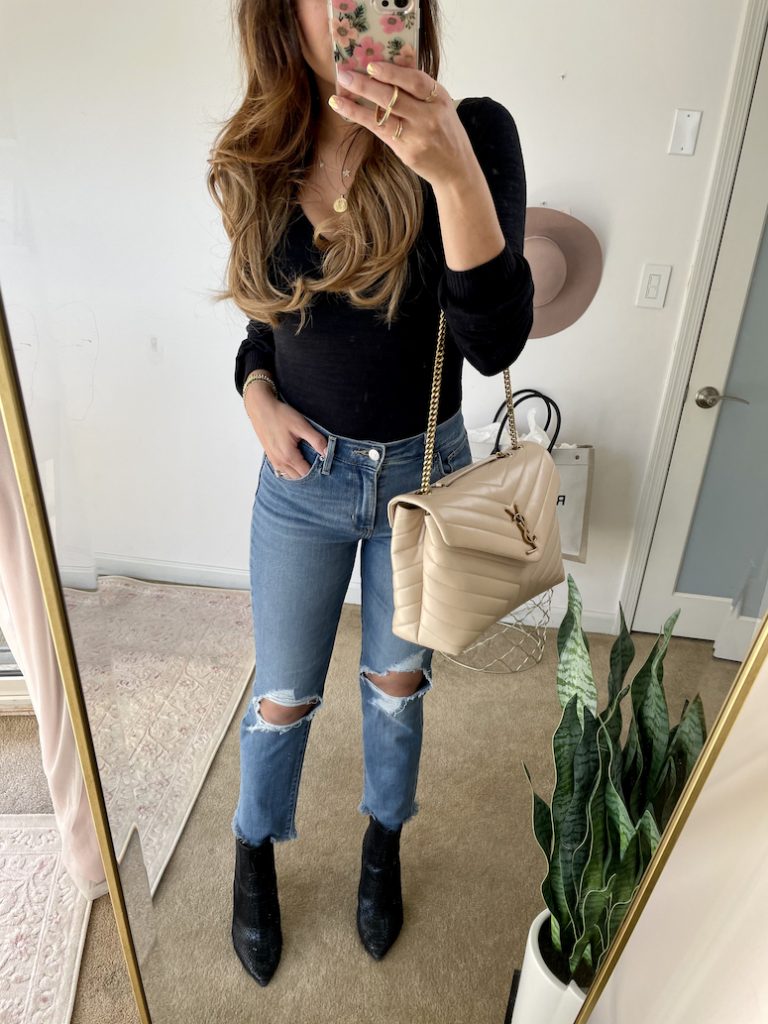 Absolutely–I sure do!
I love to wear these Levi's jeans paired with a simply bodysuit and ankle booties in the fall.
Come spring and summer, you can still wear this look but with a lighter-colored bodysuit and cute sandals instead.
How to Dress Up Mom Jeans
Try Black Mom Jeans
Think you can't dress up mom jeans? Think again! A pair of black mom jeans paired with cute high heels and a belted chic blazer is fashion-forward.
If you don't own a blazer like this you can recreate the look with a black fitted top tucked in or a longer, fuller blouse tucked out and belted.
All-black everything looks so good on a night out! This will look cool and also a little bit flirty, especially with a lower neckline.
Shop Similar Jeans
Shop Similar Blouse
How to Wear Cuffed Mom Jeans
Bring on the Comfy Style
As well as wearing mom jeans on a night out, you can actually style them for a casual look. too. If you're just hanging with your friends or going on a city trip, they're a great on-trend option. 
If you're wearing them in a casual setting, you can definitely play more with color. I am loving how himani1015 on Instagram has styled her light blue mom jeans.
She has belted her jeans to cinch in her waist and tucked in an army green patterned sweater. By tucking in her sweater, it draws your eye to her waist and creates an hourglass figure.
As well as the knitted sweater, she has coordinated her beanie to match her bag. She has opted for a mustard color that would look amazing in Fall!
Wearing the white combat boots really does make this look stand out. The white boots are so eye-catching and make the look a lot more fun and casual. If you're not into the white, you can totally rock this look with black boots, too.
Shop Similar Jeans
I truly hope that you have found some outfit inspiration from my post today. I am seriously in love with all of the looks put together! Mom jeans can take you from basic to on trend as soon as you put them on.
If you're scared to try them out, don't be! They're just a pair of jeans, and put together with any of today's suggestions, you will not create a fashion faux pas.
Whatever look you're going for, make that a casual Spring-time fit or a cozy, layered Winter look, you can style with mom jeans. Be creative and let me know what outfit you love the most! Which style will you try to recreate first?
Mom Jeans FAQ's
Are mom jeans on trend?
Mom jeans are for sure back in style. Thanks to the 80's/90's these jeans are not going anywhere!
They are comfier than skinny jeans and can be dressed up or down. They're an essential for anybody's closet.
What are mom jeans?
Mom jeans offer a much more roomy fit than other styles of jeans. They are a relaxed style that can be worn day in, day out.
Folding up the bottoms of your mom jeans can make them more tapered if you prefer that look. If not, enjoy the wider leg!
Can you wear mom jeans to work?
This all depends on where you work. If you work a corporate job, then you may get away with a black pair of mom jeans. However, always double-check this with your manager or colleagues. 
If you work in a more relaxed environment, definitely wear those mom jeans! I do recommend not wearing ripped mom jeans to work though. Ripped jeans should be for casual instances only, in my opinion.
---
I hope this post full of mom jeans outfit ideas has helped you embrace this trend this season! What do you think of the mom jeans trend? Do you like it?