Louis Vuitton Kirigami Review
I got not one, not two, but THREE Louis Vuitton bags for under $1,500. Yes, you read that right! And yes, they were brand new.
Here is how in this full Louis Vuitton Kirigami Pochette review.
Louis Vuitton Kirigami Review
I was on the hunt for a birthday present last year when I discovered the Louis Vuitton Kirigami set somewhere down the YouTube rabbit hole.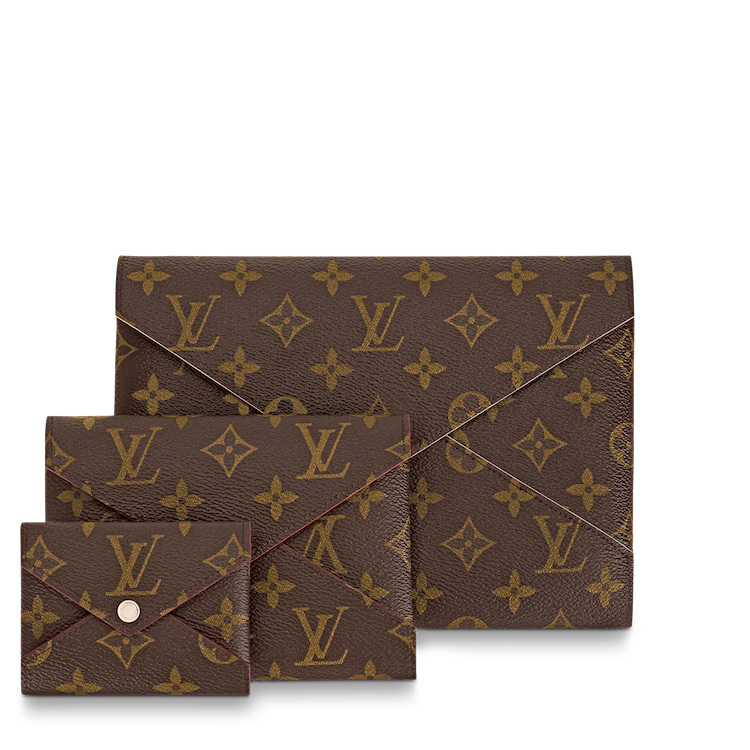 I've never been one for stocking up on a ton of luxury SLGs, but since the Louis Vuitton toiletry pouch was discontinued, there were rumors swirling that the Louis Vuitton Kirigami would be discontinued as well.
The Kirigami Pochette is a set of THREE envelope-style SLGs (small leather goods), currently priced at $745 USD (2023 pricing). The envelope pouches fit inside each other, like little Russian nesting dolls.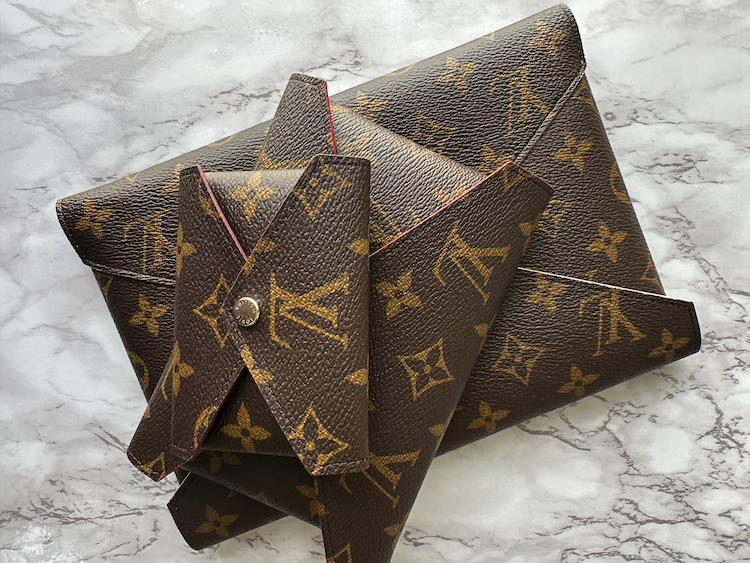 I watched a few Youtube videos and wasn't exactly sure what I would use them for but they seemed really fun, different and cute.
On an impulse, I went to my local Louis Vuitton and bought the LAST set there as a birthday present!
I've had them two years now and they are one of the most-used luxury pieces I own.
More of a video person? Watch the full review below + subscribe to my channel!
Louis Vuitton Kirigami Pochette Sizing + What Fits
I have to admit, I am not one for impulse shopping and don't typically buy designer handbags without knowing what I intend on using it for. But the more I played around with these, the more I found how useful they really are.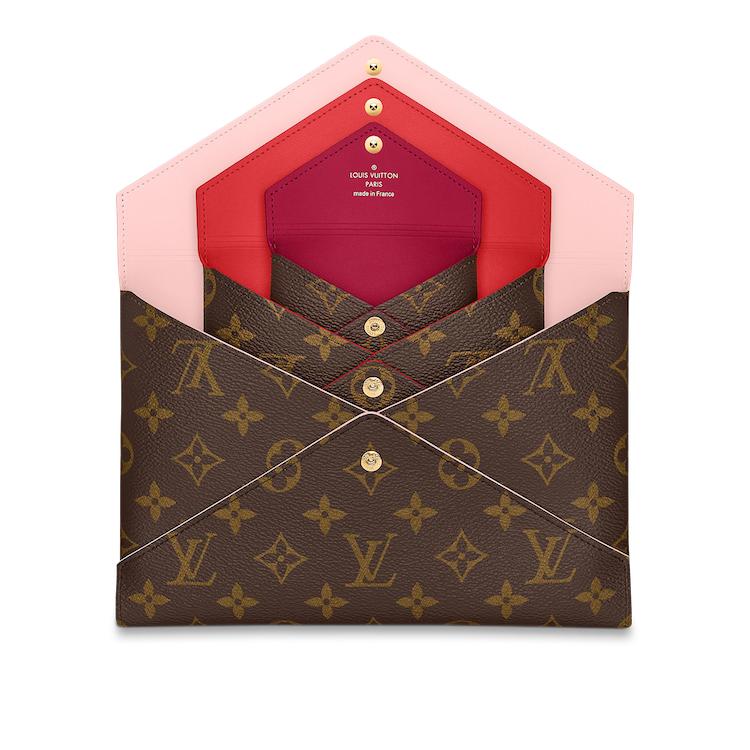 Here is a quick breakdown on the sizing:
Louis Vuitton Small Kirigami Pochette
Size: 9' x 6.5' x 0.1' (L x H x W) inches
Louis Vuitton Medium Kirigami Pochette
Size: 6' x 4.5' x 0.1' (L x H x W) inches
Louis Vuitton Large Kirigami Pochette
Size: 3.9' x 2.8' x 0.1' (L x H x W) inches
What Fits Inside the Large Kirigami Pochette
The larger envelope bag is the one I use most often. It is perfect as a small clutch or you can add a chain to carry it crossbody style!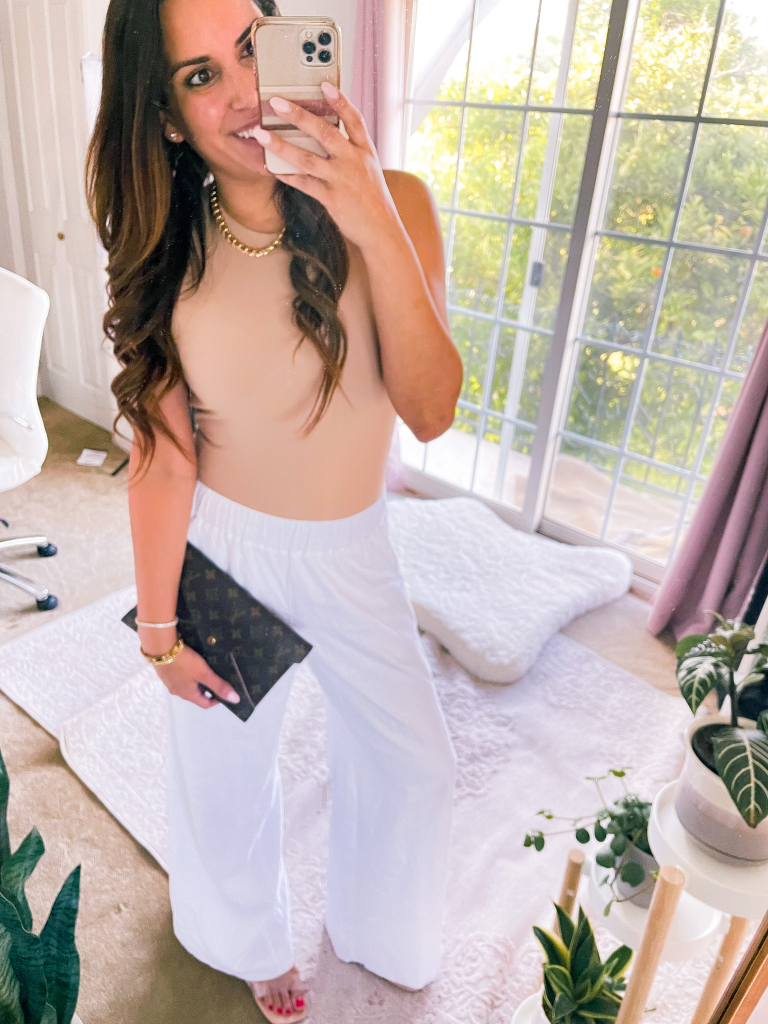 This large pouch measures 23×16.5 cm and is in the Louis Vuitton monogram print with light pink interior.
I LOVE that you can easily turn this bag into a luxury purse with an added chain. I've also used this as a little clutch for a date night out or happy hour.
RELATED: Explore More Luxury Fashion & Designer Handbag Posts
The large envelope bag is also perfect for carrying everyday essentials like your lipstick, hand sanitizer, wipes, etc. You can easily toss this in a tote and you have all of your essentials with you.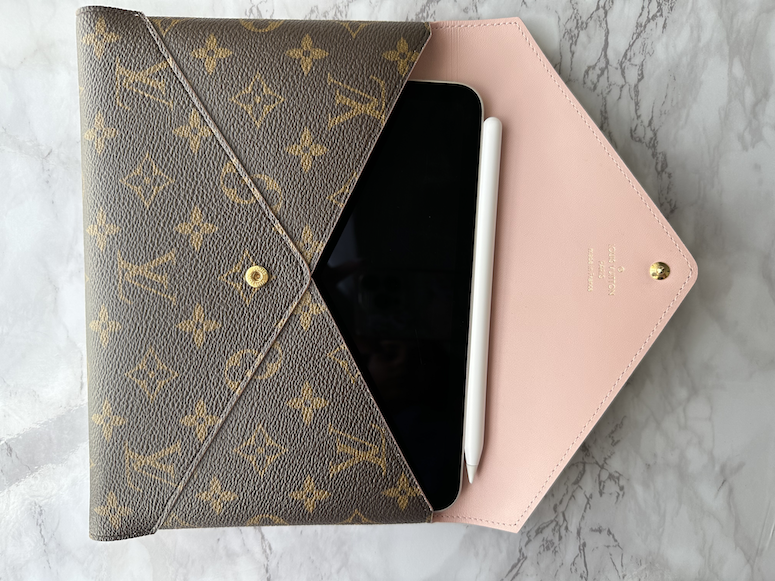 Most recently, I've been using the large envelope bag as my iPad mini case. It is a perfect size and a nice little luxury to have this as my primary iPad cover!
What Fits Inside the Medium Louis Vuitton Kirigami Pochette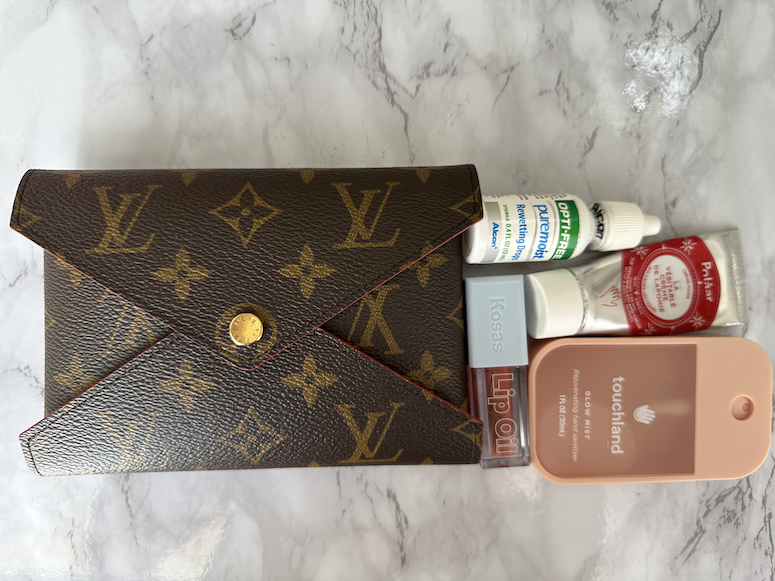 The medium size Kirigami pochette measures 15.5 x 11.5 cm. This one carries a few everyday items like my chapstick, lipstick and hand sanitizer spray. I can also fit my rewetting drops.
This pochette is the one I primarily use everyday as it's easy to toss into any size bag, including my smaller luxury crossbody bags that I use daily.
It can also be used as a passport holder, though I personally do not use it for that purpose.
More Designer Handbag Posts You May Like:
What Fits Inside the Small Louis Vuitton Kirigami Pochette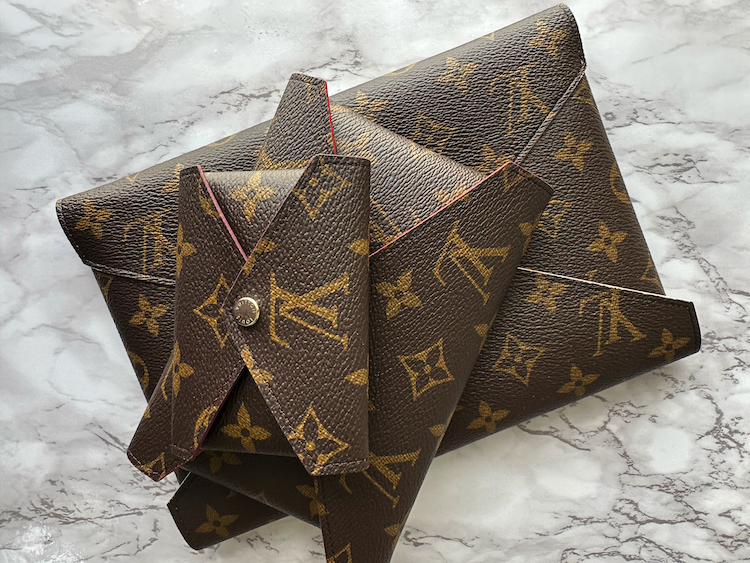 The small Louis Vuitton pochette is the other one I use daily. Really, I use all three of them every day!
This one functions as my card case which again, I just pop in and out of all of my handbags.
It can hold my driver's license plus several credit cards easily. This one has a deep burgundy lining.
All three of the Louis Vuitton Kirigami pochettes feature cowhide leather lining, monogram coated canvas and gold-color hardware. You can also get them hot stamped in the store.
Louis Vuitton Kirigami Pochette Designs
If you're not a fan of the monogram print, there are a ton of other options for the Louis Vuitton Kirigami Pochette!
You can also find plenty on the resale market, including some sellers who are willing to part with them individually.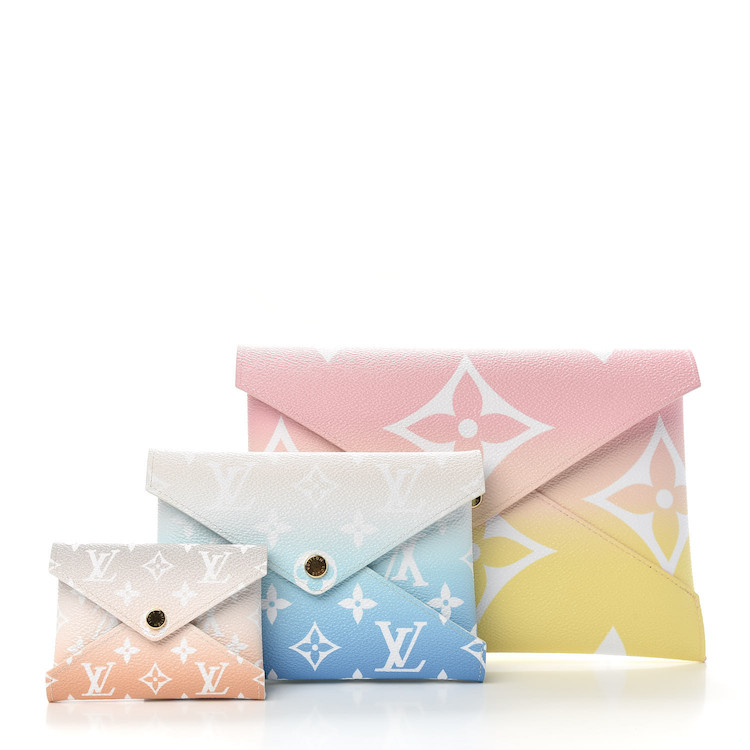 The LV Kirigami Pochette is also available in the By the Pool collection. I spotted this set on Fashionphile retailing for $1,390.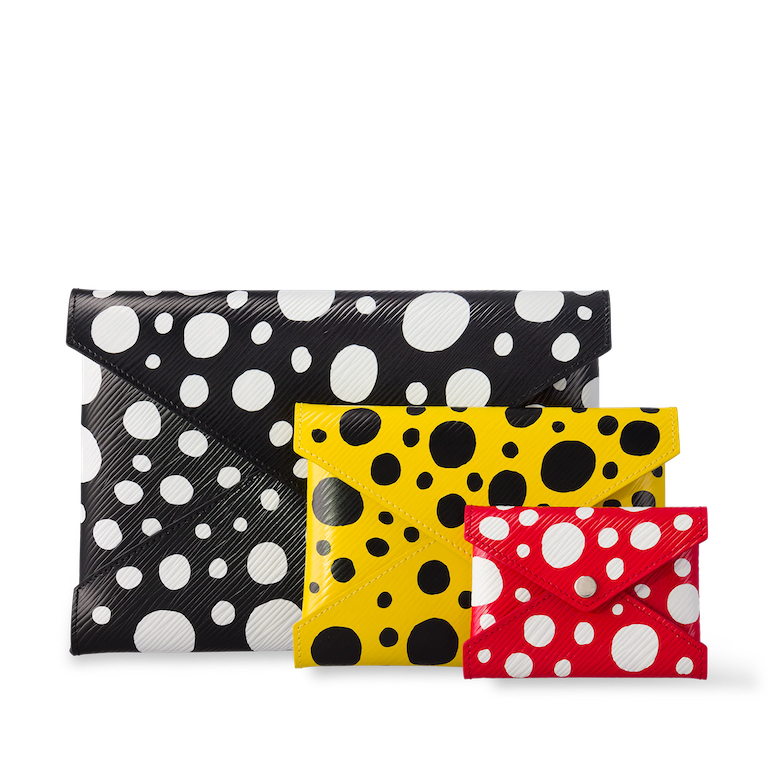 For a modern take, you may like the The LVxYK Kirigami pouch in large dots. There is a black pouch, yellow pouch and red pouch retailing for $1,110.
PRO TIP: I have seen plenty of the Louis Vuitton Kirigami monogram pochettes on the resale market priced HIGHER than brand new, so for this set design snag one brand new straight from your LV boutique!
Pros of the LV Kirigami Pochette
I really love these little bags! Honestly, I did not realize how much use I would get out of them.
Since I did not have much of a luxury SLG collection to begin with, this helped me start one quickly, and at an affordable price point.
Once you have the bags, you'll find the best way to use them and I have personally found them to be quite versatile.
I use all three of the bags on a daily basis, which I cannot say for any other luxury handbags or small leather goods that I own.
If you decide to add a chain and convert the larger Kirigami into a handbag, it is the most affordable way to get a Louis Vuitton crossbody bag!
Cons of the Louis Vuitton Kirigami
These are envelope style bags, not large pochettes like the toiletry bag, so you can't fit nearly as much inside as other SLGs that are similar in sizing.
There is no zipper pocket, just one gold button, so again you need to be mindful of overstuffing these as they are quite narrow.
I have no need of carrying 1,000 things with me, so for me they work great despite these small drawbacks.
Louis Vuitton Kirigami Conversion Kits
As mentioned above, you can buy third-party Louis Vuitton Kirigami conversion kits to add a small chain and convert these little pouches into handbags!
JennyKrafts has a set on Etsy featuring felt pouches with D-rings outside the pouch so it won't scratch the leather.
You can choose to buy one pouch, two or all three and you can customize the color of the felt. One gold chain strap is also included.
Joyinbag is another popular Etsy seller with Louis Vuitton Kirigami conversion kits. Her listing lets you customize the chain length + choose between 6 different chain styles. You can also choose which color felt you'd like.
Final Thoughts: Is the Louis Vuitton Kirigami Pochette set worth it?
I 100% would recommend getting the Louis Vuitton Kirigami if you've had your eye on this set! They are adorable, versatile and a great bang for your buck.
What do you use LV Kirigami for?