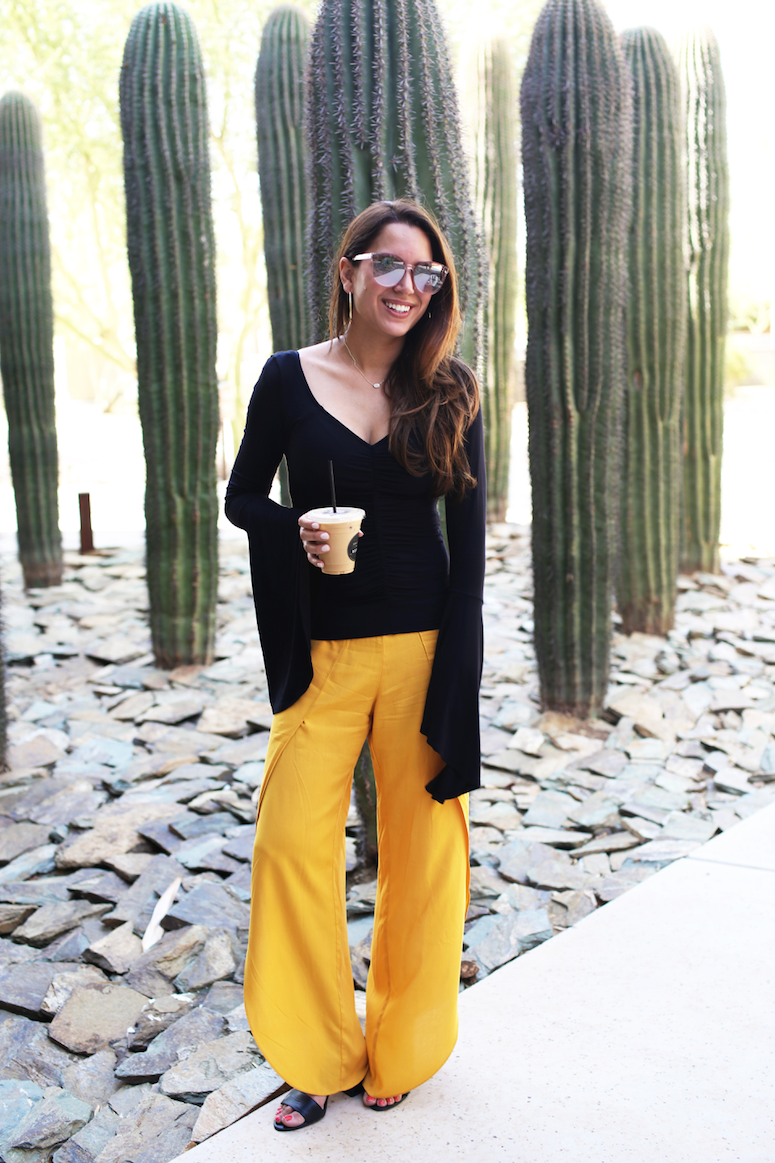 Split leg pants were MADE for Arizona girls. Hello, totally breathable fabric that you can actually wear in the summer months!!!

I picked up these split leg pants and this Free People bell sleeve top during my latest TJ Maxx haul. But I'll admit, I did think, what to wear with mustard yellow pants?!
If you're not sure what to wear with mustard yellow pants, you can hardly go wrong with black. The contrast is nice, and it works for spring, summer and the fall months, too!
You could also try black cami like this one during the summer months. I am loving this look for both the summer and fall months; it's hard to wear pants in AZ in the summer but these are cool and breezy!!
RELATED: How to Wear Mustard Yellow
Thinking of trying color? Here are even more ideas on what to wear with mustard yellow pants:
Chambray: It's basically a neutral! And works with most anything.
Fall colors: Think purple, olive green or even navy hues.
Neutrals: Keep it simple with white or cream! You could also layer and try a white cami with a solid-colored cardigan on top.
RELATED: Cute Cardigan Outfits for Spring
These sandals, BTW, were in my latest trunk from Trunk Club and I love the nice leathery feel! They're super versatile for summer and fall and on sale right now for under $100!
As far as shoe options, I kept it simple and styled my mustard yellow pants with black shoes, but they also go with brown shoes, nude, or you could do leopard print!
Think outside the box: wear your yellow pants with a Chambray top and leopard print flats, it doesn't have to be matchy-matchy.
Or, pair your mustard yellow pants with a solid-color top and cute brown boots. You can tie the look together with a matching belt or bag, or even add a scarf!
What do you think of mustard yellow pants? I have always been on board with wide-leg palazzo pants, and this split leg version is a fun update! Let me know your thoughts in the comments below and if you want more styling tips like this!