How to Find Cute Clothes on Amazon: 11 Shopping Secrets You Should Know
Amazon can be a goldmine for cute clothes. But actually finding cute clothes on Amazon is a whole other story.
It can be SERIOUSLY overwhelming, to say the least. And can take a lot of trial and error.
That's why a lot of fashion bloggers, like myself, take the headache and pain out of shopping by ordering items, doing try-on hauls and finding the best of the best.
But I also know you may want to find cute clothes on Amazon for yourself.
Maybe you're shopping for a social occasion or looking for something in particular, like a great white dress. That's why today, I'm spilling my top tips and secrets to finding cute clothes on Amazon for yourself. Happy shopping and enjoy these Amazon online shopping tips!
1-Get to Know Amazon Brands
The hardest part about shopping for clothes, or anything really, on Amazon is that the selection is just vast.
It's hard to find what you're looking for because there are just so many options!
This is why it's great to get to know the Amazon brands as well as other brands you become familiar with, trust and love.
Plus, with Amazon Prime everything comes in two days and includes free shipping both ways so it's less of a risk.
Not a Prime Member Yet? Get a FREE 30-Day Trial Here.
ause of this, I sometimes will order the same item in two sizes just to ensure I find the perfect fit.
Amazon has a whole host of in-house brands that include:
These can (sometimes) be more expensive than other Amazon retailers, but the quality is significantly better.
I've been obsessed with everything from the Daily Ritual line lately. The basics are incredibly soft, excellent quality and perfect for building a wardrobe or replenishing staple pieces.
So far from Daily Ritual I've bought: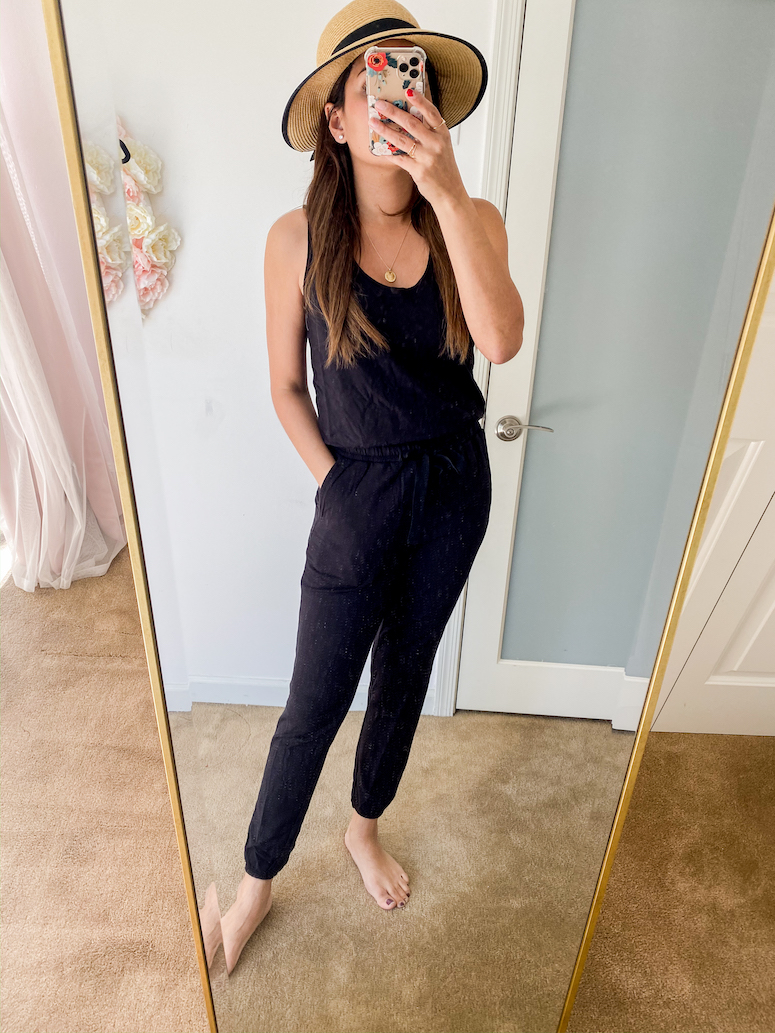 This jumpsuit in two colors. That's how much I love it!
It's soft, has pockets and feels like you're wearing PJs. Win-Win.
I also bought this tank dress. Runs TTS but you can size up if you want more of a relaxed fit. It also comes in several colors and is so soft!
You can knot this dress at the bottom as well if you want. This one would be easy to layer with a denim jacket or a cute blazer and designer belt. There are literally a million ways you can style this dress!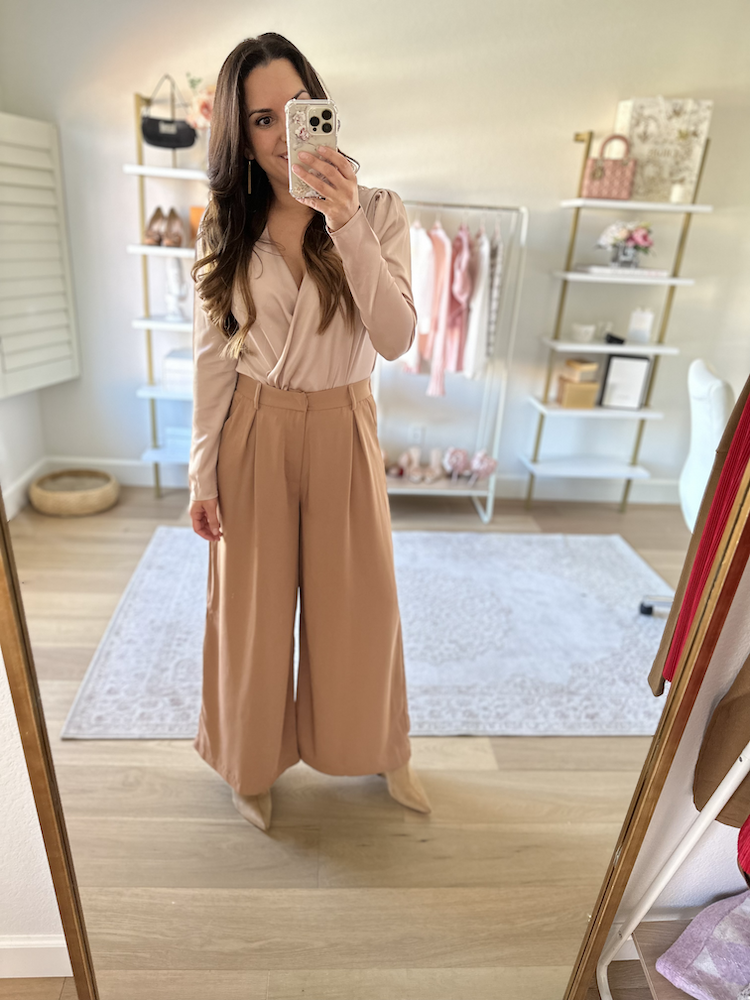 These wide-leg palazzo pants have been a bestseller and are so comfortable! They have over 16,000 ratings and come in several colorways.
2-Shop The Drop
If you want to know how to find good clothes on Amazon, you need to try The Drop, a collaboration between Amazon Fashion and influencers!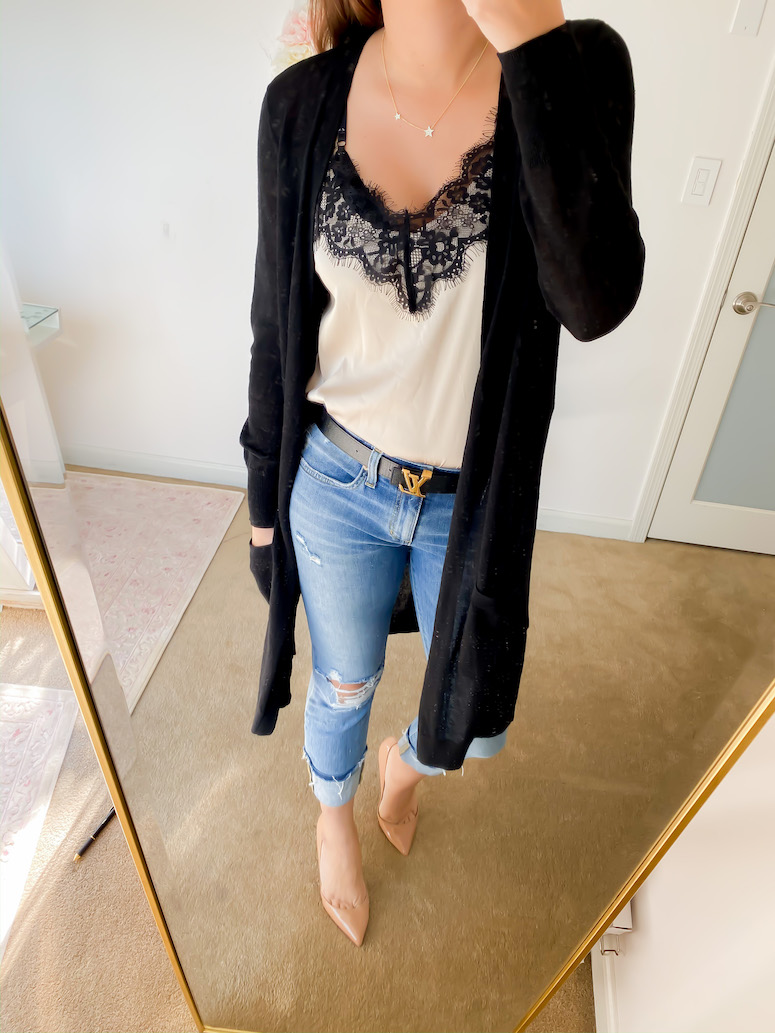 This collection is SO cute and filled with trendy pieces, which is why it's one of my favorite Amazon online shopping tips. This lace cami is from The Drop and has gorgeous detailing, and the quality is quite nice.
PRO TIP: The Drop pieces are limited and once they're gone, they're gone! The best way to snatch up the lastest find fast is to sign up for alerts here.
This one-shoulder cutout dress has been another favorite find from The Drop. This one comes in 6 colors and has pockets!
3-Discover New Non-Amazon Brands
It's likely that while shopping you'll come across a ton of new brands, which can be confusing! But once you've bought 1-2 pieces from a brand you love, you can search Amazon for more from that particular brand.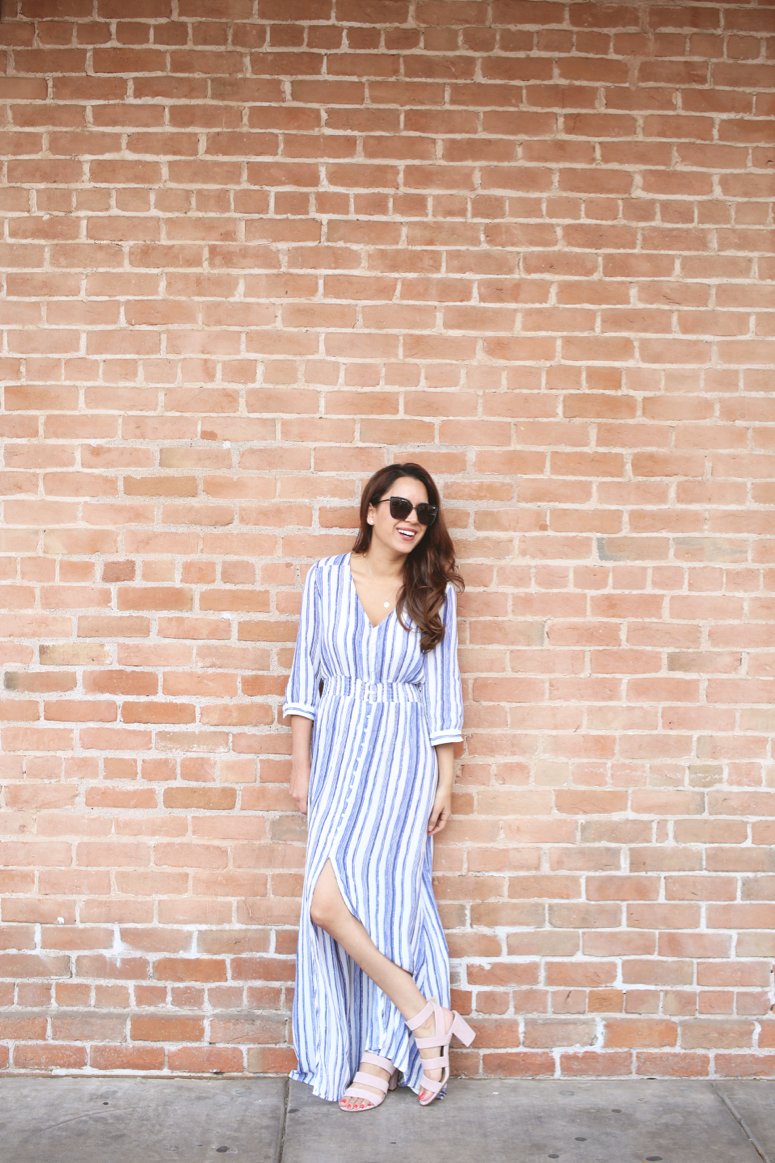 A few brands I have come to like include:
And more! You can also find retailers like Chicwish and SheIn on Amazon.
---
RELATED: An Honest Chicwish Review
---
But why would you shop other retailers on Amazon? Well, to take advantage of the free, quick shipping of course!
4-Follow Other Bloggers
The easiest way to find cute stuff on Amazon is to simply follow other bloggers (like myself) who are constantly shopping and posting their Amazon hauls and favorites!
Instagram is a great way to find new bloggers to follow, but because of the algorithm, you may not always "see" their posts. That's why it's best to try and either subscribe to their mailing list, turn on post notifications or follow them in the LiketoKnow.it app for direct shopping (more on that below).
Here are some of the hashtags used that will you help find Amazon-specific posts:
#FounditonAmazon
#AmazonFinds
#AmazonFashionFinds
#AmazonInfluencer
#AmazonFashion
---
RELATED: The Best Spring Amazon Fashion Finds
---
The LiketoKnow.it app is totally free and one of my favorite ways to go shopping and find cute clothes on Amazon!
Whenever I am specifically wanting to find something new and cute on Amazon, I open the app and see if any of my favorite influencers have posted some good finds.
My next step is to simply use the search function. Here's how.
Click the spyglass icon at the bottom right corner, it will bring you to search
Type something in the top Search bar! I use keywords like "amazon" "amazon dress" or whatever else I am shopping for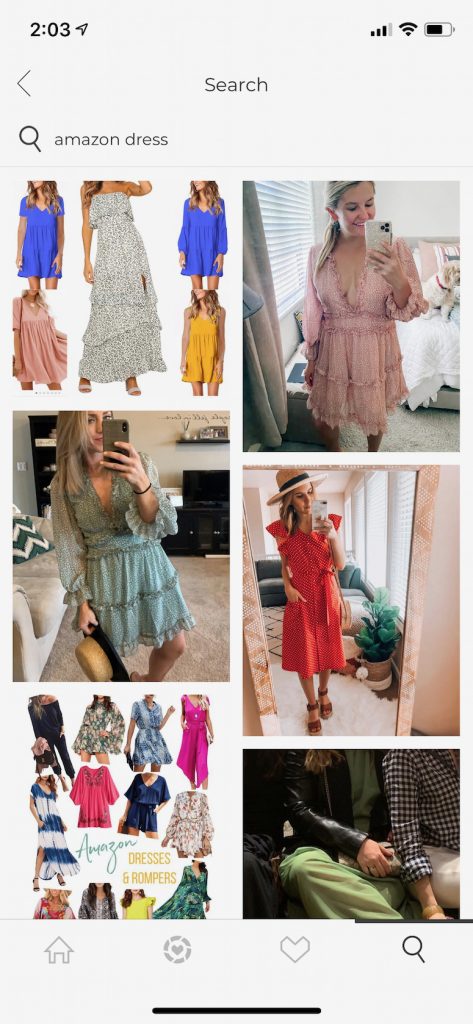 This is also a neat way to find new influencers to follow who post great Amazon finds.
6-Read Reviews
If I am going straight into Amazon to shop and not buying a brand I know or something someone recommended, the next best step is to thoroughly read reviews.
I look at the star rating then jump to the reviews to get an idea of sizing, fit and quality.
If people are posting photos, by all means look through them! This will always give you a better idea of how something may look and feel in real life.
7-Shop the "People Also Bought" Tab
This tab is a goldmine and can often be overlooked! Once you land on a product and scroll down you'll see two sections. One is called "Customers who viewed this item also viewed" and the one below it is "Sponsored products related to this item".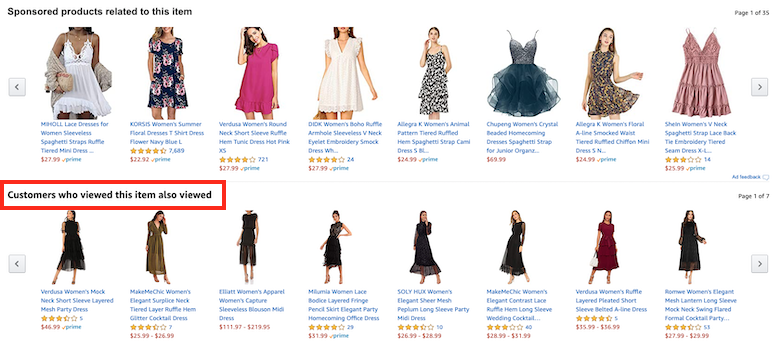 Whenever I click through the "Customers who viewed this also viewed" tab, I almost always find new, cute things. This section is SO fun!
I typically skip over the Sponsored products section as this is the section where I've seen a lot of dupes, which oftentimes turn out to be cheaper versions of the original.
8-Follow Amazon Storefronts by Influencers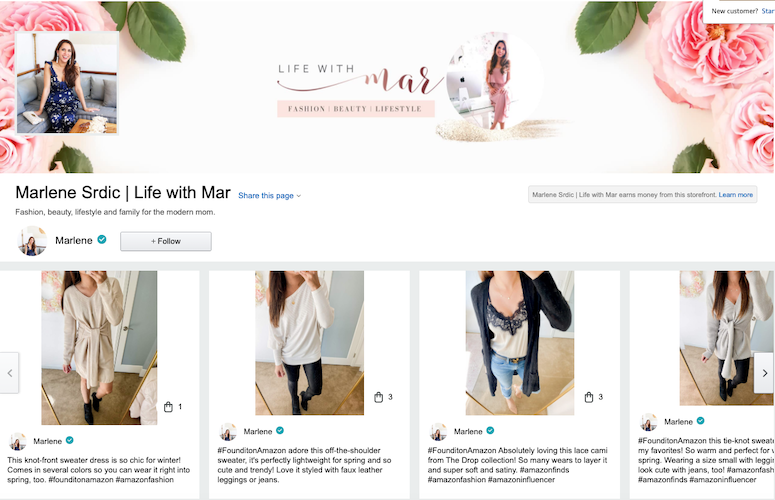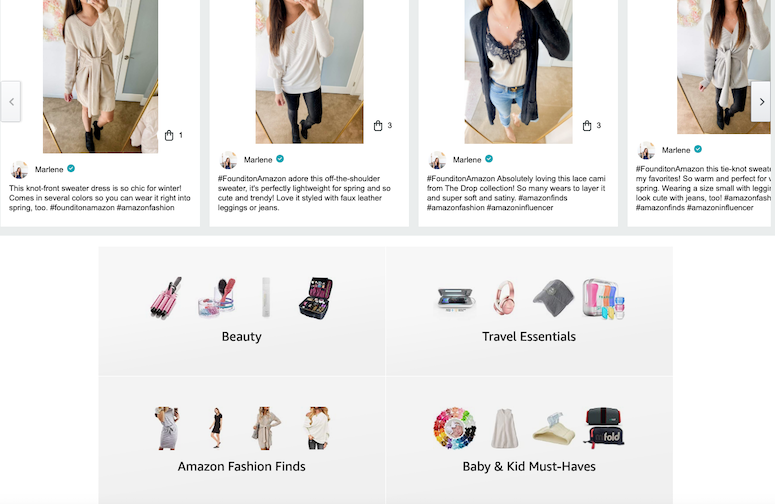 Did you know many Amazon influencers have a Storefront? That's right! I have a shop page I update regularly with my favorite Amazon finds. You can click the "follow" tab to easily see updates and new pieces that are added.
---
RELATED: The Best Amazon Fashion Influencer Storefronts to Follow
---
9-Shop the #FounditOnAmazon Tag on Amazon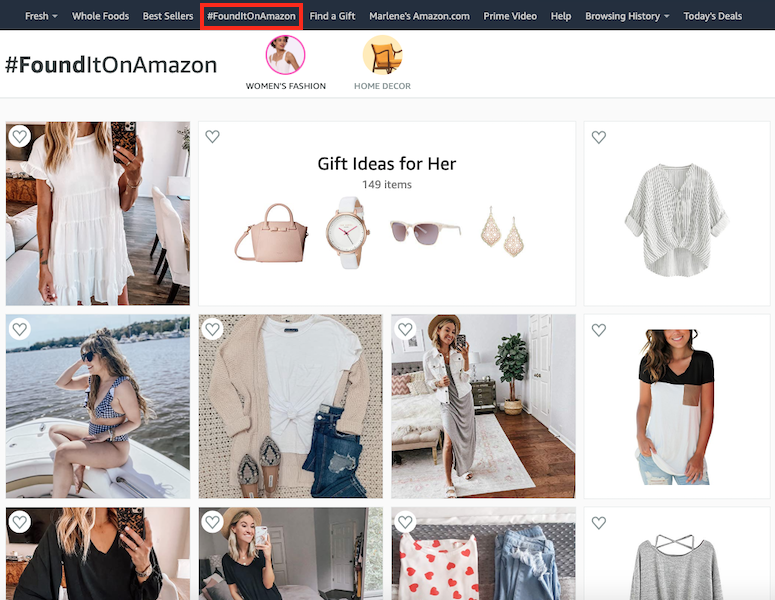 In the top navigation bar on Amazon.com you'll see a link that says #FounditonAmazon. This brings you to a page that looks a lot like Instagram and LiketoKnow.it, where you can see user-uploaded fashion favorites!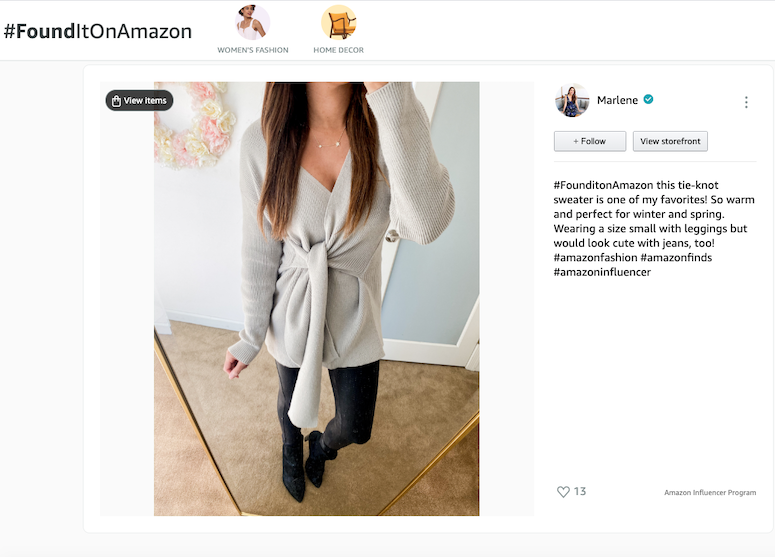 Simply click on the photo and you can see linked items underneath it and shop your favorite pieces.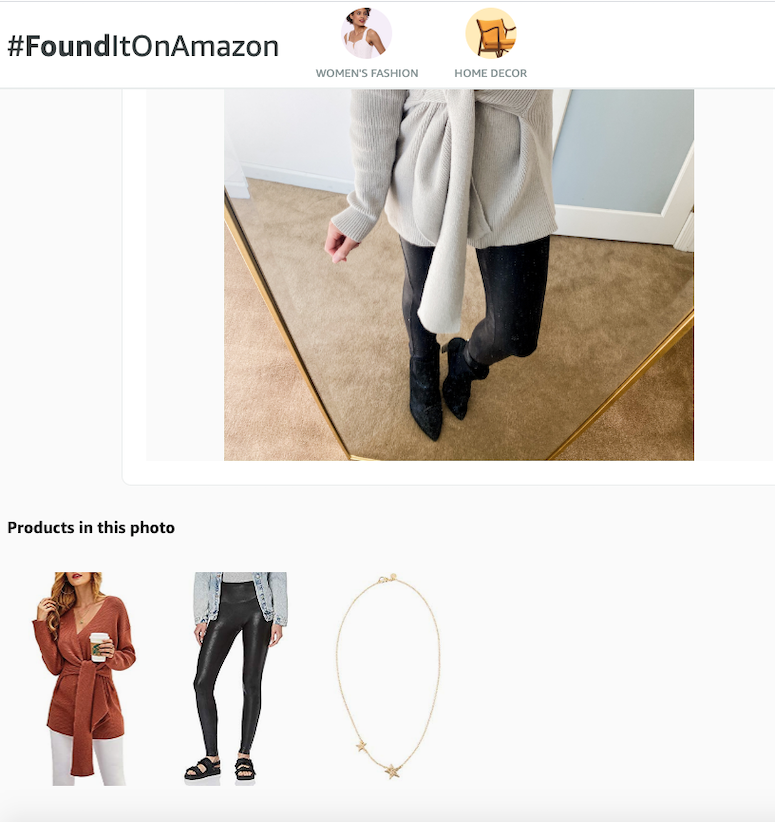 You can also choose to "follow" certain people and go straight to their Storefronts to see more great recommendations.
10-Shop Popular Picks
Did you know there is a section on Amazon that exclusively shows the top fashion picks? It's another great place to shop! This section only displays items with 4-stars+ reviews and thousands of reviews, at that. Explore it here.
11-More Tips for Finding Cute Clothes on Amazon
Pay attention to the return policy. I typically buy things on Amazon Prime for free shipping both ways.
Not a Prime Member Yet? Get a FREE 30-Day Trial Here.
Also, read the size guides. They really can vary by brand.
Finally, have fun! If you think of it as a treasure hint, and heed these tips to finding cute clothes on Amazon, you'll be finding lots of great pieces in no time.
Amazon Fashion Hauls
---
I hope these Amazon online shopping tips were helpful for you!
What are some of your favorite tips for finding cute clothes on Amazon? Let me know if I missed any in the comments below!